ROGERS PARK — It only takes 900 pizzas to host the world's largest pizza party and raise thousands of dollars for kids in need. 
Tony Troiano, owner of neighborhood staple J.B. Alberto's, 1326 W. Morse Ave., teamed up with an international group of pizza experts to beat the Guinness World Record for World's Largest Pizza Party.
Exactly 3,357 people attended the party at the University of Tulsa in Oklahoma, tripling the previous world record, which was set in Rome in 2019 with 1,046 pizza partiers, according to a news release.
The party raised $42,090 for Make-A-Wish Oklahoma, granting eight children's wishes, according to the news release. 
"It wasn't just for the record, even though everyone had fun doing that," said Troiano, who has owned J.B. Alberto's since 1978. "Along the way, we raised all that money for kids who really need it, and that was the best part about it. Everybody had a great time; but at the end of the day, it was for a great cause." 
This feat was accomplished by the World Pizza Champions, an invitation-only multinational group of pizza professionals who are leaders in the industry.
Mike Bausch, owner of Andolini's Worldwide in Tulsa, led the charge and started planning the event nearly a year in advance, Troiano said. 
"This record attempt was a logistical maze and required hundreds of people to successfully pull it off," Bausch said in a statement. "I am so proud of our community in how they came together for a great cause."
This isn't the first world record the World Pizza Champions have conquered.
In 2017, they beat the record World's Longest Pizza by creating a 1-mile-long pie in California while raising money for a local food pantry, Troiano said. 
Beating a Guinness World Record means adhering to specific guidelines, even when the record concerns a massive party. There was a dance floor with a DJ playing pump-up music, but there was also a "very serious" proctor present and a judge for every 50 attendees to ensure all the rules were followed, Troiano said. 
To be dubbed the world's largest pizza party, revelers had to eat two slices and drink 8 ounces of water within 15 minutes, Troiano said. 
"One of the biggest problems with breaking a world record is making sure that everyone follows the rules," Troiano said. "You could be sitting there for an hour, but you can't touch the pizza yet." 
The experience was like an amplified version of the positive feeling you get when sharing a pizza with people you love, Troiano said.
"When you're eating with your family or friends and you put a big pizza in the middle of the table, everyone's grabbing slices and chatting about the stuff they like, music, what's going on in their lives," Troiano said. "Pizza brings everyone together more than any other food I can think of, so imagine doing that with more than 3,000 people. It was insane." 
On top of competing in international pizza competitions, the World Pizza Champions provide educational outreach, public demonstrations and other forms of community service to promote pizza-making as a respected path and viable career choice and elevate the industry as a whole, according to their website. 
"The late, great Pat Bruno, a food critic in Chicago, once said, 'There's no sadness in the presence of pizza,'" Troiano said. "I really do believe that, and that's why pizza has been my life's work. It's happy food. It's communal food."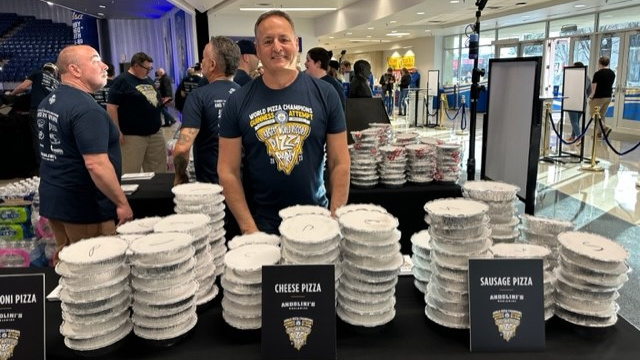 Members of the elite team are chosen based on skill, character, compatibility and selfless effort on behalf of the pizza industry, according to the group's website. 
Although World Pizza Champions is pretty exclusive, Troiano said one of the best parts of beating this particular record was anyone who attended became part of the winning team. 
"If you were there and a participant, even if all you did was eat your two slices and drink your 8 ounces of water, you're a world record holder," Troiano said. 
Watch our "On The Block" TV show on The U, CW26 and MeTV.
Listen to "It's All Good: A Block Club Chicago Podcast":