IRVING PARK — A North Side preschool teacher is trying to inspire a love of nature in some of the city's littlest residents through a new young gardeners club.
Kasey Johnson, of Roscoe Village, founded the Growing Gardeners Club, a group where parents can bring their children to a city park to meet other kids and learn about nature. The club is free and has activities primarily geared towards kids 3-6, Johnson said.
Johnson held the first meeting in late January at Horner Park. She was inspired to start the club by her own love of nature, which started when she was younger, she said. 
"I spent every day outside as a kid," Johnson said. "I was always drawn to worms and bugs, and I can still remember playing 'tea party' with my neighborhood friends, with the worms. As I grew older, I just found a lot of healing in it … . I really found that being outside, really engaging with nature, was a big part of my healing process."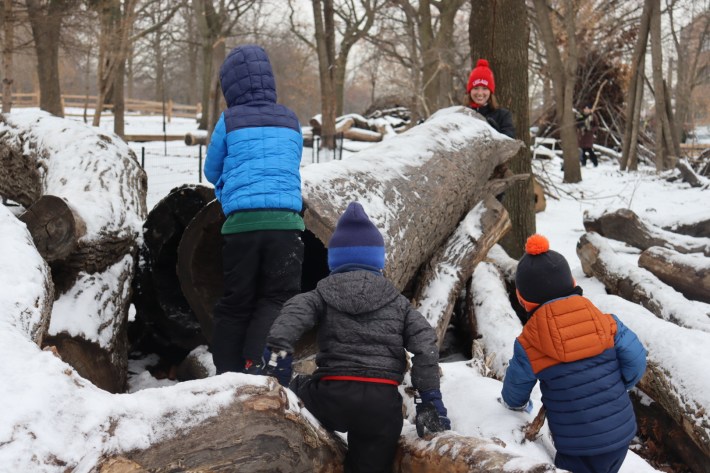 The pandemic was another big factor that led Johnson to create the Growing Gardeners Club, she said.
Johnson began working at a suburban Lake Forest preschool in 2020. She saw how her young students benefited from increased outdoor time, something her school implemented when COVID-19 hit, she said. 
"The way I just watched these kids grow through nature, it really inspired me to continue that," Johnson said.
At the Growing Gardeners Club's first meeting, Johnson helped young club members make bird and squirrel feeders with honey, birdseed, can lids and twine; carve an outdoor bowling alley with bowling pins and snow; and use their imaginations to make "snow pies" and other concoctions out of snow, old leaves, sticks and materials provided by Johnson and the Horner Park Nature Play Area. 
Johnson also helped the kids conduct science experiments with baking soda and vinegar and played with them as they climbed on logs. They asked questions and figured out ways to explore the area. 
Johnson wanted to start the Growing Gardeners Club in the winter, instead of waiting for the spring or summer, because she wants young members of the club to know there are ways to have fun in nature when it's cold outside, she said. She also wants kids to learn the benefits of change in their lives and in nature, she said.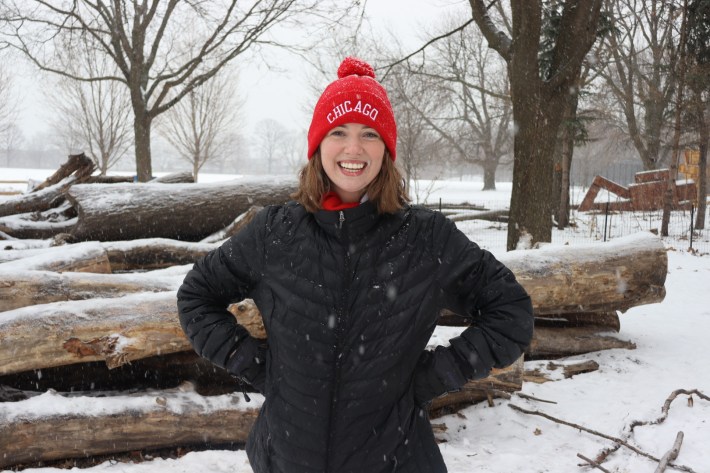 Parent Tara Goodarzi heard about the club on a neighborhood Facebook group and brought her son, Cameron, to the Horner Park meetup.
"My kid has a lot of energy. It's winter, there's not a lot of activities to do, and trying to keep him outside is something that we really value," Goodarzi said. "It's fun for him to socialize with other kids, do some outdoor activities and get some fresh air." 
In addition to weekly meetings at local parks, Johnson hopes to be able to establish community gardens so young club participants can learn to grow flowers and other plants during the warmer months, she said. Johnson also wants to work with the Park District to find green spaces for the gardens, she said.
Future club meetings will include Johnson and another teacher so parents feel comfortable leaving their children and getting a break, Johnson said. Johnson wants parents to feel comfortable taking time for themselves and said they can expect their children to be loved and cared for while they're at the Growing Gardeners Club.
"I've always believed a child's connection to nature has such a profound impact on their well being and their community," Johnson said. "I think when kids have a connection to nature, they really learn to love themselves, but also the environment. It makes them stewards of Earth, which we need in these times."
Those interested in their child joining the Growing Gardeners Club or wanting more information can email Johnson at growinggardeners312@gmail.com.
Listen to "It's All Good: A Block Club Chicago Podcast":