LAKEVIEW — A high-end cocktail lounge with more than 2,500 gallons of saltwater fish tanks — and one $55 cocktail — is coming to Lakeview.
Lost Reef, 964 W. Belmont Ave., opens Feb. 15 in the former Slice of Cheesie's space. It's a new bar from CPG Restaurant Group, the company that owns Cheesie's and Broke, High and Hungry.
CPG Restaurant Group partnered with Tank It Easy, a full-service aquarium maintenance and design company in Albany Park, to fill the lounge with eight saltwater fish tanks filled with exotic species and coral to create a tranquil environment.
"Tank It Easy created a work of art for this space," said Tony Contri, managing partner at CPG Restaurant Group. "Many of the fish and other aquatic livestock that will live in these aquariums would require a scuba diving trip on the other side of the world to see. It's absolutely remarkable, and we're proud of what the team has accomplished."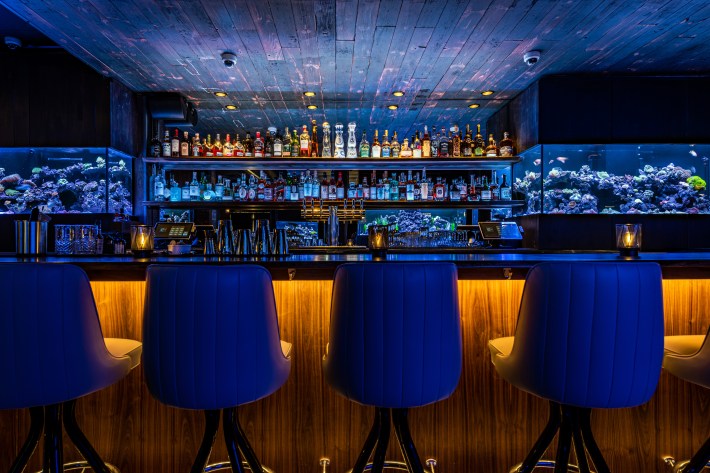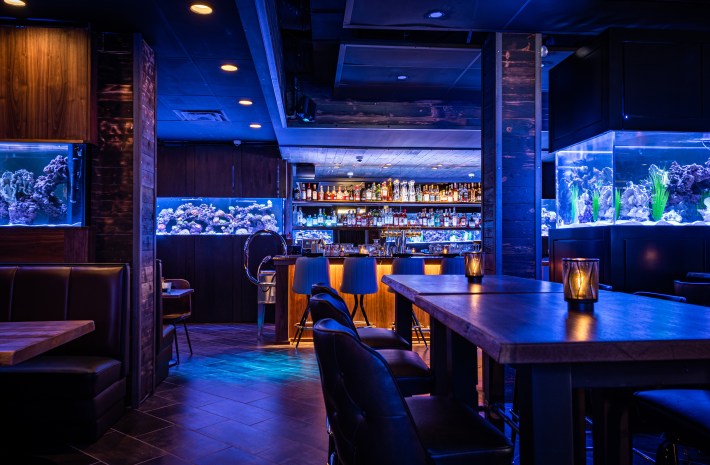 The 3,000-square-foot lounge has 72 seats, including 12 bar seats. It serves food and drinks, according to a news release.
The cocktail menu's creation was led by mixologist Michael Abood, who drew inspiration from the ambiance of the aquarium-filled lounge, according to the news release. Cocktails focus on bright, bold flavors and and use high-end ingredients with a focus on experience and presentation.
"Our challenge was to bring the unique feel of the lounge into the flavors of the glass," Abood said. "We wanted to create a truly immersive environment for guests that was relaxing yet exciting, and ultimately unforgettable."
The Treasure Chest is the most expensive drink at $55. It contains Col. E.H. Taylor Small Batch Bourbon, Demerara syrup, smoked aromatics and house bitters presented in Captain Levinson's buried treasure chest, according to the menu. For each Treasure Chest sold, $5 will be donated to the Coral Restoration Foundation.
Other specialty cocktails include Blood & Sand, a $32 drink with Laphroaig 10-year Islay single malt, Luxardo maraschino, Carpano Antica sweet vermouth and citrus; and La Capitana ($44), which includes Clase Azul Plata Tequila, aperol liqueur, green chartreuse, lemon juice and a candy bubble garnish.
Lost Reef also serves classic cocktails like the gimlet ($14), boulevardier ($14), old fashioned ($12) and sidecar ($14), according to the menu.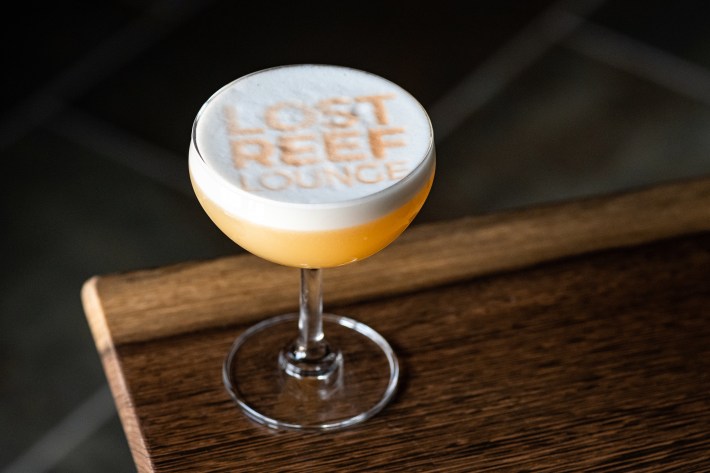 The food menu, created by executive chef Daniel Pineda, also draws inspiration from the aquatic environment with a light fare and cold scratch menu, according to the news release.
Highlights include the Crostini of Carpaccio with filet of beef, anchovy aioli, basil pesto and mixed greens in garlic-herb crostini; Hamachi Crudo with Yuzu marinade, serrano chile, watermelon radish and herb-infused olive oil; and the Ahi Tuna Tartare with smashed avocado, roasted garlic, ginger-sesame reduction and toasted sourdough.
"With the aquatic theme, we wanted to create a menu that was light and refreshing while also having something for everyone," Pineda said. "Keeping to a casual lounge vibe, we developed an elevated selection of small plates and signature dishes that properly allow the ingredients to shine through."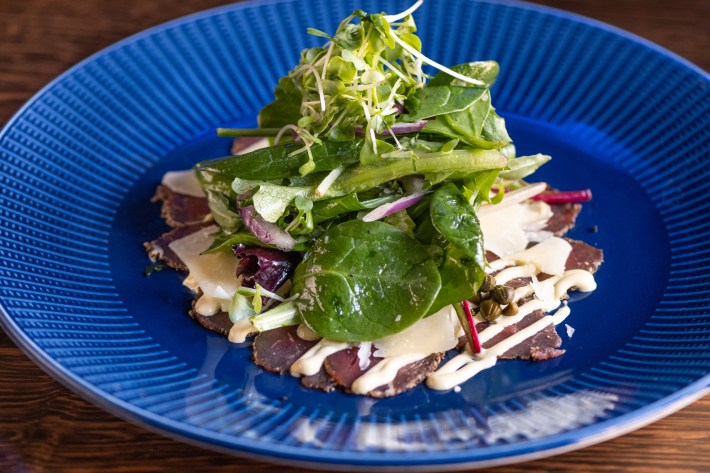 Lost Reef will be open 4 p.m.-1 a.m. Wednesday-Sunday. It has happy hour 4-6 p.m. daily. The cocktail lounge has started accepting reservations for when it opens through Tock.
Listen to "It's All Good: A Block Club Chicago Podcast":