JEFFERSON PARK — As incumbent Ald. Jim Gardiner (45th) attempts to keep his seat while under local and federal investigation, Northwest Side residents packed the Copernicus Center Thursday night to hear from him and his five challengers about issues facing the ward.
Longtime activist and library page Ana Santoyo, organizer and historian Susanna Ernst; attorney Megan Mathias; financial consultant Marija Tomic and business owner and community organizer James Suh are vying to oust Gardiner.
Public safety was top of mind for many residents, and the candidates shared their plans on tackling issues of crime and policing.
Suh said he wants to streamline the hiring process to get more officers on the street and hire civilians to do police administrative work. Gardiner, who has long been calling for additional cops in the area, said expanding vocational job programs in high schools and getting children involved in the newly-opened police and firefighter training academy can also help address the root causes of crime.
Suh, Mathias, Tomic and Ernst all favor more police, and they said increasing mental health services for both residents and officers would also benefit the area.
Santoyo, a member of the Party for Socialism and Liberation, was the only candidate who is not in favor of hiring more police officers. Instead, she wants to fund better mental health services, equitable housing and more economic opportunity for residents.
Community Investment
Vacant storefronts have plagued the Northwest Side for years, and candidates discussed how they'd revitalize Milwaukee Avenue.
Mathias supports creating a small business development center, seen in other parts of the city, to get funding from the city and other agencies that would better support small business owners.
"Its function is to get funding from different sources, not just the city but the federal government and other places, to small business owners to allow them to continue their business but also invest in the community," Mathias said.
Suh, a small business owner, wants to increase financial support for the area's chambers of commerce and make zoning for land use more transparent for neighbors and developers.
"We also need leadership that can collaborate with our state legislators to close tax loopholes that incentivize our landlords to leave all these empty storefronts vacant," Suh said.
Gardiner touted his role in bringing more businesses and development to the ward, including redevelopments at Six Corners that include a massive overhaul of the former Sears site and a senior housing complex opening in the spring.
"We are very proud of the relationships that we have with our business owners in the work that we get done — not only in my first term, but during the pandemic when people really needed our help, and we were there for them," Gardiner said.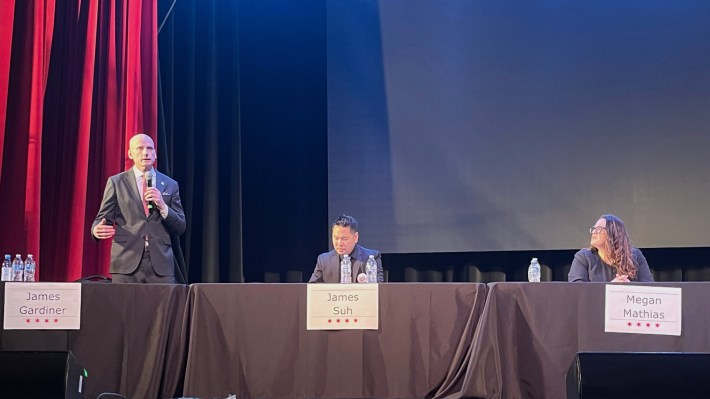 Santoyo said economic development can't move forward until more affordable housing is addressed in the community. She noted that 700 people applied to live in 75 units in the newly build affordable apartment complex near the Jefferson Park Blue Line, 5150 N. Northwest Highway. Over 400 people also applied for an affordable complex on the edge of the ward from the same developer.
"We can't have economic development if we don't have funding for and the right to housing, and affordable housing is what I hope to bring it back in full force to the 45th Ward," Santoyo said
Ernst said master plans for the Milwaukee Avenue corridor and others in the ward, which were drafted years ago with community input, need to be brought back to the table. Especially after COVID-19 changed the city and the world so dramatically.
"We need to engage community groups, and this means all community groups, to come to the table with our business organizations, revisit the plans and figure out what's going to work for us now, in this world where we've come off of a couple of hard years where we've had a lot of businesses closed," Ernst said.
'You Have To Meet With The People'
The forum, moderated by Axios' Justin Kaufmann, was at times heated and rowdy, with members in the crowd heckling multiple candidates for their answers and some laughing at the incumbent.
After Gardiner finished talking about new developments, a man in the back of the theater got up and shouted, "Gardiner does not meet with his constituency," to which the crowd erupted in laughter and applause.
"You have to meet with the people of this community," the man yelled, before security escorted him out of the event.
Gardiner has been criticized by his challengers and residents for having closed-door meetings, only working with select community groups and not having in-person ward nights during his first term.
He is also facing multiple lawsuits and a scandals after allegations he withheld ward services from critics, used foul language to describe women and other potential misconduct. The FBI, the Chicago Board of Ethics, the Circuit Court Clerk's Office and the Office of the Inspector General have launched investigations into Gardiner's conduct.
While these allegations largely did not come up at the forum, Suh took an aim at Gardiner when the candidates were asked who each person would vote for if they were not running.
"I'll support anyone who is not under an FBI investigation," Suh said. Many in the crowd cheered.
A Gardiner supporter yelled "cheap shot" in response.
"I wouldn't want to pick somebody and get sued by somebody on the stage for not picking them," Gardiner said, referencing a lawsuit against him by Suh, which claims the alderman violated Suh's First Amendment rights and tried to get revenge on him for organizing a protest on a stalled development.
When Kaufmann asked candidates whether they would host regular ward nights open to all of the community, everyone on stage answered in the affirmative, including Gardiner, which got the crowd riled up again.
"We did it and we still do that," Gardiner said, to which people booed and jeered. "Instead of sitting in the office and waiting for people to come into our office, we actually go door to door and talk to people."
In fact, Gardiner has not had traditional ward nights in several years. Instead, he holds closed-door meetings in the homes of select residents on issues facing the ward. He has held several public safety meetings, but the alderman will not take any questions that are not crime-related — or answer questions from reporters.
All of his challengers stressed the importance of having better open communication, listening to constituents and having more input before projects get approved.
Tomic, who works in accounting and finance at the University of Chicago, wants to streamline ward money, bring back participatory budgeting and increase transparency about how money is utilized.
"It's a proven fact that we're all ready for change," Tomic told the crowd as the forum wrapped up. "I want to make sure that I bring my qualities in my skills, my people services … everything that I've done in the past has led me here. I don't do politics. I just really want to get stuff done."
The election is Feb. 28. If no candidate receives at least 50 percent of the vote, the top two finishers will go to a runoff April 4.
Subscribe to Block Club Chicago, an independent, 501(c)(3), journalist-run newsroom. Every dime we make funds reporting from Chicago's neighborhoods.
Click here to support Block Club with a tax-deductible donation. 
Thanks for subscribing to Block Club Chicago, an independent, 501(c)(3), journalist-run newsroom. Every dime we make funds reporting from Chicago's neighborhoods. Click here to support Block Club with a tax-deductible donation.
Listen to "The Ballot: A Block Club Chicago Podcast":