ALBANY PARK — Candidates vying to represent the 33rd Ward vowed at a Wednesday night forum to improve public safety, preserve affordable housing and fight for environmental justice.
They also admitted they're pro-ketchup on hot dogs.
Incumbent Ald. Rossana Rodriguez-Sanchez (33rd) and challengers Laith Shaaban and Samie Martinez appeared before a packed house at Bateman Elementary School to answer questions about issues in the ward. The 33rd covers parts of Irving Park, Albany Park and Avondale. 
Martinez said he decided to run after a 26-year-old man was killed near his home in 2020. To improve public safety, he would fill police vacancies through hiring bonuses, add more interventions for at-risk youth and adults and bring more jobs to the ward, he said. 
Martinez said his roles as project coordinator with the city's planning department and former job as chief of staff for Ald. George Cardenas (12th) would ensure he can help neighbors and business owners navigate zoning issues. 
Martinez also wants to expand Neighborhood Opportunity Fund opportunities along Montrose Avenue and Irving Park Road, he said. 
"In general, we need larger grants," Martinez said. 
Martinez also proposed protecting affordable housing through zoning, building affordable housing at South and West side vacant lots and creating escalating fees for absentee landlords sitting on undeveloped properties for tax breaks.
When Martinez was asked how he'd incorporate community input into zoning decisions, he said he'd listen to neighbors and businesses but didn't explicitly commit to retaining the ward's community-driven zoning process or participatory budgeting. 
Shaaban would seek to reduce the city's "red tape" for homeowners and business owners, reform and modernize building codes and work around the Chicago Housing Authority to provide affordable housing to undocumented immigrants, he said.
The Chicago Housing Authority has a 20-year waiting list and can't accept undocumented people, Shaaban said. But he has plans for programs that would exist outside the agency to provide affordable housing: The city would provide rental subsidies that would be less than what the Chicago Housing Authority offers, but they'd still be a boost to families in need. Landlords who join would be guaranteed $600 or $700 to make repairs and keep the property affordable if a tenant moves out.
Current zoning rules don't incentivize developers to build affordable housing, he said.
"It seems like developers have an insatiable appetite to build $750,000 two-bedroom condos. They're popping up all over the place. But those are the incentives that we've created through our building and zoning codes," Shaaban said.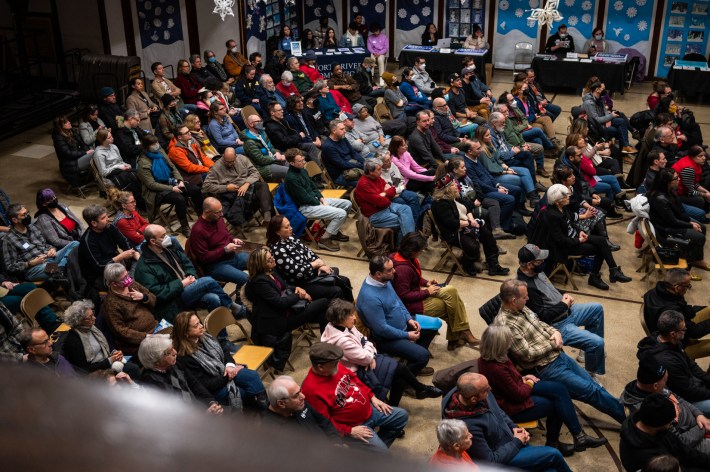 Shaaban also accused Martinez of entering the race only after the "Chicago Machine" asked him to get involved. 
Shaaban also took aim at Martinez's record on environmental justice, pointing out he was the 12th Ward's chief of staff when MAT Asphalt moved to McKinley Park.
"We need someone who's actually serious about [environmental justice]. We need to create incentives to make sure that we are dealing with alternate energy sources like solar, that we can look into for homes. We need to have the state actually commit real funding to it," Shaaban said.
Martinez did not address Shaaban's comments. 
Rodriguez-Sanchez highlighted her "co-governance" with neighbors, community groups and local school leadership as she bids for a second term. 
"We know that Chicago is the most corrupt, it has been deemed the most corrupt city in the United States," Rodriguez-Sanchez said. "We came in with the idea of bringing a different vision and doing things in a way that provided transparency and participation and democracy."
Participatory budgeting allowed neighbors and students at Roosevelt High School a say over how ward menu money is spent while community zoning led to the Maria Elena Sifuentes Apartments affordable housing development at 3557 W. Lawrence Ave., Rodriguez-Sanchez said.
"We want to continue doing this work together. I don't take contributions from developers or the real estate industry. We want to keep zoning and power in our community," she said. 
The alderwoman highlighted working with Israel's Gifts Of Hope to help victims of gun violence, supporting Roosevelt's restorative justice program, advocacy of the Treatment Not Trauma ordinance and working with the North River Commission to provide youth internships at local businesses to address public safety concerns.
Discussing how problem landlords can exacerbate public safety issues, all three candidates cited Gary Carlson — who owns more than 70 buildings — as an example of someone the city needs to do a better job holding accountable. 
Carlson owns the Albany Park apartment building that caught fire in early 2022, leading to a massive blaze that destroyed Twisted Hippo brewpub, 2925 W. Montrose Ave., and the Ultimate Ninjas Gym next door.
"Listen, this man [Carlson] shouldn't be in our community. As much as we're concerned about the safety. Imagine the safety concerns of those living in his buildings," Shaaban said. "We have to make sure that we are bringing every lever of government against him to ensure that he is addressing these issues" with his buildings.
Rodriguez-Sanchez and Ald. Carlos Ramirez-Rosa (35th) have Carlson in building court, and the city's law department has asked for receivership of his properties "because of how terrible Gary Carlson has been a as a landlord," the alderwoman said.
"But each one of those buildings, he has a chance to make changes to those buildings and fix them before they actually become part of a receivership," Rodriguez-Sanchez said. "So it is not like you're just going to go and take people's buildings. We are doing the work to make sure that we're making these buildings safer. We are. But that has to go through court." 
In text messages to Block Club following the forum, Carlson claimed last year's fire had nothing to do with his property. He also said he'd made improvements to other properties he owns but did not address the candidates' other comments about him.
"Thou shalt not bear false witness against thy neighbor," Carlson said in a text.
Albany Park Neighbors, The Residents of Irving Park and PEAP Block Club organized the event. Former Tribune columnist Eric Zorn moderated and wrapped the forum with a lighthearted game of Never Have I Ever. 
All three candidates are anti-dibs and have been ghosted by a CTA bus or train.
All three put ketchup on hot dogs.
Of the trio, Rodriguez-Sanchez has never seen an episode of any "Real Housewives" franchise.
Election Day is Feb. 28. If no candidate receives at least 50 percent of the vote, the top two finishers will go to a runoff April 4.
Subscribe to Block Club Chicago, an independent, 501(c)(3), journalist-run newsroom. Every dime we make funds reporting from Chicago's neighborhoods.
Click here to support Block Club with a tax-deductible donation. 
Thanks for subscribing to Block Club Chicago, an independent, 501(c)(3), journalist-run newsroom. Every dime we make funds reporting from Chicago's neighborhoods. Click here to support Block Club with a tax-deductible donation.
Listen to "The Ballot: A Block Club Chicago Podcast":