Tune in to our live interview series with the candidates vying for Chicago's top job: mayor. Our interviews will be hosted by Tribune contributing columnist and ABC7 political analyst Laura Washington. Click here to learn more.
CHICAGO — State Rep. Kam Buckner said he will fire Police Supt. David Brown and beef up the office of gun violence prevention on Day One if he's elected Chicago's mayor.
But Buckner, who is currently serving in the state legislature, would also spend part of that first week as mayor in Springfield. The state is scheduled to certify its budget just after the new Chicago mayor will be inaugurated.
"After being in Chicago for a few days, I will head back down to Springfield on I-55 and make sure that their budget looks like it needs to look to help the people of Chicago on day one," Buckner said. "I have the ability to do this better than anyone else in this race."
Speaking with Tribune political columnist and Block Club Board President Laura Washington on Wednesday, Buckner got personal as he touted his Chicago roots and his plans to fight industrial pollution, improve transit and find efficiencies in the city's budget.
Buckner said his ability to work with Springfield to bring money to the city for schools and public safety makes him uniquely qualified to be Chicago's next mayor. 
"I helped build this new Springfield," Buckner said. "I don't think anyone can get as much out of this Springfield as I can."
The interview was the second in a series of livestreamed conversations Block Club has scheduled with mayoral candidates as the Feb. 28 election approaches. The next conversation is 2:30 p.m. Friday with Ald. Roderick Sawyer (6th). 
Watch the interview:
The son of a Chicago Public Schools teacher and a sergeant in the Cook County Sheriff's Office, Buckner went to Morgan Park High School and the University of Illinois at Urbana-Champaign, where he played football. He received his law degree from DePaul University and became an attorney.
Buckner said he would be the first mayor who attended CPS since Harold Washington. 
"I'm a true Chicagoan," Buckner said. "I've played in Chicago parks. I've gone to Chicago Public Schools."
As a state representative, Buckner sponsored legislation that banned "ghost guns" and another law, the Safe-T Act, which aimed to end cash bail. He said he also helped usher in the state's first Black House speaker, Emanuel "Chris" Welch.
Buckner has said he would not raise taxes on most Chicagoans, although he supports the Bring Chicago Home movement, which calls for raising the real estate transfer tax on properties over $1 million to support measures to combat homelessness. He critiqued a proposal from opponent Brandon Johnson, who has proposed an income tax on Chicagoans who make more than $100,000 a year and an employee "head tax" on large businesses. 
"It's about not going back to the 1973 Richard J. Daley corporate head tax, which will run businesses out of town," Buckner said.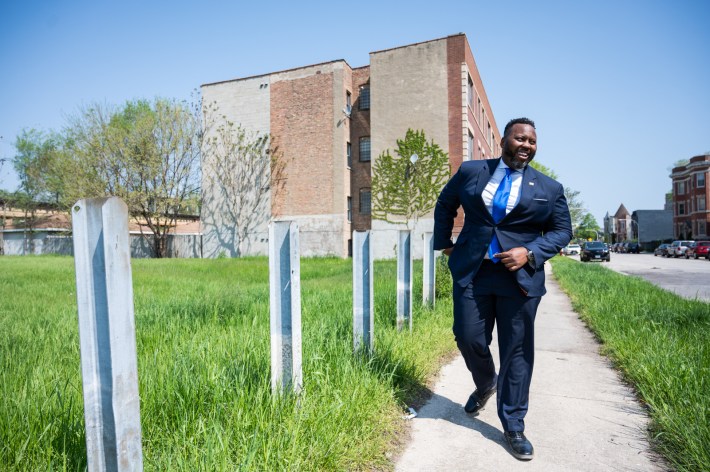 When asked how he'd fund his stated initiatives like tripling money for gun violence prevention, Buckner said he'd work to raise the local government distributive fund back to 10 percent from its current 6 percent, bringing in $200 million a year for the city. The fund sends a certain percentage of state income tax back to local communities. 
"I think we have to be different and creative and be honest about the things that we're doing wrong, and make sure that we're not being wasteful with the dollars that we are given," Buckner said. 
He'd go through the city budget with a "fine-toothed comb" to find inefficiencies and would streamline the police budget by "civilianizing" jobs on the force, including sex offender registration and other administrative work, Buckner said.
Listen to the interview:
While the police departments in New York and Los Angeles have officer-to-civilian employee ratios of about five to one or less, Chicago's is 14 to one, Buckner said. 
"We don't need more folks with guns and badges to do this work," he said. 
Buckner has focused on improving the CTA and spoken regularly about eliminating "ghost buses" and private security on trains. He said he would require the CTA to be honest about arrival times, even if it meant longer wait periods for riders, and he would focus on hiring. Buckner said he supports a bike grid proposal for the city.
"This is something that Chicagoans deal with every single day. And so let's start off with being honest," he said. 
Buckner also got personal, saying he grew up taking the bus with his father, and it was a major part of how he got to know Chicago. He criticized his opponents, saying they do not having comprehensive transit plans. 
"That's how I learned Chicago and Chicago's people and my direction and what the city sounds like and looks like," Buckner said. 
Buckner also said that he has stood with residents on the Southeast Side and Pilsen against proposed industrial manufacturers. He said he would bring back the city's Department of the Environment.
When asked what his second-favorite Chicago neighborhood is — behind Bronzeville, where he lives — Buckner said South Chicago. He pointed to the neighborhood residents' hunger strike against a proposed scrap shredder that the city ultimately denied a permit for.
"They've been left behind for a long time," Buckner said. "But they continue to rise up and fight, and I've grown to fall in love with South Chicago over the last four or five years."
The conversation ended with Buckner denouncing "dibs," the Chicago tradition of reserving shoveled-out parking spaces with furniture. He said his father made him shovel parking spots 100 feet in each direction of their house. 
"I know dibs runs deep in the culture of who we are as a city, but it no longer is necessary," Buckner said. "We should be aiming for a Chicago where people look out for each other and work for each other, and make it easy for all of us to live in the city."
A recording of the interview is here.
Read about all nine candidates running for mayor here.
Subscribe to Block Club Chicago, an independent, 501(c)(3), journalist-run newsroom. Every dime we make funds reporting from Chicago's neighborhoods.
Click here to support Block Club with a tax-deductible donation. 
Thanks for subscribing to Block Club Chicago, an independent, 501(c)(3), journalist-run newsroom. Every dime we make funds reporting from Chicago's neighborhoods. Click here to support Block Club with a tax-deductible donation.
Listen to "The Ballot: A Block Club Chicago Podcast":