WOODLAWN — A South Side City Council candidate attempted to block a bus of migrants Thursday as the city worked to move about 100 people into a former Woodlawn elementary school.
One hundred men and women moved into the former Wadsworth Elementary School, 6420 S. University Ave in Woodlawn, on Thursday. They are the first of hundreds of people, mostly asylum seekers and other migrants, who will move into the shelter starting this week.
"Today, 100 men and women moved into Wadsworth," Lightfoot spokesperson Cesar Rodriguez said in a statement Thursday. "Due to capacity levels, these individuals were relocated from other facilities."
Mayor Lori Lightfoot's administration has for months planned to house migrants at the former school, despite her office's previous denials and a confusing rollout process for which the city's family and support services commissioner has apologized.
The city intends to use Wadsworth as a shelter for up to two years. Up to 250 single men and women will move in, starting with this week's arrivals. Officials have not yet determined the maximum number of people to be sheltered there.
Neighbors have criticized the city for leaving them in the dark and sharing details only once it was a "done deal." They've also taken issue with the city's move to renovate the former school into a shelter after letting the property sit vacant for years.
Andre Smith, who is making his fourth bid for 20th Ward alderperson, and Woodlawn resident Luis Cardona attempted to stop the first two buses from dropping off migrants at the shelter Thursday morning. Cardona has repeatedly opposed reopening the school as a shelter.
"Earlier today, me and Luis, we stood in front of the bus," Smith said. "They wanted to arrest us; we said OK, we'll go to jail. The Mayor's Office came, the superintendent sent his guy, the commander was here, and they wanted to talk to me and work something out.
"I told them, 'It's nothing against you. The city officials did not come to us to work something out earlier, and we're not working nothing out now. I'm not moving,'" Smith said.
As a third bus arrived Thursday afternoon, Cardona, Smith and a third person wearing a Chicago Against Violence jacket — the name of Smith's community organization — entered the intersection of 64th Street and University Avenue and talked with police officers, but did not interfere with the migrants' arrival.
Asked why protesters didn't try to stop the third bus from arriving, Smith said they didn't want to step onto private property and risk arrest. He vowed to continue interfering with buses that dropped migrants off on public streets.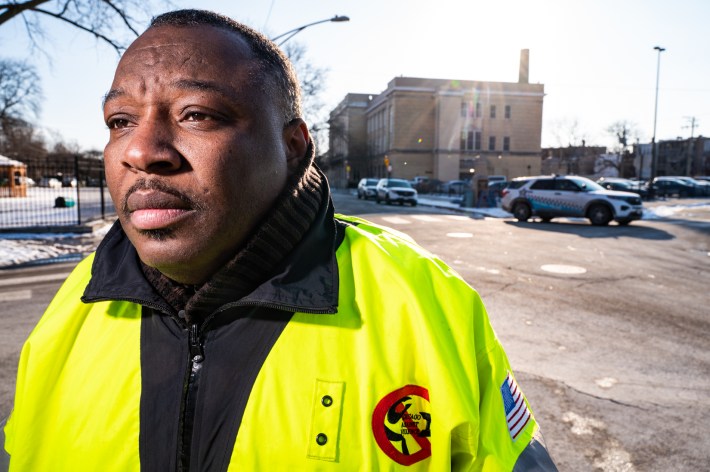 The shelter's opening, officially announced in December after the Lightfoot administration's previous denials, has faced pushback from residents in the months since plans became public.
Neighbors have called the city's communications since the December announcement "ingenuine," "condescending" and "last-minute."
The situation has also exposed racial tensions — and in some cases, explicit xenophobia — as the mostly Latino residents move into mostly Black Woodlawn.
But residents and leaders have repeatedly said the city's lack of communication after years of disinvestment in Woodlawn, not the migrants' ethnicity, is the main reason for the community's anger about the situation.
"Too often, the city of Chicago has pitted Black and Brown communities against each other," Ald. Jeanette Taylor (20th) said in a statement Thursday. "Mayor Lightfoot's administration has done just that through their lack of transparency and unwillingness to address community demands."
Cardona, who identifies as Hispanic, said he wanted to stop the buses because he's troubled by the city's willingness to assist migrants while his Woodlawn neighbors who experience homelessness and receive insufficient public assistance struggle to survive.
"I would like to see all [the Woodlawn residents] get what they deserve," he said. "They've got to come out here and they've got to speak up. Without residents speaking, they're going to walk all over us."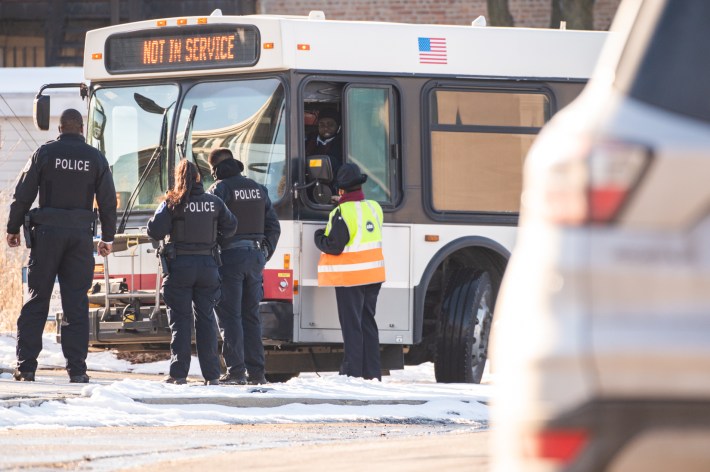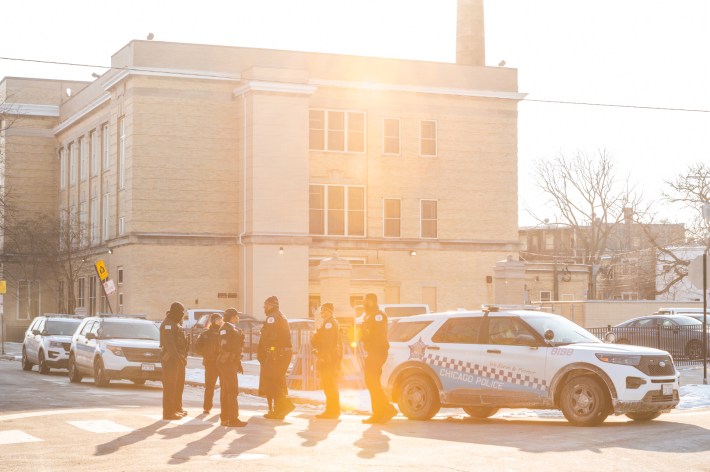 City officials should both provide more resources "after decades of racist disinvestment" and offer "sanctuary for those in search of a better life," Taylor said.
Taylor made numerous demands of the city last week relating to housing, immigration, economic development and other issues in response to the Wadsworth shelter opening. That includes a $5 million fund to help community organizations in the ward develop long-term plans for helping shelter residents.
Taylor said she did not want to see an increased police presence for the shelter lead to more tickets or traffic stops and called for city officials to commit to a community-led process for renovating other vacant schools in the ward.
Taylor's office will host a community meeting Feb. 16th on "how we can welcome our new neighbors to Woodlawn and demand resources for longtime community residents," she said. Block Club will share more details about the meeting when they become available.
Subscribe to Block Club Chicago, an independent, 501(c)(3), journalist-run newsroom. Every dime we make funds reporting from Chicago's neighborhoods.