LITTLE VILLAGE — Vendor contracts at the beloved Discount Mall were set to expire at the end of January, but a two-week lease extension has been granted, community leaders said.
An agreement was reached to extend the contracts until Feb. 16, when vendors, the building's owners, Ald. Byron Sigcho-Lopez (25th) and other city officials will meet to discuss the future of the Discount Mall, officials said Tuesday.
Plans for the Discount Mall and the shopping plaza at 3045-3117 W. 26th St. have been unclear for years. The property was sold to Novak Construction in February 2020 for $17.5 million, the Sun-Times reported. At the time, Novak's president suggested the mall might not be the best use of the land and alluded to bringing chain stores to the area.
In August, contracts for vendors at the mall were about to expire and vendors said they still hadn't received information about the owner's plans. After the alderperson's office intervened, Novak Construction extended the vendors' contracts through the end of January.
RELATED: Alderman Demands Update On Little Village Discount Mall Plans As Vendors Remain In The Dark
Vendors and Sigcho-Lopez have called for transparency from Novak for months and said they hope to have a better understanding about the mall's future after the February meeting.
"The Discount Mall is an economic engine," Sigcho-Lopez said. "We will do everything it takes, including legal action, to preserve the right of our community to stay in the community."
Sigcho-Lopez said he was concerned to hear from two vendors who said they received eviction notices from Novak, telling them they had until Feb. 6 to leave. The alderman said this move was illegal and promised to take action to ensure no unfair evictions take place.
A spokesperson for Novak didn't immediately respond to questions on this matter.
"Novak looks forward to sharing plans for improvements to the mall and correcting recent misrepresentations. Our goal is to benefit the Little Village community and continue the traditions that attract shoppers and visitors to the Discount Mall," a spokesperson for Novak said in a statement.
With the lack of information from Novak, many vendors have said they're worried about the fate of their businesses.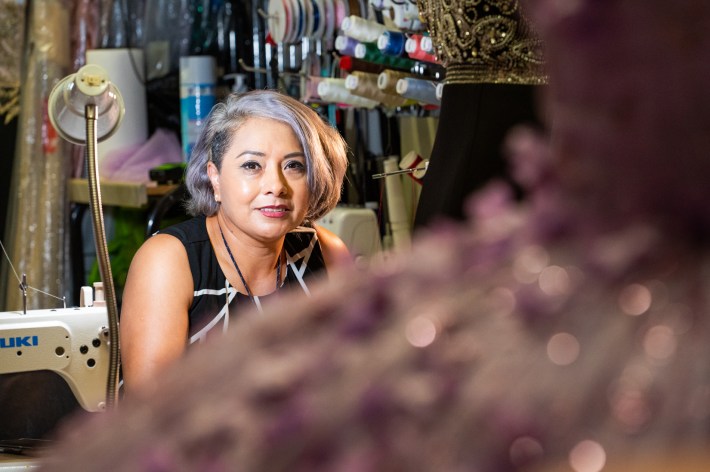 Kocoy Malagon, a Discount Mall vendor who advocated for transparency from Novak, said she and the other business owners aren't against potential changes to the Discount Mall, but they want to be part of the decision-making process.
"Little Village is a vibrant community, full of life, with such hardworking people proud of their culture," she said. "Little Village is the Mexican Mecca. Together, we can achieve a positive change to benefit the community and its small businesses."
Listen to "It's All Good: A Block Club Chicago Podcast":