GRAND BOULEVARD — A project to transform a historical Bronzeville mansion into a digital archive center and members-only coworking hub for Black journalists and creators is finally moving forward.
Obsidian Collection Founder Angela Ford is behind the $3.8 million plan for the famed Lu and Jorja Palmer mansion, 3654 S. King Drive.
Ford received a $1.25 million loan to buy the mansion in April 2021 in hopes of a mid-2022 grand opening. But she struggled to get a hearing with the zoning board to change the property's designation from residential to commercial, and she accused Ald. Sophia King (4th) of holding up progress.
Now, the project is finally on the cusp of receiving City Council review. King introduced an ordinance Wednesday seeking a key zoning change for the mansion.
Ford presented her revamped plans for the building at a virtual community meeting earlier this week.
Ford envisions a three-story facility where members can enjoy small bites and non-alcoholic beverages. Two apartment units on the top floor would serve visiting scholars, and the space would host events like film screenings and panel discussions.
The Obsidian Collection recently entered a partnership with a university in London in which it'd host fellows and interns who would be scholars in residence, Ford said.
The building would also be a physical home for Obsidian's Black media archives, a venture Ford and her team launched in 2017 after starting it by organizing images from the Chicago Defender's archives.
The updated plans also include 10 offsite parking spaces, per an agreement with nearby Wells Preparatory Elementary School, 249 E. 37th St.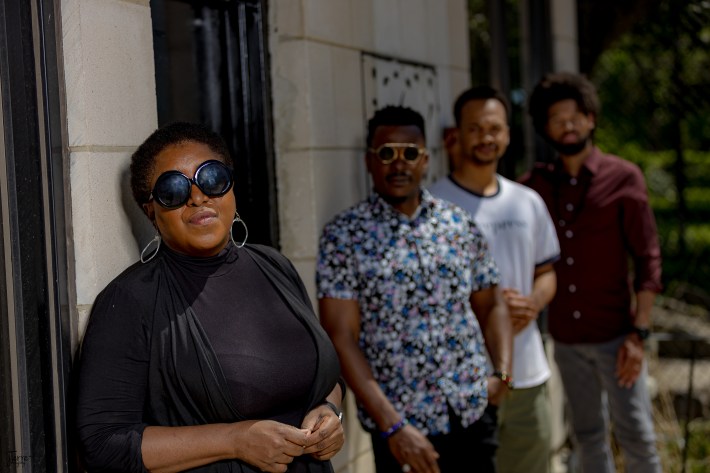 Ford told residents the group plans to increase the digital archive's reach by encouraging people to subscribe to its mailing list, which would allow them to receive images and stories of collections as they join the group's digital portfolio.
"It's not a traditional public space — the club itself would only be available for members — but people who sign up on our website will be able to receive ongoing alerts and emails of digital images that join the archives," Ford said.
Ford said she and her team are still ironing out membership details, including cost, but they are planning to welcome 10-20 members in their first year.
The 135-year-old mansion was on Preservation Chicago's "Most Endangered Buildings" list four years ago after falling into disrepair. Completed in 1888 for Justice D. Harry Hammer, the mansion was bought by famed journalist Lu Palmer and his wife, Jorja, in 1976. Palmer remained in the house until his death in 2004.
Ward Miller, Preservation Chicago executive director, has signaled his organization's support for the effort, thanking Ford and her team for coming up with a creative way to keep the mansion in use.
"We're really excited to see this project move along. The building has been vacant for a long time, and it's certainly one of Chicago's finest Queen Anne buildings in the heart of Bronzeville," Miller said.
Questions about the project arose last year when King shared concerns from residents who wondered if the mansion would be run similar to Soho House, a hip, members-only club with outposts across the globe. Some also worried the building would have a convivial atmosphere that could negatively impact the quiet block, and they had parking concerns. King said the zoning change Ford wanted was "very rare."
Ford told Block Club she'd begged the 4th Ward office to facilitate a public meeting for months about the project but received little to no response from King.
Prentice Butler, King's chief of staff and candidate to replace her in the February election, told residents Monday the project has the ward's full support.
"This is something that is going to highlight all that is good about our community. Historical architecture, the Black culture, everything we worked so hard to achieve in this area over the years," Butler said. "I'm excited about this project and I can't wait to see the construction begin."
Watch our "On The Block" TV show on The U, CW26 and MeTV.
Listen to "It's All Good: A Block Club Chicago Podcast":