LOGAN SQUARE — Bucktown pizza and burger joint The StopAlong is taking over Logan Square's Boiler Room.
The StopAlong owners Robert Magiet and Taylor Hammond aim to open a second location, StopAlong at Boiler Room, this spring.
The Boiler Room, 2210 N. California Ave., closed in November after 12 years in Logan Square.
The StopAlong at Boiler Room will serve The StopAlong's menu of burgers and pizza, along the neighborhood-famous PB&J special — a slice of pizza, a PBR tall boy and a shot of Jameson, the new owners said. The pizza served will be StopAlong style, however.
"The place wasn't broken; that's why we want to take it over," Magiet said. "It's in a great spot. We want to bring our personality, our food there."
Owners Desiree and Russ Grant quietly closed Boiler Room the week before Thanksgiving, a move that caught many in the neighborhood by surprise, including restaurant employees.
RELATED: Boiler Room Closes, Ending 12-Year Run In Logan Square
Desiree Grant, who was a silent partner, said they wanted to let "someone new with different eyes take the helm." But Russ Grant, who ran day-to-day operations, said the business was struggling and he reached a "breaking point" when employees stopped showing up to work.
"The bigger picture is this is a tough industry to be in with the post-COVID work attitude," Russ Grant said in December.
The sudden closure was controversial, with restaurant employees saying they were left struggling to pay their bills in the lead-up to the holidays. But Russ Grant defended the move, saying he had no choice but to shut down the restaurant in the face of mounting financial and staffing issues.
RELATED: Boiler Room Employees Say Sudden Closure Was A Shock, Scramble To Find Work
Magiet said they were on board to buy Boiler Room within an hour of being approached by the seller's agent. The two bought the business and took over the former owners' lease. Negotiations took about two months "to make sure everything was done correctly," Magiet said.
Magiet said they were drawn to the deal for Boiler Room's stellar reputation as a cool and inviting neighborhood spot, but also because buying the Logan Square eatery will allow them to expand The StopAlong, which has seen an influx in delivery orders in recent months and is outgrowing their current location.
"There wasn't anything about Boiler Room we weren't attracted to," he said. "The thought of having a larger space, being able to put on more community events, private parties, easing the stress of delivery orders. Everything about it made sense to us."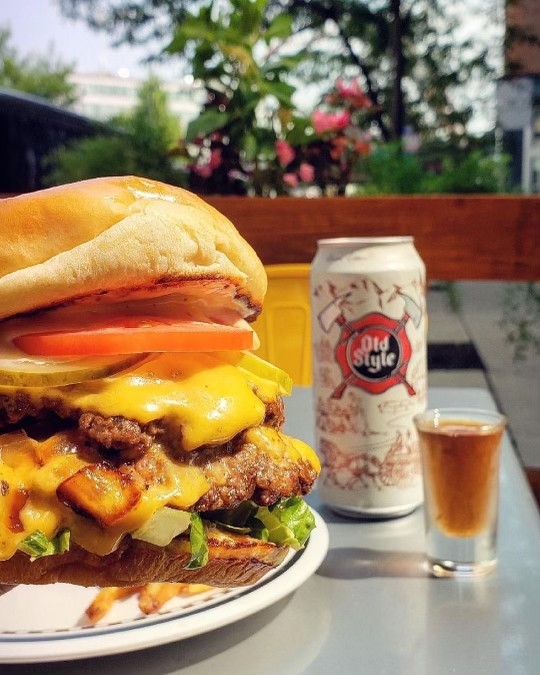 The reimagined Boiler Room will have a similar feel as the original, but there will be noticeable differences, the new owners said. Notably, the restaurant will serve The StopAlong's pizza, which is similar to Boiler Room's pizza in that it's New York-style, but made with a different recipe.
"Boiler Room pizza was great, but we think ours is great," Magiet said.
The new owners plan to add burgers and other StopAlong staples to the menu, but keep some Boiler Room favorites, such as the elote dip, Magiet said.
Boiler Room's design will stay mostly the same, but Magiet said they plan to bring in some free arcade games, like they have at The StopAlong, and "freshen the place up" with new murals and other minor upgrades.
"We don't want to destroy what the Boiler Room created. We just want to improve on it and make it more kid-friendly during the day for families who want to come in and have pizza and a burger," Magiet said.
Former employees are welcome to apply for open positions at the new restaurant, Magiet said.
Hammond opened The StopAlong at 1812 N. Milwaukee Ave. in 2016. Magiet joined the business last summer as a part owner.
Magiet is the former owner of Mexican-Korean fusion restaurant TaKorea Cocina at 1022 N. Western Ave., which closed last summer after about three years in Ukrainian Village. He is also an active community organizer who runs food drives and other community initiatives through his nonprofit, West Town Feeds.
Magiet said he hopes to continue that work at Boiler Room.
"We plan on being great community members. Any local schools and organizations that want to put on fundraising events, please reach out. That's a big reason why I'm in the restaurant industry. If there's any single parents ever struggling in the area who could use a meal, please email me. It's just what we do," he said.
"We look forward to serving the Logan Square community and them embracing us as much as we embrace them."
Listen to "It's All Good: A Block Club Chicago Podcast":