PORTAGE PARK — Cheryl Knecht's face lights up when she talks about baking.
Knecht loves recipes that involve pasta and pastries — as well as the communal joy that comes with making a treat from scratch. After six years of operating her River Forest kids cooking school, she's starting a new chapter and bringing that joy to the Far Northwest Side with a second location of Schoolhouse Kitchen + Studio, 4410 N. Milwaukee Ave.
The school teaches children how to follow recipes, cooking techniques, food science and art in a fun environment that aims to make cooking a stress-free and playful task, Knecht said.
"When people come to the Schoolhouse, they're looking for more of an [experience], and that is just having fun, relaxing with their family and their kids," Knecht said. "Really, we embody the joy of cooking. … I want people to feel like it's theirs to have."
The school is focused on cooking classes for children as young as 4 years old and has options for tweens, teens and families who want to learn how to make doughnuts, cakes, potato soup and more. Adult classes are scheduled to begin at the Jefferson Park location in March.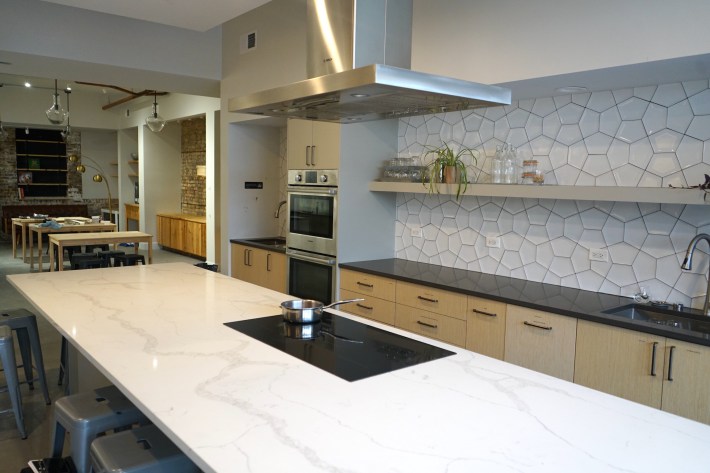 Sitting at the border of Portage Park and Jefferson Park, the Milwaukee Avenue school will have first class Feb. 20 celebrating late Black chef Edna Lewis in honor of Black History Month.
Kids 5-11 years old will make Lewis' marble chocolate and vanilla cake and learn about her life as the daughter of an emancipated enslaved person who farmed in Freetown, Georgia. The two-hour-and-a-half class is $50 and will be taught by Knecht.
For more information on the Northwest Side class schedule and to register, visit the school's calendar.
Like at its original location, the Schoolhouse will also host cooking parties for families and kids, spring and summer cooking camps and after-school cooking classes. Classes inspired by different cuisines, food seasons, teacher backgrounds and experiences will also be available, Knecht said.
"I think it's really important — and I am pretty passionate about — how families cook together and how kids and their parents and caregivers experience the kitchen together," Knecht said. "I love instilling confidence in these kiddos, like, they can totally do it."
Knecht is a devoted home cook and has experience in the food industry as a sommelier, she said.
The Schoolhouse's Milwaukee Avenue spot takes over the home of Fearless Cooking, which closed over the summer after three years. Knecht, who had been following the business, connected with the Fearless owner after she closed.
Knecht chose the location because of the grand kitchen in the space, its family-friendly neighborhood and the area's business activity, she said. The storefront, double the size of the River Forest spot, will allow for more classes and more space, Knecht said.
"I feel like [the neighborhood strip] is a pretty vibrant part of the city that doesn't feel like it has a lot of stuff going on yet but it's on the brink of changing," Knecht said. "Being in this part of the community is what's gonna be really good for us."
Across the street, a 24-unit apartment complex is planned for a vacant lot that's sat empty for almost 20 years. It could break ground in the summer, developers previously said.
The corner has seen other businesses move in and offer more dining and entertainment options for residents in the last year.
Comic book store Howling Pages opened in May, and cocktail bar Moonflower and its lower-level bar, Nightshade, opened over the summer at 4359 N. Milwaukee Ave. A block away, Little Lulus also reopened in the summer. Next door, Triple R Gallery opened in late 2021.
A breakfast spot could open diagonally across from the Schoolhouse later this year.
More interior construction needs to be completed before the Schoolhouse classes can start, but spots are already filling up, Knecht said.
The new spot is hiring assistants, lead class instructors, party hosts and more, ideally people from the community who love kids and cooking, the owner said. Those interested can apply online.
Knecht, who lives in suburban Oak Park, is open to ideas from Northwest Siders on adult and kid classes, menu items and event hosting. She can be reached at cheryl@iloveschoolhouse.com.
"I'm really community-focused and want to be part of this neighborhood and help be a resource for families," she said. "Especially after what we've been through the last few years, I feel like kids need a lot more support. And we provide a really safe space for kids to explore and use all their senses [and] get off their little screens."
Watch our "On The Block" TV show on The U, CW26 and MeTV.
Listen to "It's All Good: A Block Club Chicago Podcast":