LINCOLN PARK — The Peggy Notebaert Nature Museum in Lincoln Park is hiking entry fees for the first time in 15 years to support the institution's growth.
Beginning Wednesday, admission to the Nature Museum, 2430 N. Cannon Drive, will be $8-$15 depending on the visitor's age for Illinois residents and $10-$17 for out-of-state visitors, according to the museum. The change was approved Wednesday during the Park District's monthly meeting.
Prices were previously $6-$9 for all visitors.
Admission will continue to be free for children younger than 3 and free for all Illinois residents each Thursday, according to the museum.
President and CEO Erin Amico said the museum last raised prices in 2007, when a pound of butter was about half as pricey as it is now, thanks to inflation.
"It's important for a business's health to adjust pricing as costs go up," Amico said.
Depending on attendance, the admissions increase could bring in $150,000-$200,000 more in revenue each year, Amico said. This money will support the Nature Museum as it expand its offerings and community outreach programs.
Sponsorships, grants and other contributions make up 60 percent of the Nature Museum's revenue. Ticket prices play a key role in supplementing that money, museum officials said in a news release. The admissions increase is expected to cover the costs to reach 37,500 students in hands-on field trip workshops taught by full-time museum educators, officials said.
"This extra money allows us to continue doing our work and updating our offerings to make sure we're being current and relevant to meet the needs of Chicagoans," Amico said. "One thing we're looking at exploring is more immersive exhibits that encourage people to interact with using smartphones and other technology."
One such exhibit is an installation featuring art by local photographer Mike MacDonald, who captures images of Chicago nature in an "immersive, compelling and intimate way," Amico said. It's planned to open April 1.
"We'll use Mike MacDonald's beautiful artwork to create a space where people can feel immersed in nature, even if they're not able to travel to the beautiful preserves that we have in our state," Amico said. "It will also use QR codes and other technology so people moving throughout the space can have a deeper experience enjoying more content and storytelling."
The Nature Museum is also launching its Sustainability Center, a community hub and resource center opening in the fall that will feature rotating exhibits, digital content and spotlights on people making a difference in their communities for more sustainable living, Amico said.
The two components of the Sustainability Center include the exhibit space, which will use data and technology to track changes in weather, climate and the environment, as well as a meeting space for the museum's Chicago Conservation Corps, Amico said.
The Chicago Conservation Corps is a program that has trained more than 900 community leaders in conservation, Amico said. They've gone on to create projects unique to the needs of their neighborhoods, like a garden and green space for people experiencing homelessness in Englewood and a school recycling program, Amico said.
"It's essentially a program about community activism that's through the lens of sustainability and climate change," Amico said. "And we'll use the Sustainability Center to highlight this work and show how we can take a step back and realize collectively, these projects together have impacted over 150,000 Chicagoans — that we're making a difference and can reclaim our city if we tackle these topics together."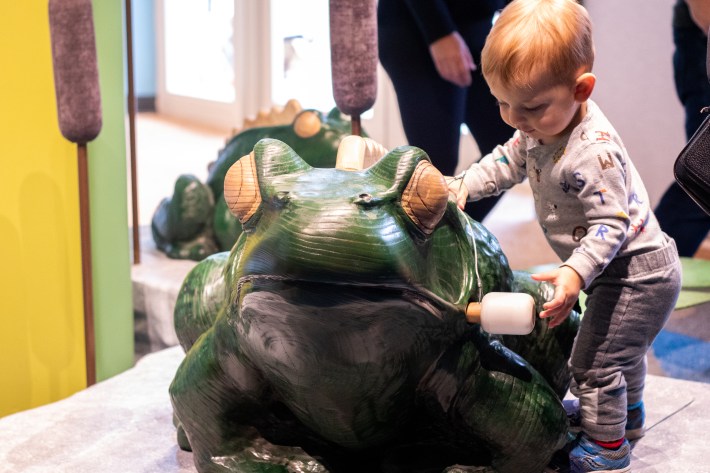 The museum also recently introduced Nature's Playspace, a 3,000-square-foot play room where kids ages 1-7 can learn about the Great Lakes region through interactive features mimicking Illinois' lakes, dunes, savannas, rivers, wetlands and prairies.
"It's absolutely fabulous, and since it opened in October, we've been adding on layers and enriching the experience," Amico said. "It's so special because it's a place that inspires some of our youngest visitors."
The Nature Museum is also expanding its hours beginning Feb. 5 to be open 10 a.m.-4 p.m. daily. Visitors are encouraged to buy tickets in advance on the Nature Museum's website.
"This is a new chapter for the Nature Museum that's about continuing the work we're doing, particularly in education through exhibits and hands-on learning, but also about deepening our relationships and impact on communities," Amico said.
Listen to "It's All Good: A Block Club Chicago Podcast":