AUBURN GRESHAM — Seven candidates will face off in the February election to lead the 21st Ward and fill the City Council seat left vacant by longtime Ald. Howard Brookins Jr. 
Brookins announced his retirement in September after nearly 20 years serving the South Side ward. He unsuccessfully ran for one of the 10 Cook County Circuit Court seats in June. In August, Brookins said he hopes to help run his family's funeral home business when he leaves office.
Under the city's controversial ward remap, the 21st Ward will include the former Far South Side 34th Ward.
Seven candidates will go toe-to-toe to serve the new ward, which comprises parts of Auburn Gresham, Brainerd, Longwood Manor, Fernwood and West Pullman. Fourteen candidates entered the race, but half were kicked off the ballot after they withdrew or were disqualified by elections officials.
Election Day is Feb. 28. If no candidate receives at least 50 percent of the vote, the top two will go to a runoff April 4.
More on the candidates:
Preston Brown Jr.
Brown has lived in Washington Heights for 50 years. He unsuccessfully challenged Austin to lead the 34th Ward in 2019.
Brown has served as the Democratic committeeman for the 34th Ward since 2020. He's also worked as an attorney and has a background in insurance, real estate, investment securities and telecommunications, he said. 
Brown grew up in what was once known as Maple Park, an area between 115th Street and 119th and Ashland and Halsted that welcomed Black homeowners to the city during the pre-Civil Rights era. 
Brown's childhood was "spectacular," but the community "has gone south," he said. As the next alderperson, he'll restore the 21st Ward to "its former glory," Brown said.
"My goal is to reinvigorate the community I grew up in," Brown said. "We're going to fight hard to build businesses, spur economic development, help with infrastructure and prioritize education. Public safety is my numero uno. We've got a lot of work to do."
A lack of transparency is the top problem plaguing the city, Brown said. City officials receive taxpayers' dollars, but neighbors aren't seeing improvements in their communities, Brown said. 
If elected alderperson, Brown will create a participatory budget that allows community members to choose the most important projects in the ward and the order in which they should be solved, he said. 
Brown would improve public safety by requiring more officers to patrol public transit and recruiting police officers from the community to serve the community, he said.
Lead service lines in South Side homes are also a public safety concern, Brown said. As alderperson, he will advocate for the city to invest in minority-owned plumbing contractors to repair the lines, he said. 
Brown sits on the local school council at Julian High School, where the "numbers are abysmal," he said. As alderperson, Brown will bring back "skilled-based education" to help students learn a trade and have a fighting chance in the workforce, he said. 
"We're at a crossroads, and the next alderman community members choose is going to affect this community for at least a decade and possibly more," Brown said. "I want neighbors to look at all the candidates and choose the one they believe will best serve the needs of the constituents."
Ayana Clark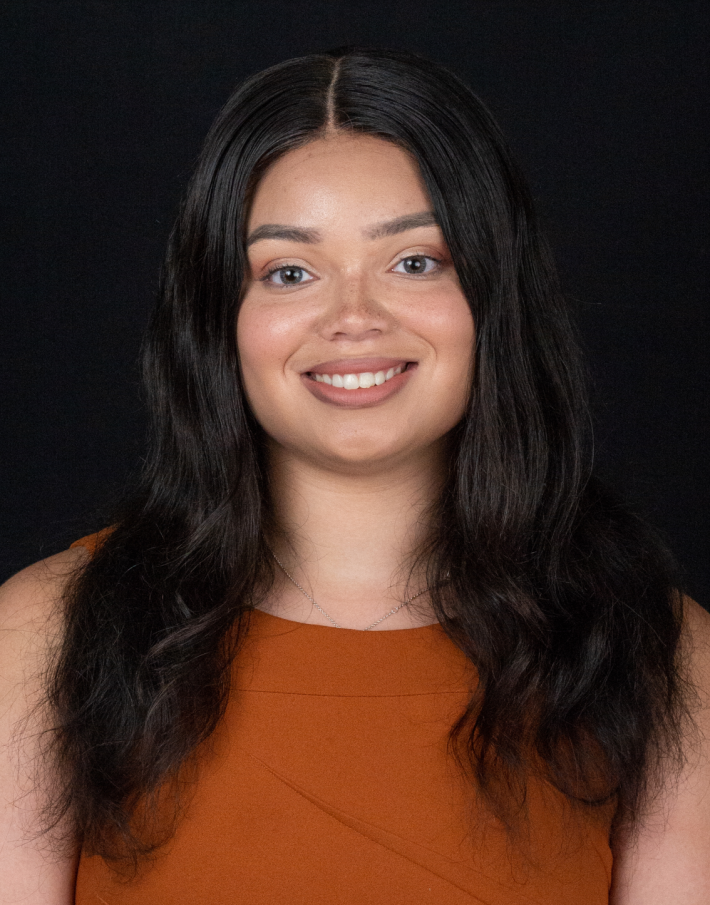 Ayana Clark previously served as a community advocate for retired Rep. Bobby Rush, where she fostered connections between the state leader and neighbors. 
During her time with Rush, Clark implemented pop-up service hours during the pandemic, helped create an education task force and worked alongside Rush to spearhead a special task force for missing Black women and girls, she said. 
Rush recently endorsed Clark for 21st Ward alderperson, calling the candidate an "impressive, young, energetic person" who he thinks "will be an outstanding elected official and public servant." She has also been endorsed by Run for Something, One Business Chicago and "Girl, I Guess, Progressive Voter's Guide."
Clark grew up in Englewood but experienced homelessness and moved around the city as her single mother searched for shelter openings for her family, according to her bio.
She graduated with a master's degree from Purdue University Northwest while working and raising two young boys. She has worked with South Side organizations like Hustle mommies and Project H.O.O.D. She is also an alumnus of the Obama Foundation Community Leadership Corp and the Congressional Black Caucus Institute.
Clark's earlier years and three incidents of gun violence near her son's school pushed her to run for alderperson, she said. 
"I made a promise to my kids that the things I experienced as a kid, they wouldn't have to experience," Clark said. "As a community advocate, I made a promise to neighbors that they wouldn't have to experience that, either." 
If elected, Clark will focus on infrastructure improvements, investing in neighborhood developments, building community connections and public safety, she said. 
Clark has also promised to donate 20 percent of her salary back to the community to help homeowners complete small repairs, maintain lawn care and pay fines, like trash cleanup, she said.
The 21st Ward is filled with "too many small businesses not made up of community members," Clark said. There are barely any healthy food options, sit-down restaurants or businesses that cater to essential needs, she said.
To solve the problem, Clark will follow in the footsteps of Ald. Sophia King (4th) and create community councils to lead discussions about what the ward needs, she said. She'll also follow the lead of the Go Green On Racine team and advocate for a community pantry, she said. 
Clark doesn't "want this to be an office where people have to come to me," she said. Instead, she'll "walk the blocks" to address issues, she said.
After Clark saw a young child break into her backyard to play with her children's playground set, it became clear children need more affordable neighborhood programs and child care, she said. She supports universal child care that gives parents the financial freedom to provide adequate child care for their children, she said. 
Clark will advocate for a program like the Nehemiah Project, which provides housing assistance to low-income families, to be brought to Chicago, she said.
Police can only mitigate crime, but there is a direct link between poverty and gun violence — and "the only way to fix that is to bring people out of poverty and give them something to do," Clark said.
"The chance we have right now doesn't come around often," Clark said. "We have elected officials who get in power, stay and don't want to give up their seats. But once you become ineffective, it's time for a change. I think that's the point that we're at in the 21st Ward, and that's why I decided to run. No one who has announced their candidacy will be more effective than I will."
Cornell Dantzler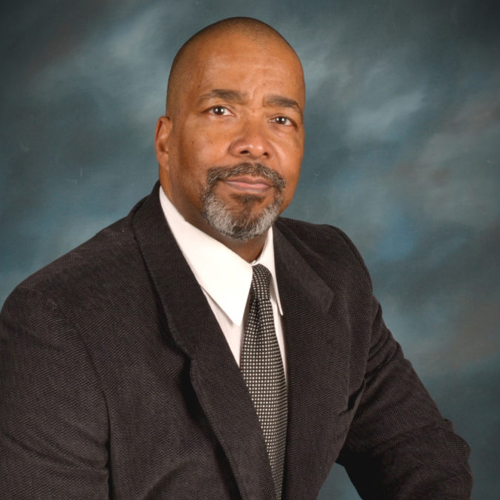 Cornell Dantzler has lived in the Morgan Park/West Pullman community for more than 50 years. He served in the Navy and was a firefighter with the Chicago Fire Department for 25 years before retiring. 
More than 40 years ago, Dantzler created the STEPS program, which helps youth "take positive steps in life" through community engagement, Dantzler said. 
Fellow lifelong neighbors "familiar with my community service" gave Dantzler the push to run for 21st Ward alderperson, he said. 
If elected, Dantzler's top priorities will be public safety, infrastructure improvement, economic opportunity service enhancement and trade development, he said. 
"You can't decrease crime if you don't have jobs available for those who committed the crime," Dantzler said. "I want to make sure people are coming together as a community." 
Remodeling the parks and providing basic clean-up services are essential to helping the community thrive, Dantzler said. 
Equal attention must be given to older people and youth in the community, Dantzler said. He will help fund mentorship programs "during and after school," he said. He'll also designate a "special senior call line" so older neighbors receive immediate service when they notice issues in the community, Dantzler said. 
Dantzler hosts meet-and-greet conversations 3-6 p.m. Mondays at 10846 S. Halsted St.
"When people vote in February, I want them to think about my public service," Dantzler said. "I have always had a love and desire to serve people in the community."
Daliah Goree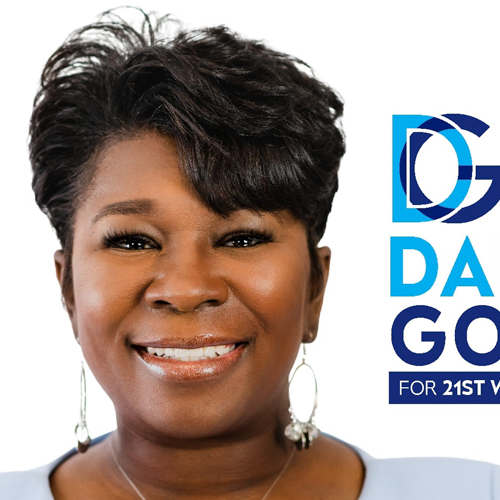 Daliah Goree, a long-time Morgan Park resident, has been a police officer for more than two decades. She is the founder of I Am Love, a nonprofit that sponsors community events and brings resources to neighbors, she said.
Goree was endorsed by Ald. Carrie Austin (34th) and Ald. Derrick Curtis (18th), according to the Southland Journal. 
Goree didn't initially support the controversial ward remapping that grouped the 21st and 34th wards, but it welcomes an opportunity "to bring strong communities together," she said. 
"We're going to work together, and we're going to do the best that we can together as a community to make our community viable," Goree said. "We're going to beautify our neighborhoods, bring city services back in and bring economic development."
Goree's time as a police officer has taught her how to listen to neighbors' concerns, implement viable solutions and develop programs for "youth, seniors and everyone in between," she said. 
High crime, from frequent carjackings to robberies, is a problem in the ward, Goree said. Trash on 87th Street, overgrown trees and corroded streets also plague the community, Goree said. 
If Goree wins in February, she will invite city officials to town halls to address local issues, she said. She will also "bring back block clubs" with family-oriented programs so neighbors can get to know each other again, Goree said. 
"I am here for the community, and I have been here for the community," Goree said. "I love what I do, not just as a first responder, but as a community advocate and a public servant. I like to listen to what the community says, and I give them what I need. In order to be an efficient alderman, I have to listen to my community."
Kweli Kwaza
Kweli Kwaza has lived in Auburn Gresham for 20 years.
Kwaza's community activism dates back to when he was a child serving as a community advocate for the Black Panthers' Free Breakfast program, he said. He served as a community liaison for Brookins' office for five years, he said.   
For 40 years, Kwaza has led the Talented 10th College and Career Mentoring organization, which equips high school students with the skills and resources they need to attend college. 
Kwaza also founded Club 21, a network of block clubs in the 21st Ward that helps beautify neighborhoods, reduce crime and foster conversations between neighbors and local officials, he said. 
Kwaza studied in Kenya as a Fulbright scholar at Northern Illinois University and holds a doctorate in community psychology from National Louis University, he said. 
Kwaza's top priorities as alderperson would be public safety and economic development, he said. Kwaza would also foster transparency with neighbors by creating a website and app that allows neighbors to see where alderpeople are receiving and spending their money and what's going on in the community, he said. 
"I have block club presidents calling me saying they're afraid to sit on their porch, go to gas stations or do anything because of all of the violence," Kwaza said. "Economic development and public safety go hand in hand. If you lower the violence in the community, we'll have a better chance for economic development."
Drones operated by community organizations and not police officers could be the best way to curb crime, Kwaza said. He would also integrate more technology, like cameras, plate readers and facial recognition devices, he said.
Rather than "beauty supply stores and liquor stores," the ward needs to welcome a diversity of small, locally owned businesses that hire from the community, Kwaza said. He would work with neighbors to help them tap into the right resources to open new stores, Kwaza said. 
As plans for the Red Line extension move forward, Kwaza would also host community meetings to "make sure people are prepared for the extension and ready to get the jobs and the contracts the Red Line will bring," he said.  
Larry Lloyd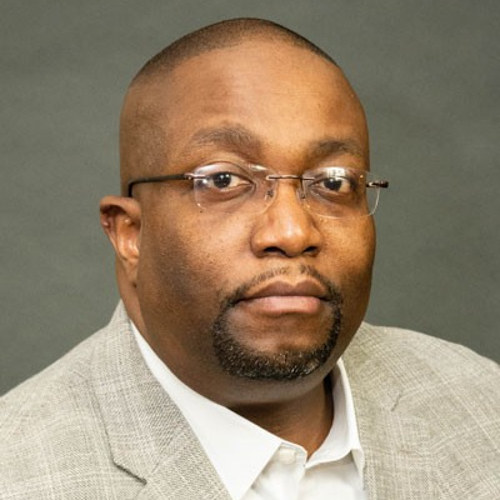 Larry "Jay" Lloyd was born and raised in Englewood but has lived in Washington Heights with his family for five years. 
Lloyrd works as an attorney at his firm, Lloyd Law Firm LLC. The firm has offices in Illinois and Wisconsin, he said. 
As the 21st Ward alderperson, Lloyd's top concerns would be repairing local streets, improving city service response times, boosting public safety, investing in schools and economic development, he said. 
Lloyd would bring back beat patrols — where officers walk the street to make neighbors feel safe — to prevent crime, he said. 
If elected, Lloyd would work to bring more shopping, dining and entertainment options to the ward, starting with the vacant Jewel Osco at 11414 S. Halsted, he said. 
Neighbors fought against a Buddy Bear Car Wash in the community, but elected officials ignored their concerns and welcomed the development anyway, Lloyd said. 
"We have more than enough car washes, and we don't need any more beauty supply stores," Lloyd said. "The large parcel of land at 115th and Halsted could be a bowling alley, theater or restaurant. We need options to be able to shop within our community." 
Lloyd would be "transparent and accessible" as the next alderperson, he said. His work as an attorney has taught him how to "effectively advocate for clients" and fight for the greater good of the community, Lloyd said. 
Lloyd's leadership style would follow that of former Ald. Wilson Frost, who served the 21st and 34th wards for 20 years and made the community "prosperous," Lloyd said.  
"We can be prosperous. We just don't have the leadership," Lloyd said. "With the proper leadership, this ward can be what it once was."
Ronnie Mosley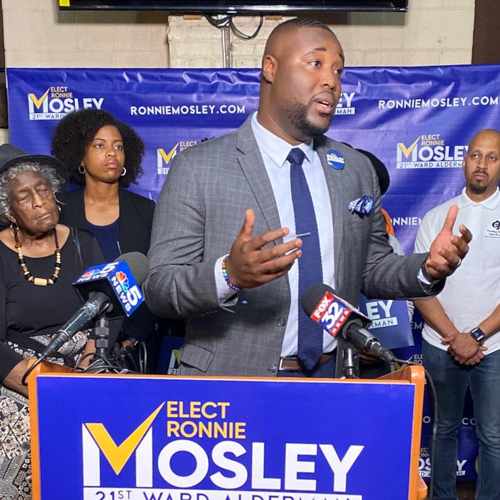 Ronnie Mosley was born in raised in the 21st Ward. Mosley has lived in Washington Heights with his wife since 2019, he said. 
Mosley's mother had him at 14 and named him after her cousin, who was shot and killed shortly before Mosley was born, he said. His mother's cousin encouraged her to "go on, be great and make the family proud," Mosley said.
Mosley's goal as a local official would continue his lifelong purpose of "defying the odds," he said. 
Mosley is the founder of Homegrown Strategy Group, a consulting firm that helps communities and institutions enact political and policy changes. He's helped clients such as Gov. JB Pritzker and the Obama Foundation, he said. Mosley also organized for cannabis legalization and equity. 
Mosley's work as an organizer dates back to his time at Simeon High School, where he organized for gun reform after the murders of Chavez Clark, Gregory Robinson and Blair Holt, a close friend, he said.
As a student at Morehouse College in Atlanta, Mosley fought for criminal justice reform and helped the Service Employees International Union unionize their cafeteria workers, he said. 
Mosley will bring more than 15 years of experience as an organizer to the 21st Ward, he said. The community raised him, and now it's time to give back, Mosley said.
Mosley's campaign has been endorsed by Brookins, Ald. Michelle Harris (8th) and Father Michael Pfleger of St. Sabina Church. 
"My neighborhood raised me," Mosley said. "I'm thankful they chose to step up and be a part of my growth to mentor me. I'm excited to give all that they have taught me back to my home." 
Mosley's top priorities would be be public safety, economic development and supporting local businesses, he said. He also hopes to create more local resources for youth and older people, he said. 
Crime is "out of control," Mosley said. The best way to fix it is to "give people better options" with jobs and wraparound services that meet their every need, Mosley said. 
Mosley will help older neighbors by working alongside Cook County Commissioner Stanley Moore — who also recently endorsed Mosley — to guarantee they are taking advantage of grants and opportunities in their communities, Mosley said. For youth, he'd like to transform a vacant building into a community center, he said. 
The community needs a "seat at the table" to decide the developments coming to their neighborhood, Mosley said. The 21st Ward needs restaurants, entertainment and a business district with thriving economic opportunities, Mosley said. 
"I'm going to make sure that the jobs we're bringing in and creating are going to be strong union jobs," Mosley said. "I'm going to make sure that the developments will benefit the community."
It'll take more than the $1.5 million of discretionary money each alderperson receives to get things done in the 21st Ward, Mosley said. He'll partner with state and county officials to bring in more investment the community needs for visible change, he said. 
"I'm here because my community invested in me," Mosley said. "I'm showing up for them the same way they've shown up for me. I'm focusing on having a safe ward. That's our number one priority. Making sure we have jobs, a strong economy and everyone has the resources they need." 
Subscribe to Block Club Chicago, an independent, 501(c)(3), journalist-run newsroom. Every dime we make funds reporting from Chicago's neighborhoods.
Click here to support Block Club with a tax-deductible donation. 
Thanks for subscribing to Block Club Chicago, an independent, 501(c)(3), journalist-run newsroom. Every dime we make funds reporting from Chicago's neighborhoods. Click here to support Block Club with a tax-deductible donation.
Listen to "The Ballot: A Block Club Chicago Podcast":