WRIGLEYVILLE — Texas-based cinema chain Alamo Drafthouse's six-screen movie theater opens Friday in Wrigleyville, featuring a full-service cocktail bar and decorations referencing classics from local filmmaker John Hughes.
The 30,423-square-foot theater is on the third floor of the Addison and Clark development at 1025 W. Addison St. It features a replica of the red Ferrari from "Ferris Bueller's Day Off" crashing through a glass window.
The theater was dedicated to Hughes during a ceremony Thursday, where his son, James Hughes, revealed a plaque proclaiming the theater the John Hughes Cinema.
"Director John Hughes has left an indelible mark on our collective consciousness with witty, charming and heartfelt films like 'Sixteen Candles,' 'The Breakfast Club' and 'Planes, Trains & Automobiles,'" the plaque reads. "In 'Ferris Bueller's Day Off,' he perfectly captured the mischievous and carefree spirit of youth through one teen's epic day playing hooky, cementing Chicago as a cinematic playground in the process."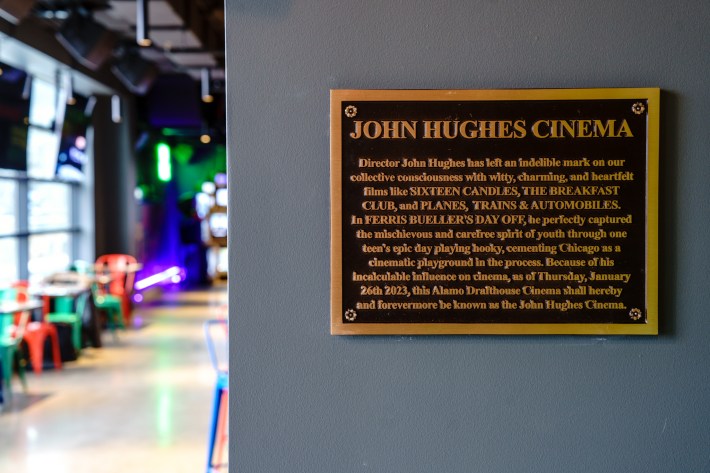 Alamo Drafthouse has 372 seats among its six theaters, according to a press release. All seating is assigned and can be reserved in person or online, although advance purchase is recommended.
Each theater is equipped with Cinionic DP4k laser projectors and 7.1 Dolby surround sound, according to Alamo Drafthouse.
The new theater will also enforce Alamo Drafthouse's well-known and strict "no talking and no texting" policy, with violators being asked to leave.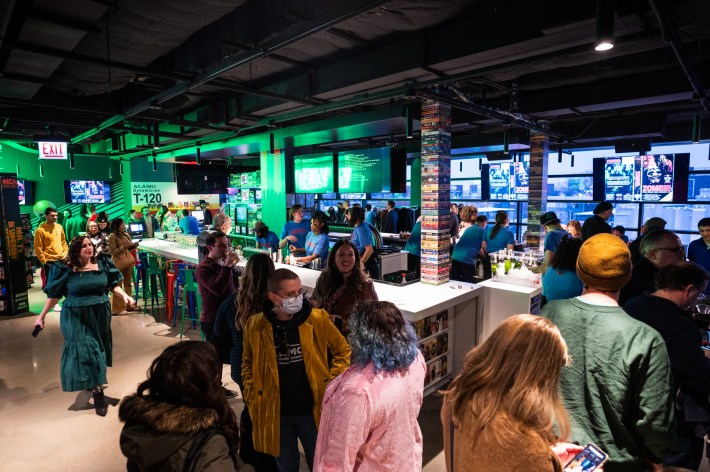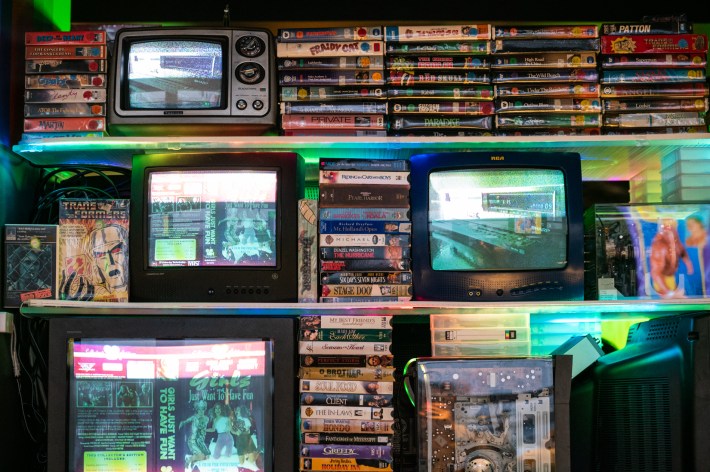 The theater also features Video Vortex, a standalone cocktail bar with a video library stocked with more than 11,000 VHS tapes, DVDs and Bluerays people can rent for free. The bar's retro-themed design features art installations with screens playing VHS clips, VHS-themed decor and wallpaper nodding to the video store culture of the '80s and '90s.
That bar has 32 beers on tap, including the Alamo Drafthouse Wrigleyville Hazy Pale Ale brewed by Half Acre Beer Co., along with custom and classic cocktails. The back bar will be available to rent for small events, parties and film screenings.
The Video Vortex is open 4 p.m.-midnight Monday-Thursday, 4 p.m.-2 a.m. Fridays, noon-2 a.m. Saturdays and noon-8 p.m. Sundays.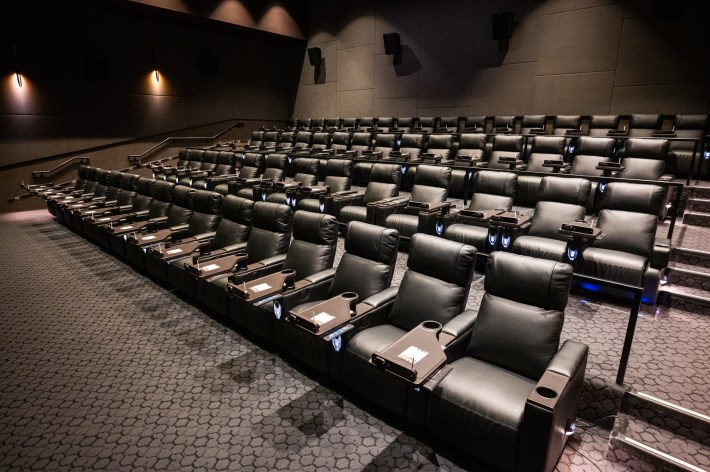 The theater also has a kitchen featuring seasonal dishes and movie-themed specials. Vegan options include the popular buffalo cauliflower, supreme vegan pizza and Beyond Meat burger.
The theater offers dine-in service in which visitors' food and drinks are delivered directly to their movie seats. Menus are available at each seat, along with pens and paper for people to write their orders and buttons to call for servers.
The theater is also offering a 25 percent discount on food and non-alcoholic beverages through Feb. 5, according to its opening announcement.
Moviegoers are asked to arrive 30 minutes before shows for a personally crafted pre-show program that's unique to each film, according to Alamo Drafthouse.
The Wrigleyville theater will also host events, including interactive movie parties, live Q&As and advance screenings, according to Alamo Drafthouse.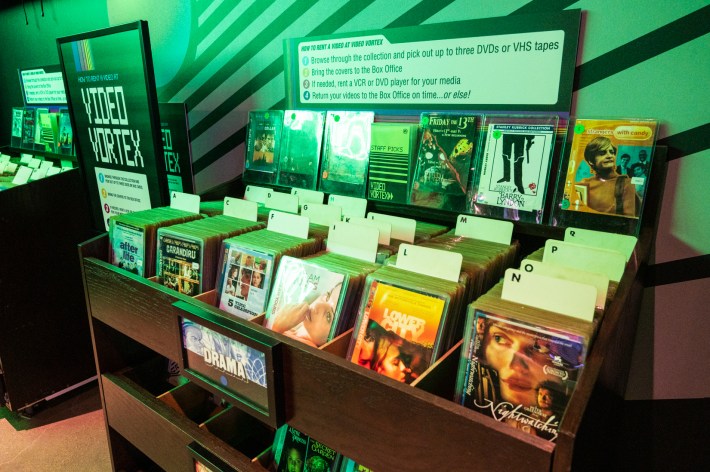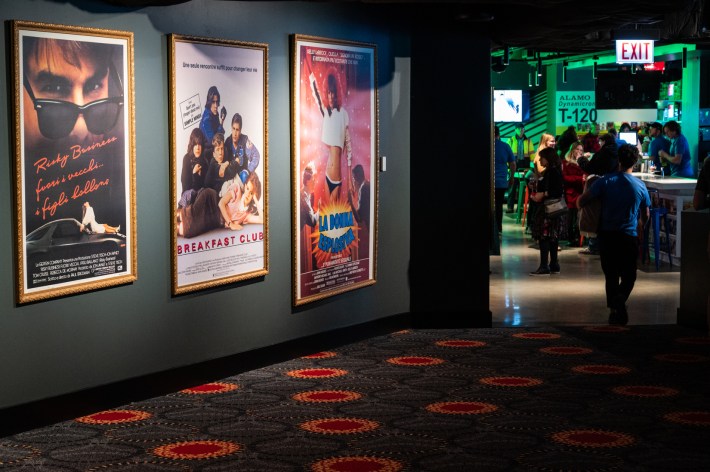 Alamo Drafthouse was founded in 1997 as a single-screen, mom-and-pop theater in Austin, Texas. Since then, it's grown to have 38 locations across the United States.
The Addison and Clark building always included a movie theater plan, but the construction timeline and COVID-19 restrictions delayed its opening until now, Bennett Lawson, chief of staff for Ald. Tom Tunney (44th), previously told Block Club.
The theater joins a UFC gym, Lucky Strike bowling alley and 150 upscale apartments inside the development. It is one of the few major projects near Wrigley Field not owned by the Ricketts family.
Validated parking within the Addison and Clark building is available for $10 for visits of at least one hour and up to four hours with a current Alamo Drafthouse ticket stub or Video Vortex receipt. Metered street parking is also available.
Listen to "It's All Good: A Block Club Chicago Podcast":