SOUTH LOOP — Nearly two years after Mandy Rinder opened her first StretchLab in the West Loop, she's bringing her talents to the South Loop.
StretchLab is opening a studio at 1351 S. Michigan Ave. this weekend. A two-day grand opening is planned for 8 a.m.-2 p.m. Saturday and 12-4 p.m. Sunday.
StretchLab is part of a national chain founded by a group of personal trainers who are dedicated to the science of stretching, which Rinder says is an "overlooked part of fitness and wellness."
The first StretchLab studio opened in California in 2015, according to USA Today. Now, there are over 300. Rinder co-owns the West Loop and South Loop studios with her husband, Tim. There also are locations in Lincoln Square, Lakeview and Old Town.
StretchLab offers assisted stretching by trained "flexologists" who use Proprioceptive Neuromuscular Facilitation, Rinder said. Trainers put a client in a position and ask them to contract certain muscles and hold it for a few moments to increase range of motion, Rinder said.
"We don't think about stretching until we're in that kind of rehabilitation recovery period. It's the idea that it should be part of the day to day fitness and wellness," Rinder said.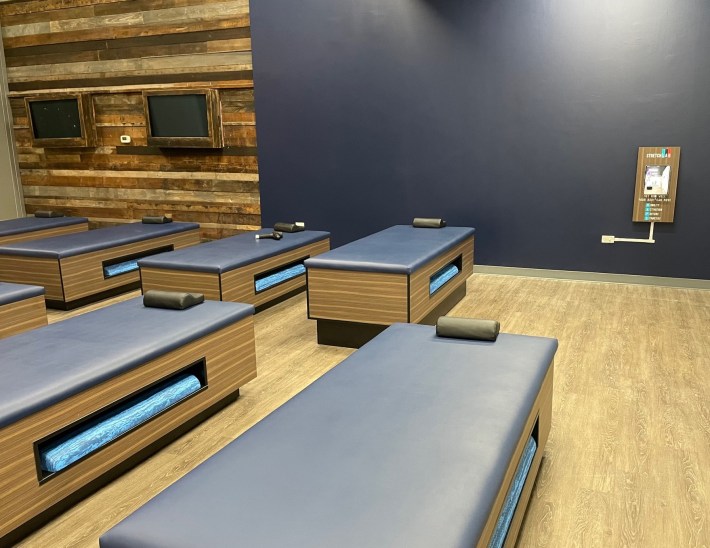 The effectiveness of stretching has been hotly debated in recent years; while some studies support the practice, others have found it has no impact on injury prevention. But Rinder said Stretchlab flexologists focus more on improving flexibility, increasing range of motion and reducing stress.
StretchLab members range from middle school athletes to retired octogenarians, with many in between looking for assistance with sports-related recoveries, Rinder said.
"We have athletes but we also have corporate workers who primarily sit at a desk all day and just get a lot of stiffness and lack of mobility in their daily life," she said.
Rinder and her husband discovered StretchLab in 2019, originally planning to open the West Loop studio the following year. Then COVID-19 happened and the couple found themselves beset with pandemic-related delays, Rinder said.
Being a one-on-one service made complying with the pandemic protocols easier as most members were seen by appointment, Rinder said. The positive response from the community also helped a great deal, she said.
"We still get people coming to the studio saying, 'You know, I spent the last two years working from my couch, my whole body hurts, I'm not as mobile as I used to be,'" Rinder said. "I think the pandemic gave us an even better perspective on [health and wellness] right now."
StretchLab offers several packages for one-on-one and group sessions, including a standard 50-minute stretch and a 25-minute "maintenance" stretch. Group stretches are capped at six members and involve a flexologist leading the group in a series of seated and standing stretches, Rinder said.
​​The studio is also offering free 15-minute stretches this weekend for those looking to learn more. Availability is limited, so people are encouraged to either call 312-857-5744 or email southloop@stretchlab.com to schedule an appointment.
Listen to "It's All Good: A Block Club Chicago Podcast":