LITTLE VILLAGE — Street vendors dealing with a surge in robberies blasted Mayor Lori Lightfoot this week after she suggested they stop carrying cash to avert further crimes.
Vendors and city officials said they've seen an increase in robberies in Little Village's business district on 26th Street over the past few months. Southwest Side aldermen have been speaking out on the issue since late last year.
During a debate last week, Lightfoot defended her approach to public safety and how she's tried to address street vendors' concerns. One strategy she said officials are considering is helping vendors transition to not using cash and better securing money.
"We have been in Little Village working with those street vendors, understanding what the nature of the crime is, making sure that we're doing things in concert with them to help them, make sure that their money is secure, not use money, if at all possible — using other forms of transactions to take care of themselves," Lightfoot said.
But other candidates, elected leaders and vendors say going cashless isn't feasible for everyone and wouldn't solve the issue on its own.
"Mayor Lightfoot telling Chicagoans who have been robbed to stop carrying cash is one of the most out-of-touch statements I have ever heard from the mayor," Rep. Jesús "Chuy" García said in a statement Thursday. 
García, who is also running for mayor, served as the 22nd Ward alderman covering Little Village from 1986-1993.
"The problem is crime, and she has done nothing about it. Now, she's blaming the victims of crime for being robbed," he said.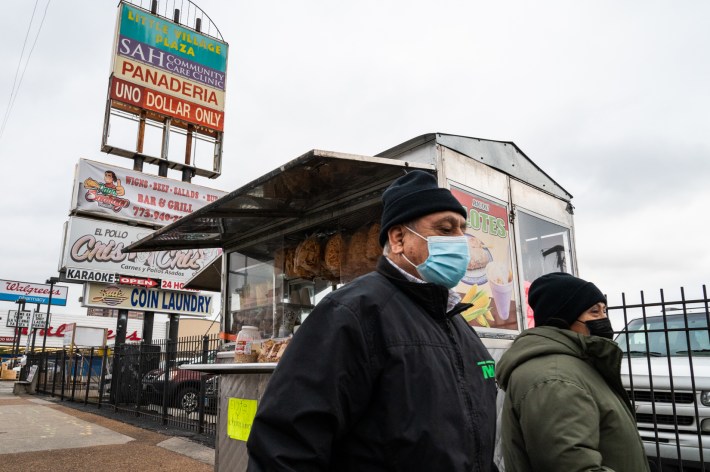 Ald. Mike Rodriguez (22nd) said his office has hosted workshops with the Little Village Chamber of Commerce to teach vendors about the possibilities of accepting payment other than cash to reduce loss in the event of a robbery. He said there are apps and equipment vendors can use for free.
But Rodriguez stressed that is only one way to help reduce the risk street vendors face.
"For anyone to state going cashless is the answer is ridiculous," he told Block Club. "It can't be the whole playbook."
Rodriguez said he's worked with the 10th Police District, which covers Little Village and parts of Pilsen, to increase officers' presence along 26th Street overnight and in the early morning. He said he's personally noticed the increase and heard the same from vendors.
The alderman also said he's planning to meet with other City Council members to discuss solutions. Other vendors also have been robbed in Gage Park, Brighton Park and near Chinatown, police say.
Going cashless could make operations harder for some, vendors say.
Zitlali, who asked only to be identified by first name, works at a cart selling street food outside the Discount Mall on 26th Street near Albany Avenue. She said one of her co-workers was attacked and robbed in November.
Going cashless might work for some people as a solution, but not all, Zitlali said.
"There are technological people who get it," she said. "But it's complicated taking credit cards. We have to learn. It also could be worse, because if [people] come and rob you and there's no money, they could attack."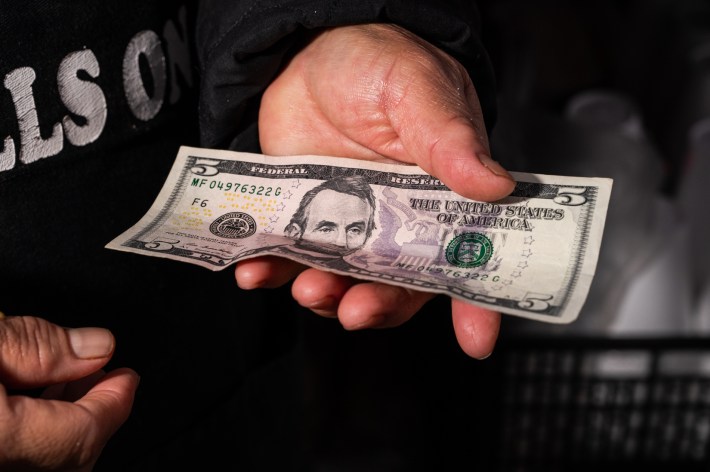 A man who's sold churros in the area for 15 years and asked not to be identified for his safety said he luckily hasn't been robbed. While the robberies have occurred in the early morning hours, he said he sells during the day and doesn't feel too unsafe.
In his experience, people don't want to pay with something other than cash, he said. He also said using something to accept card or phone payments could come with extra costs.
"We would pay [more] as well," he said.
Olga Martinez said she's sold street food on 26th Street for more than 25 years. She, too, said she's been recently robbed.
"Of course I have fear," she said of the possibility of being attacked again.
Martinez also said not having cash wouldn't prevent her or others from being physically harmed during an attempted robbery.
The Chicago Police Department said they don't have data for exactly how many vendors have been robbed recently, and they couldn't comment on deployment strategies.
Subscribe to Block Club Chicago, an independent, 501(c)(3), journalist-run newsroom. Every dime we make funds reporting from Chicago's neighborhoods.