CHICAGO — The Chicago Board of Ethics is asking city watchdogs to investigate Mayor Lori Lightfoot's reelection campaign.
The call for a full-blown probe comes after a vote at a recent closed-doors meeting, the Sun-Times reported.
Earlier this month, a Lightfoot campaign staffer emailed some Chicago Public Schools teachers encouraging students to volunteer for her reelection effort in exchange for class credit.
The ensuing firestorm forced Lightfoot to publicly apologize and promise to stop using city email addresses for political purposes, which possibly violates a city ethics ordinance.
The ethics board now wants Inspector General Deborah Witzburg and her CPS counterpart, Will Fletcher, to launch a probe into Lightfoot's campaign, according to the Sun-Times.
A public list of ethics board cases shows a recent unanimous citation for improper "use of city property" and "prohibited political activity." It gives an unnamed defendant notice of the board's intent to dig into allegations of "electioneering communications."
In a statement, Witzburg said ongoing investigations must be kept confidential.
"That said, in my view, the abuse of an official position for political gain has no place in Chicago — not anymore," Witzburg said.
Lightfoot's camp did not respond to requests for comment.
Lightfoot called the emails a "well-intentioned" mistake by one staffer. The mayor said she didn't know about the emails until questioned by WTTW Chicago's Heather Cherone, who broke the story.
It was a change of tune for Lightfoot, who initially stood by the emails, defending it as an "opportunity to engage" with the campaign and saying it was "done using publicly available contact information," WTTW reported.
Lightfoot promised to cooperate with any investigation into the matter.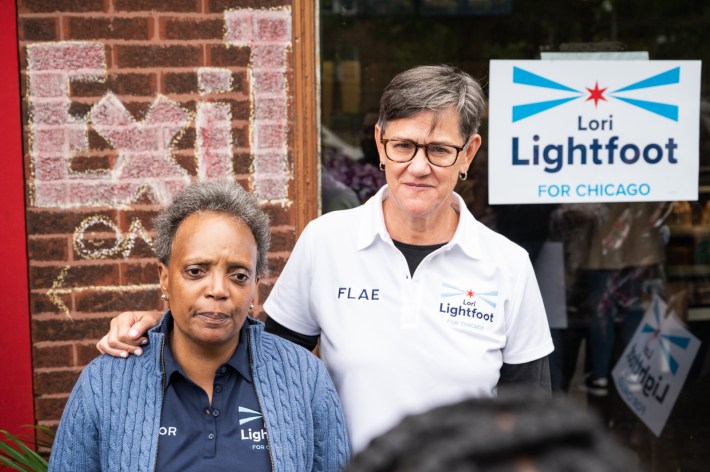 In the email, Lightfoot's deputy campaign manager Megan Crane bills an "externship" opportunity to volunteer in the mayor's reelection effort. The election is Feb. 28. 
"As the race heats up, we're looking to enrich our office through what we call our externship program. Could you please share this opportunity with your students?" the email says. "Lightfoot for Chicago is seeking resumes from any volunteer interested in campaign politics and eager to gain experience in the field."
The email goes on to say students would be eligible to earn class credit in exchange for volunteering. It says that "externs" would be expected to "devote 12 hours per week to the campaign," and volunteer opportunities included working on "voter contact, attending events and more."
"We're simply looking for enthusiastic, curious and hard-working young people eager to help Mayor Lightfoot win this spring," the email states. 
Leaders of the Chicago Teachers Union and Lightfoot's challengers excoriated the email, calling it unethical.
Listen to "It's All Good: A Block Club Chicago Podcast":