LOGAN SQUARE — Alan Gillman has spent the past few years battling to keep his Milwaukee Avenue hardware store afloat, hoping to preserve his family's legacy.
But the second-generation owner of Gillman Ace Hardware has given up the fight.
Gillman Ace Hardware, 2118-20 N. Milwaukee Ave., will close within the next couple of months, ending a nearly 80-year run in Logan Square. Gillman, 64, is hosting a liquidation sale to clear out inventory before the shop goes dark.
The shop's issues have become "too overwhelming," Gillman said.
Sales have slumped in recent years as Amazon has risen to prominence and Home Depot and other big-box stores have captured more business, Gillman said.
Other factors that compelled Gillman to close include soaring rents, persistent building repairs, pandemic-related strains and the protected bike lanes installed in front of the shop in 2020 that eliminated crucial customer parking, he said.
"It's a difficult choice, but I had no other way; I really didn't," Gillman said behind the shop counter Wednesday. "I appreciate this neighborhood to no extent [sic]. People supported us and are still supporting us to this day. It's like family."
Joseph and Rubin Gillman, the owner's father and uncle, opened the original Gillman Ace Hardware in 1947 at 2140 N. Milwaukee Ave., a few doors down from the current shop.
After about 10 years at that location and some success, the two moved to a larger store across the street in the Congress Theater, 2135 N. Milwaukee Ave., where it remained for about 40 years, Gillman said.
A young Gillman helped out at the family shop and eventually bought out his uncle's share of the business after his uncle got sick. Gillman and his father moved the shop to its current 5,000-square-foot storefront in the early '90s.
"I asked my father if he wanted to sell the business, and he said, 'Yeah, let's sell the business, if we can,' and I said, 'Dad, I've put in 12 years. What am I going to do now?' I said, 'If I can find the money to buy out Uncle Rub, would you want to stay?' He said, 'Yeah, let's go for it.' This guy was a gem," Gillman said.
Gillman went on to run the shop for more than 30 years and developed long-running relationships with neighbors and customers in the process.
For many years, the hardware shop's customer base was mostly Hispanic neighbors doing their own home repairs, Gillman said. But as Logan Square gentrified, the shop relied on developers and real estate professionals to keep the doors open, he said.
Even with those real estate accounts, the business was on shaky financial ground, Gillman said.
"We couldn't stay open, even this long, if we had to rely on a person coming off the street to get two keys made," Gillman said.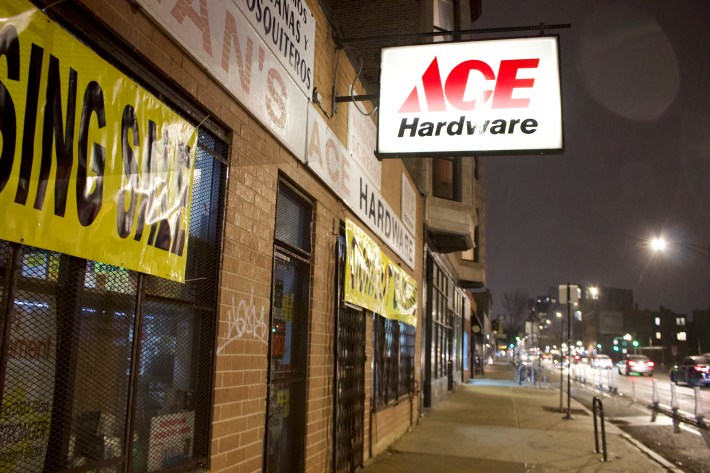 Gillman resisted the impulse for years to shut down the store and move on, but he finally gave in after the confluence of several issues.
The protected bike lane on Milwaukee Avenue between Western to California avenues eliminated about 100 parking spaces along the stretch in late 2020, including spots in front of Gillman Ace Hardware.
Gillman has said while he supports better bike infrastructure, city officials didn't make it clear to small business owners in the area that parking spaces would be lost in the project — or do anything to support businesses that depend on street parking. Having nearby parking was critical for customers transporting heavy, awkward materials from his store, Gillman said.
Ald. Daniel La Spata (1st), whose campaign headquarters is located next door to the shop, denies that account, saying he and city officials did thorough outreach to help Gillman and other shop owners navigate changes to the street.
La Spata said his landlord offered their parking lot to Gillman. Gillman confirmed that was the case, but said it was a temporary arrangement that didn't solve the shop's parking problems longterm. 
Gillman previously told Block Club business dropped by "at least a third" after the bike lane was installed. He said this week the bike lane was one of the biggest reasons for the closure.
"Unfortunately, the parking literally cut our business in half because people can't park. People that come in — they pick up 5 gallons of paint. It's heavy, they can't walk two or three blocks with it," he said.
Gillman couldn't immediately provide records to show the shop's sales dropped after the lanes were installed. Other shop owners along Milwaukee Avenue have also said the reduction in parking has hurt their businesses. Gillman's petition to restore the parking spaces drew more than 500 signatures.
But cyclist advocates and La Spata have strongly defended the lanes, saying they're needed to improve safety along Chicago's most dangerous bike route.
Crashes involving bikes fell 56 percent after the lanes were installed, according to the Chicago Department of Transportation.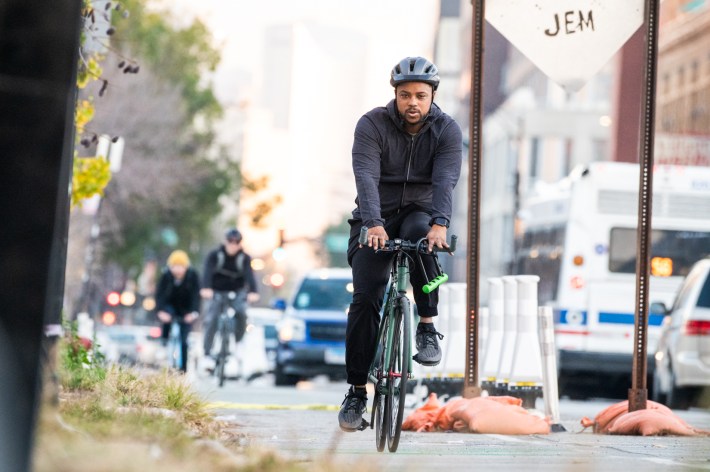 Another reason Gillman called it quits is because he can't afford to pay rising costs, he said. Gillman's landlord, Lazaro Nodarse, recently asked him to help cover his property tax bill increase after years of keeping the shop owner's rent low.
The bill for the Milwaukee Avenue property went up from $14,750 in 2019 to $16,645 in 2021, city records show.
"For many years, he was on a gross lease — he'd pay rent, and I would pay property taxes, water and common expenses. But because we did have a spike in the real estate taxes, I told him moving forward, your rent is going to stay the same, but I need you to contribute to the property taxes," Nodarse said.
Gillman said Nodarse has been "more than generous" to him over the years and he holds no resentment toward his longtime landlord and friend, but he can't pay the additional costs with the way things have been going.
In recent years, the shop's floors have also become a problem because they slope and aren't up to city code, Gillman and Nodarse said. But Gillman has been delaying Nodarse's plans to repair the floors, worried about missing out on sales.
"I'm going to have to pack everything up, move it to the back. The landlord was going to take care of the floor, but how can you be closed for three months? What happens to those people who … will find a new place to shop and forget about us?" Gillman said.
Gillman hired a liquidation company to help him prepare for the closure. Everything in the store is 13 percent off. Deeper discounts will be offered in the coming weeks, he said.
Looking back on the past 30 years of business, Gillman said he mostly remembers the strong bonds he formed with customers. But he said he resents city leaders for not doing enough to protect small businesses to keep them going.
"Back in the day, the city would worry about small businesses. They wanted small businesses and they'd do whatever they could for small businesses. Not today, I don't think," he said.
Gillman can't retire once he closes, he said. He plans to work for another hardware shop, possibly in suburban Buffalo Grove, where he lives with his family.
Listen to "It's All Good: A Block Club Chicago Podcast":