BACK OF THE YARDS — Two hopefuls are trying to unseat Ald. Raymond Lopez in the race for the 15th Ward City Council seat.
Vicko Alvarez and Gloria Ann Williams, community organizers on the Southwest Side, are vying for the seat alongside the two-term incumbent.
The 15th Ward covers parts of Back of the Yards, Brighton Park, Gage Park and West Englewood.
When Lopez announced his candidacy for mayor in April, it was expected the 15th Ward would get a new alderman. But Lopez dropped out of the mayor's race in November, saying the crowded field only helped Mayor Lori Lightfoot.
"I felt it was imperative, having left the mayoral race, that the redrawn 15th Ward have an experienced leader at the helm," Lopez said.
Alvarez, most recently the chief of staff to Ald. Rossana Rodriguez-Sanchez (33rd), launched her campaign in July. She said she wanted to bring in "co-governance" and "community decision-making" to the ward.
Williams, founder of nonprofit Voices of West Englewood, said she decided to run for alderwoman because she wants the neighborhood to get the support and representation it deserves.
The election is Feb. 28. If no candidate receives at least 50 percent of the vote, the top two will proceed to a runoff April 4.
More on the candidates: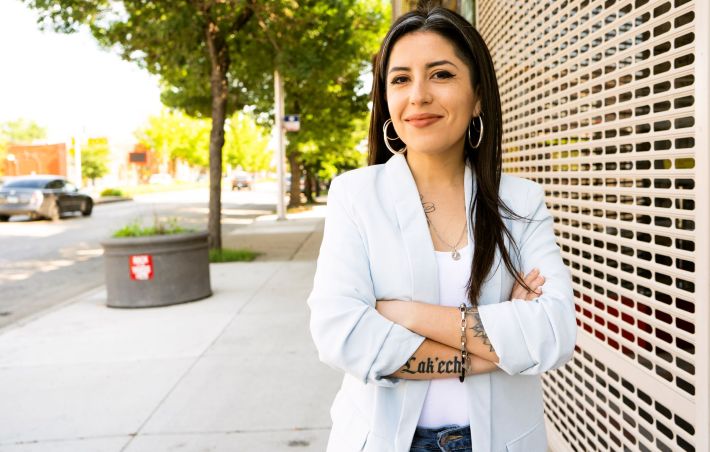 Vicko Alvarez
Alvarez moved to Chicago from Texas in 2006 to attend the University of Chicago. She worked as a campaign director at United Students Against Sweatshops and Lead Worker Organizer with the United Steelworkers Union, and she taught art programs at Hernandez Middle School in Gage Park and Hamilton Park in Englewood.
Alvarez said one of her biggest priorities if elected would be to foster community decision-making, like participatory budgeting — the ability for constituents to vote directly on how the ward's budget should be spent — and community-driven zoning.
"There's no reason why we also can't have that type of community feedback before an alderman makes a decision," Alvarez said.
With public safety a particular issue for the ward, Alvarez said she would bring in a new approach to dealing with crime in the area.
"We have had this rhetoric of 'put more people in prisons' and 'bring in more law enforcement' for the past eight years under the current alderman, and he wants to continue that same rhetoric without paying any mind to what we have lost that has made many of our neighborhoods less healthy [and] therefore less safe," Alvarez said.
If elected, Alvarez would focus on resolving issues that contribute to crime, such as the lack of mental health facilities and closed schools, she said.
"It's just the fact that healthier communities — those that are better resourced with wealth and public services, those who have more families with stable income — are the safer neighborhoods, with less crime incidents in those neighborhoods," Alvarez said.
In 2020, Alvarez was criticized after Northwest Side residents raised concerns over a post where she supported reducing funding to police departments.
In a Facebook post, Alvarez shared a Sun-Times story and wrote, "Defund and abolish. You can get it done through hearings at City Hall or the people will get it done on the streets by fire."
But Alvarez said she hasn't faced much pushback from constituents about being a progressive socialist candidate in this election.
"I think because we have such a heavy immigrant population in the 15th Ward, there's different understandings of what socialism is, or there is an opportunity to learn about what socialism is, because it's not something that's widely talked about," she said. "I see that as an opportunity to have a conversation."
Another key issue is affordable housing. In addition to privately managed housing developments, Alvarez said she would foster well-maintained "publicly funded housing that's accountable to our tax dollars, that's accountable to the city."
Alvarez founded the Southside Mutual Aid Solidarity, a project composed of Chicago Democratic Socialist Alliance members and 15th Ward residents to distribute hygiene and other essential items during the COVID-19 pandemic.
Raymond Lopez
With two terms under his belt, Lopez said his experience makes him the best choice to lead the 15th Ward for the next four years.
"This isn't an academic exercise in political theory for me," Lopez said. "This isn't about agenda- or narrative-driven politics. I simply want to help elevate my communities, provide the city services that should be universal to all Chicagoans and lead by setting a high standard for communities to aspire to achieving."
Lopez said he's most proud of investments he's brought to West Englewood and his pushback on gang violence.
Crime is the No. 1 issue for residents, and violence in the ward affects city services and local investments, Lopez said. As alderman, he's tried to create a "path free of fear and intimidation," he said
"I am humbled by the fact that I have shown my residents that they have a leader who does not accept gang violence as an acceptable part of neighborhood life," he said.
If reelected, Lopez's priorities would include addressing outstanding service requests and creating a new schedule for cleaning, including monthly street cleaning and removal of illegally dumped items and debris from alleys, he said.
Lopez hasn't shied away from the cameras and has often appeared on Fox News.
The alderman has been one of Lightfoot's strongest critics, opposing the city's employee vaccine mandate and criticizing the mayor's approach on dealing with looting and unrest in summer 2020.
Lopez has a reputation on City Council for being one of the most conservative members, particularly on crime. He takes to social media frequently to share his thoughts on the topic, including the times his office and home have been vandalized. Lopez was also in the media spotlight last winter after being dubbed an "anti-dibs" alderman.
Lopez grew up near Midway Airport. Before being elected to City Council, he was a skycap for Southwest Airlines.
Lopez collected numerous contributions during his mayoral run, including over $250,000 donations from Donald Levin, campaign finance records show. Since switching to the aldermanic race, his biggest donations have come from mayoral candidate Willie Wilson and Lillian Harris, who have given $6,000 each.
Gloria Ann Williams
Williams, a longtime West Englewood resident, is a graduate of Gage Park High School. She earned her bachelor's degree in criminal justice from Chicago State University and her master's degree in urban leadership from Northern Seminary.
Williams has helped people secure housing, connected people with jobs, organized resource drives and rallied against school closures in the area, she said. People know her and come to her with the issues on their block — and that's why she's running for alderwoman, she said.
"They all speak with me, they respect me," Williams said. "When I made my announcement that I was going to run, a lot of them said to me, 'It's about time, Gloria, because we know you care about the community.' Adult, seniors, youth — they all come to me when they have an issue. I'm that voice; I speak for everyone about what has not been addressed."
A lot of Williams' background in organizing comes from her nonprofit, Voices of West Englewood, which she founded in 2000, she said.
As the residents service coordinator at Patrick Sullivan Senior Apartments on the Near West Side, Williams worked to get older people their COVID-19 vaccinations. She was featured in a commercial with the Department of Public Health for her efforts.
Since the 15th Ward is so heavily gerrymandered — covering portions of at least four neighborhoods — the needs of the sliver of West Englewood gets left out, Williams said. She would ensure that part of the community is including in the ward's business and decision making, she said.
"You cannot resolve a problem in the ward by yourself. You have to get the community to engage. And if everyone don't come, you have to go to certain areas and start having your town hall meetings," she said.
Police need to be seen and interact with residents to address public safety, Williams said. But the area also needs options to help deter young people from getting involved in crime, she said.
The ward needs mental health and counseling facilities, as not everyone has the option to travel to other neighborhoods for services, Williams said.
"There's nothing to offer these young men and women out here. What's out here for them?" Williams said. "Where is the wraparound services for these families? Families are hurting."
Williams lists no campaign contributions since September, records show.
Listen to "It's All Good: A Block Club Chicago Podcast":