NORTH CENTER — A developer wants to overhaul two bank buildings at Damen and Lincoln avenues to bring apartments and stores to the busy North Center intersection. 
Developer Ravine Park Partners wants to renovate the existing bank building at 3959 N. Lincoln Ave. and construct a new eight-story building at 3950 N. Damen Ave. Both properties are near the three-way intersection of Lincoln Avenue, Damen Avenue and Irving Park Road.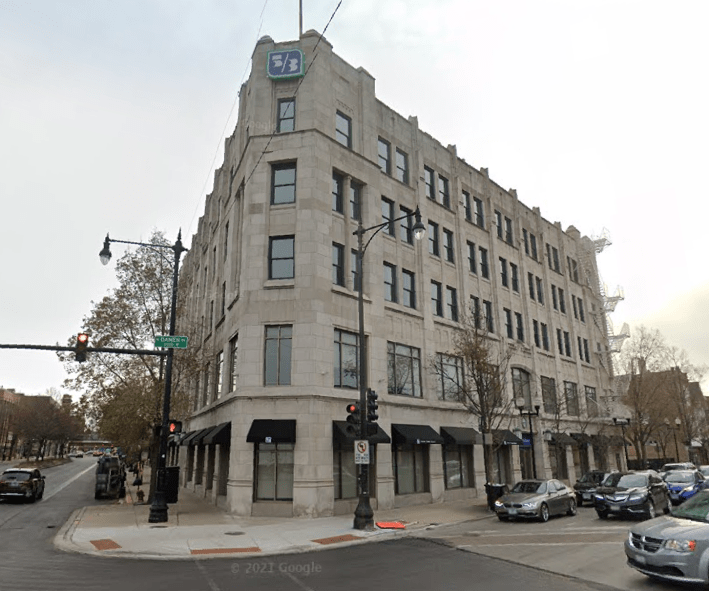 Neighbors can join an open house 4-6 p.m. Jan. 25 at O'Donovan's, 2100 W. Irving Park Road to see the latest renderings of the proposal. The event will be self-guided, and neighbors can ask developers questions and submit written feedback to Ald. Matt Martin's office.
The same day, Martin's 47th Ward office will host a virtual meeting from 6:30-8 p.m. where neighbors can ask the development team questions as they outline their proposal.
To register for the Jan. 25 virtual meeting click here.
Neighbors can also give feedback to Martin's office by calling 773-868-4747 or filling out this online form.
The two properties would require a zoning change, plus signoff from Martin and other city panels to move forward. 
"This is a large proposal and we are in no hurry to move forward," said Josh Mark, Martin's director of development and infrastructure. "Which is to say we want to take our time with the feedback that we receive."
The rehab of the 3959 N. Lincoln Ave. building would include 5,000 square feet of retail on the first floor and 92 one- and two-bedroom apartments, according to plans shared with Martin's office.
The developer also wants to build an addition to match the height of the current building along Lincoln Avenue and along an alley to the east, plans show. The design would also feature 25 car parking spaces accessed via the alley.
The developer would replace the parking lot at 3950 N. Damen Ave. with a new eight-story building along Irving Park Road. It would feature 166 apartments, including 65 studios, 33 one-bedrooms and 68 two- and three-bedrooms.
The building would drop down to four stories further south on Damen Avenue to match an existing building to the south, plans show.
The new building would include 5,200 square feet of commercial space on the first floor. Fifth Third Bank is one of the tenants and would use 3,500 square feet of space facing Irving Park Road and create an internal bank drive-thru, according to the plans.
There are no other commercial tenants finalized for either building, said Ravine Park Development Manager Alex Milanoski. 
There would be 73 parking spaces accessible from Damen and the alley. The bank's drive-thru would also be accessible via that route, according the plans. 
This is the latest proposal for the Fifth Third Bank properties near the busy intersection.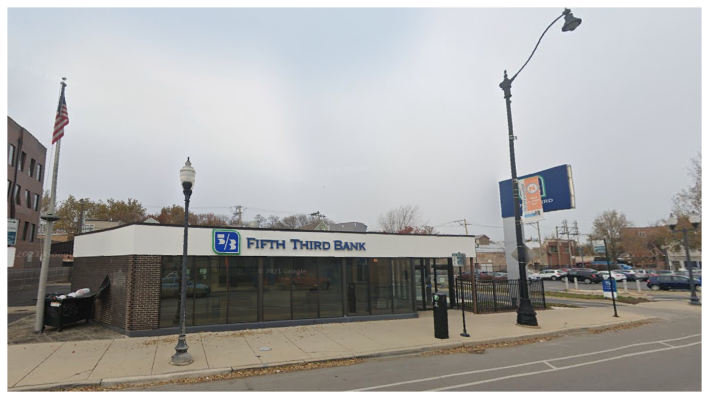 Martin denied a zoning change in 2021 for developer CRG to build a grocery store at the 3950 N. Damen site. The alderman rejected the plans because the design was too car-centric and developers would not say which grocer planned to move into the space.
CRG pitched a new design in 2022 without a grocery store that would feature a Fifth Third Bank branch. Ravine Park Partners was a partner in that proposal but CRG is no longer involved with the project at all, Mark said.
Watch our "On The Block" TV show on The U, CW26 and MeTV.
Listen to "It's All Good: A Block Club Chicago Podcast":