HUMBOLDT PARK — Humboldt Park's longtime alderman will leave office in May, wrapping a 13-year tenure in which he said he prioritized affordable housing and anti-gentrification measures to prevent displacement of longtime Latino residents.
Ald. Roberto Maldonado (26th) withdrew from the February election Friday, the 16th City Council member who won't seek reelection. The veteran alderman posted a statement to his website and Facebook page, confirming his retirement from public office. He didn't respond to repeated requests for comment.
"I have loved serving you as your Alderperson and some years earlier as your Cook County Commissioner of the 8th District. However, I also understand when the time is right to make such an important decision. That moment is now," Maldonado said in the post.
Maldonado's career in government spans nearly 30 years.
Before becoming 26th Ward alderman, Maldonado served as Cook County commissioner of the 8th District for 15 years, where he focused on the health care needs of older people and an "abusive rise" in property taxes threatening to drive out longtime homeowners, he wrote in his statement.
As Cook County commissioner, Maldonado pushed then-President Bill Clinton's administration to fill a gap in prescription drug coverage prescription for older people and helped bring the Longtime Homeowner Exemption ordinance to fruition, he wrote.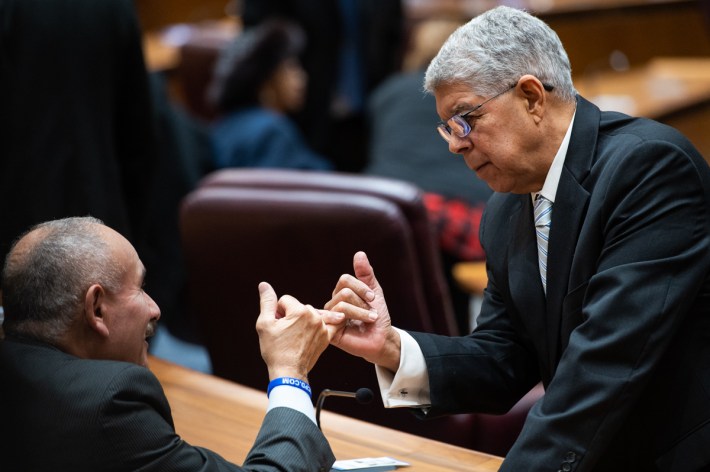 Maldonado wrote in his statement that the plight of longtime Latino residents was the focus of his tenure as alderman.
With real estate speculators and developers descending on Humboldt Park, "the need for affordable housing became the #1 challenge facing the 26th Ward," he wrote.
Maldonado pushed for legislation that imposes fees on developers who demolish naturally occurring affordable housing along The 606's Bloomingdale Trail and boosted efforts to build more affordable housing.
The alderman said he helped bring more than 550 low-cost units to the ward this term, with 350 more on the way.
Community and city leaders said Maldonado's efforts to clamp down on gentrification defined his time in office.
In an emailed statement, Jose Lopez, executive director of the Puerto Rican Cultural Center and Humboldt Park's unofficial leader, said Maldonado should be applauded for fighting gentrification "head-on." Maldonado and Lopez are close allies and longtime friends.
"As an alderman, he has really focused on affordable housing," Lopez said. "As a matter of fact, I would say he has probably helped to create more affordable units in this ward than almost any alderman in the city of Chicago."
Mayor Lori Lightfoot also highlighted Maldonado's anti-gentrification work in a tweet.
"Alderman Maldonado's empathetic approach to public service has only deepened throughout his 13 years as 26th Ward Alderman — as evidenced by his fierce advocacy for more affordable housing and push for anti-gentrification legislation to protect his constituents from displacement," Lightfoot said.
But Maldonado has also faced criticism from neighbors and community leaders for personally profiting off The 606's Bloomingdale Trail and putting his trail-adjacent Humboldt Park home on the market for $2.4 million.
Some in the community said Maldonado's support has waned in recent years as Humboldt Park has gentrified. Over the years, the alderman has been accused of neglecting Paseo Boricua, a Division Street stretch that struggles with vacancies.
Maldonado narrowly avoided runoffs in the 2019 and 2015 races, garnering just over the necessary 50 percent of the vote each time.
The alderman also lost the 26th Ward Democratic committeeperson election in 2020 to Angee Gonzalez Rodriguez. Most alderpeople are also elected committeepeople for their respective wards.
Gonzalez Rodriguez is vying for the 26th Ward seat left open by Maldonado.
"You lose a committeeperson role to someone who spent [very little money] and beat you even in your precinct — what message does that send? I think he realized that it wasn't going to be an easy win," said Charlie Serrano, longtime Humboldt Park resident and chairman of the Daniel Ramos Puerto Rican Festival Committee.
Maldonado wrote in his statement that when he took office he embraced "newcomers' ideas and concerns" — constituents his predecessor Ald. Billy Ocasio "ignored." But over the years, he struggled to find common ground with new residents who seemed to always raise issues when their neighbors "did not conform or behave to their standards," he said. 
"And since I was able to read through these complaints and did not give into these petty complaints, then I became a problem to the newcomers as well and, therefore, a political target like my predecessor," he said in the post.
Maldonado wrote he found himself battling with "a small vocal sector" of new residents over affordable housing projects.
"It grew into a permanent struggle with some newcomers and the not-so-newcomers as they would rather see a replica of another Wicker Park or Bucktown which demographically would be all white," he said. "And yet, they were, and are, completely oblivious to the possibility that they could, in fact, become victims of gentrification themselves."
Maldonado's departure leaves five candidates in the running to represent the 26th Ward, which includes Humboldt Park and parts of Logan Square, West Humboldt Park, Hermosa and West Town.
The candidates are Gonzalez Rodriguez, Humboldt Park activist Jessie Fuentes, popular DJ Julian "Jumpin" Perez, Kirk Ortiz and Anthony Rivera.
Ortiz and Rivera are facing pending objections that could get them kicked off the ballot. Their cases are expected to be resolved Friday, said Max Bever, Chicago Board of Election Commissioners spokesman.
Listen to "It's All Good: A Block Club Chicago Podcast":