WEST TOWN — Two antique collectors who focus on jewelry, masks, art, knickknacks and more have opened a store in West Town.
Nathan Chevalier and Joseph Gonzales run American Decay and Sad Heart Vintage, respectively. Both have operated their brands online for several years, but last week they moved into 1841 W. Chicago Ave., where they share space with longtime tenant Broken Art Restoration.
Chevalier focuses on men's jewelry, while Gonzales collects and sells masks, posters and knick knacks, with a special emphases on items featuring clowns.
The two met at craft shows and hit it off over their mutual taste in unique — and sometimes weird — finds, and they decided to partner up.
The store showcases a range of products, from vintage collectors items to some "museum-quality pieces," Gonzales said.
"We do have those pieces where someone who has been a collector can find something here, something of quality and value. But we also have this starting point for the person just jumping in," Chevalier said.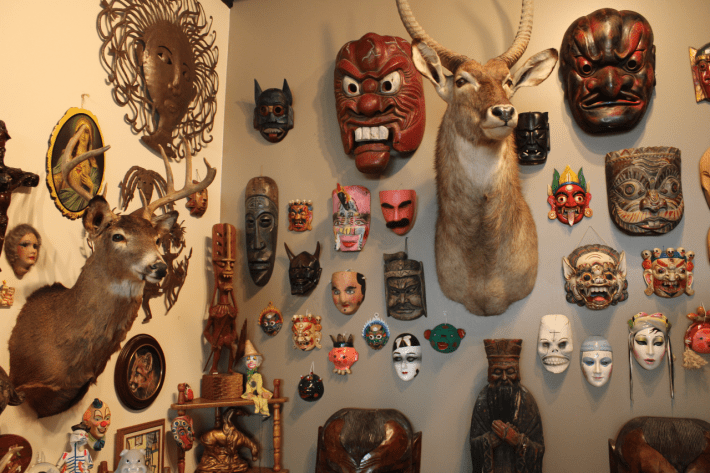 Collecting jewelry has long been a way for Chevalier to explore his Native American heritage. He said he has family members who live on a reservation in Wisconsin, but the connection has faded since his dad died more than a decade ago.
"Getting interested in Native American lore and culture and jewelry, specifically, is kind of the way that I found to feel connected to my own culture. And then share that with other people, too," he said.
Chevalier said he has been thinking about opening a physical store for a while. After a fire at Gonzales' apartment building forced him to move, the two found the space on Chicago Avenue.
Gonzales said collecting is a window into cultures all over the world, especially when he buys a new mask.
"You're learning about different cultures, different parts of the world, like how people make things, why things are the way they look and stuff like that. We're both … genuinely passionate about the things that we have here," Gonzales said.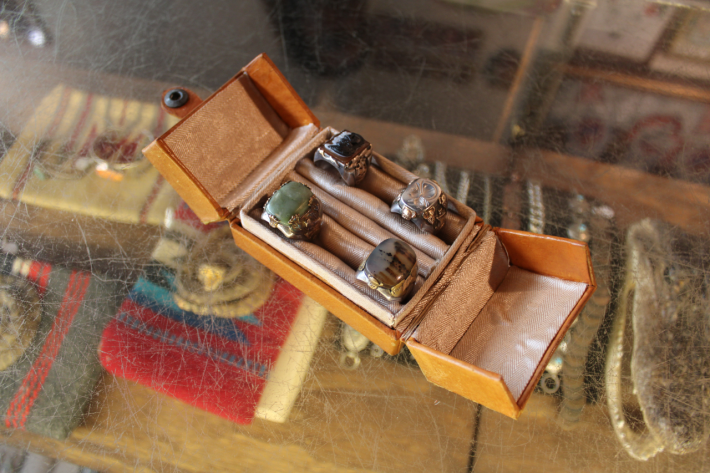 Some of Chevalier's favorite items in his collection are four rings designed by the jewelry company Ostby and Barton. He was attracted to them not only for how they look but for their backstory: The company's cofounder died on the Titanic in 1912.
When you put rings on, "you can just feel the history," Chevalier said.
Beyond the rings, necklaces and assortment of other pieces, the store's shelves are lined with items like antique snake figurines, glass babies and, of course, Gonzales' clowns.
"Every culture at some point has had some sort of a clown, just to keep everything balanced and not let anyone take themselves too seriously," he said.
Chevalier and Gonzales also sell a small collection of shirts and men's apparel.
American Decay and Sad Heart Vintage is open 12-7 p.m. Thursday-Saturday and 12-6 p.m. Sundays.
Listen to "It's All Good: A Block Club Chicago Podcast":