ASHBURN — The daughter of Ald. Derrick Curtis (18th) was shot and wounded last week during a a concealed carry class her father was teaching, the second accidental shooting involving the Southwest Side City Council member since October, WGN reported.
The shooting happened Jan. 5 at Monument of Faith Church, 2750 W. Columbus Ave., according to WGN.
During the class, in which Curtis' adult daughter and son were students, someone was handing the woman a loaded Glock 19 when it went off, hitting her right leg, WGN reported, citing police records.
Curtis is a concealed-carry license instructor.
Curtis' daughter told police at the hospital it was the alderman who was passing her the gun, while his son told police at the scene he'd handed over the gun, according to WGN.
No one was arrested, according to WGN.
In October, Curtis accidentally shot himself in his wrist while handling a gun.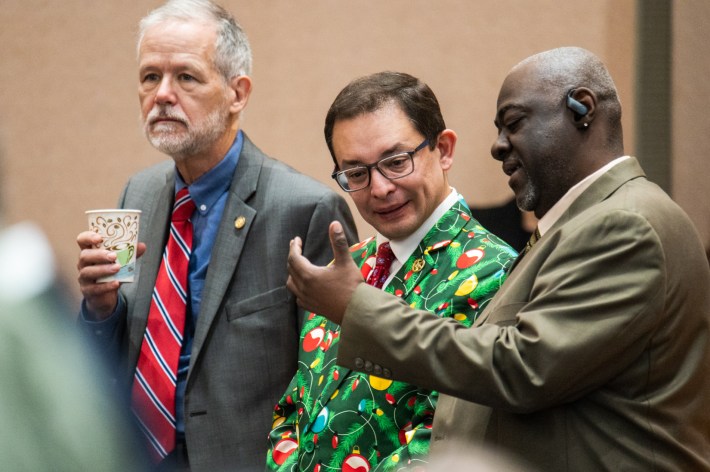 Curtis said in a statement he was visiting with a neighbor and friend who'd asked him to look at a small gun that was malfunctioning at the shooting range. He took the gun apart to inspect it and found it needed cleaning and other repairs, Curtis said. As he was reassembling the gun, it malfunctioned and went off, hitting Curtis' hand, he said.
In a story earlier this week, Curtis told the Sun-Times Fran Spielman he was reassessing his longtime support of Mayor Lori Lightfoot in part because the mayor did not reach out to ask him how he was doing after the accidental shooting.
The alderman, who is seeking a third term in February's election, said he required minor surgery after the shooting and was recently hospitalized for a separate medical issue.
"I felt myself being a very, very close friend and ally to her. I really was a No. 1 cheerleader. But, she never called when I shot myself. … I wouldn't treat my friends that way," he told the Sun-Times.
Curtis is a former ward superintendent for the Department of Streets and Sanitation and former Democratic committeeman who was elected alderman of the Far Southwest Side ward in 2015. He grew up on the West Side.
Curtis is facing community organizer Heather Wills in the 18th Ward race.
Listen to "It's All Good: A Block Club Chicago Podcast":