RIVER NORTH — In the basement of Rock Bottom Brewery in River North, Pete Crowley used to blend ingredients in a barrel and listen to the nearby Red Line rumble through the walls.
He didn't know at the time the barrel-aged beers he was making would win awards and help Rock Bottom define Chicago's early craft brewery scene.
Former workers and fans of the brewery saluted its place in Chicago beer history this week after its owners abruptly shuttered the River North location after more than 20 years Sunday, citing declining sales since COVID-19 hit.
Crowley, who served as Rock Bottom's head brewer from 1999 through 2010, said the company took pride in sending its brewers to classes like "sensory evaluation," allowing them to explore new ideas and grow.
"That's why I stayed as long as I did," said Crowley, now the owner and master brewer at Haymarket Beer Company. "They gave the brewers creative license, from grain to glass. From brewing, fermenting, filtering, carbonating, beer line cleaning, kegging, the whole shebang."
People noticed how good the beer was. Before craft breweries were more prevalent, tourists and locals alike flocked to Rock Bottom, 1 W. Grand Ave., for its sprawling beer list, which featured craft brews that couldn't be found elsewhere.
"The brewing industry would not be what it is today without the existence of Rock Bottom," said Ray Stout, executive director of the Illinois Craft Brewers Guild. 
Goose Island had already opened a brewpub when Rock Bottom launched in the early 2000s, but big Chicago names like Half Acre and Revolution were still years away.
"There was no more sort of novel place to get a beer than Rock Bottom. … It played a really important role in the local beer scene back then and the beer was really good," said Josh Noel, a former Tribune reporter who covered the beer industry for nearly 15 years.
The former brewery was an incubator for talent, Noel said, who frequented Rock Bottom from 2005 through 2010. It was also the birthplace of the Festival of Wood and Barrel Aged Beer, an annual event that attracts thousands of fans and hundreds of craft brewers from across the country who compete for best barrel-aged beer, cider, mead and perry.
The festival is the brainchild of Crowley, brewer Todd Ashman and beer writer Jeff Sparrow. Crowley said the festival was created for some healthy competition among brewers, although the origin story varies.
The fest, known as FOBAB, began April 1, 2003, on the second floor of Rock Bottom. It attracted about 150 people, a fraction of its current size. The latest FOBAB filled University of Illinois-Chicago's basketball arena and lasted multiple days.
Over the years, Rock Bottom won numerous awards at FOBAB across multiple categories, including first place in 2004 for Crowley's Sub-Zero Barleywine.
"Goose Island, 3 Floyds and FOBAB … those are probably the three most important things that happened in Chicago beer ever," Noel said.
Other notable brewers to have come from the Rock Bottom franchise include Chris Boggess, Head Brewer at 3 Floyd's Brewing Co. in Munster, Indiana; Hayley Shine, former head brewer at Eris Brewery and Cider House in Irving Park; and Jim Wolfer, head brewer at The Berghoff Restaurant.
"It was just the amount of camaraderie and knowledge and gosh, just the ability to be able to grow as a professional brewer. There weren't a lot of companies at that time that were operating that way," Crowley said.
Rock Bottom's general manager Jon Jones would not elaborate on the decision to close the location. The head of SFB Hospitality, which owns the chain, told Fox 32 Chicago the company decided not to renew its expiring least after sales since COVID didn't bounce back.
"Thank you for the many great years of support. We will be closing this Rock Bottom location 1/8/2023," a sign on the door read.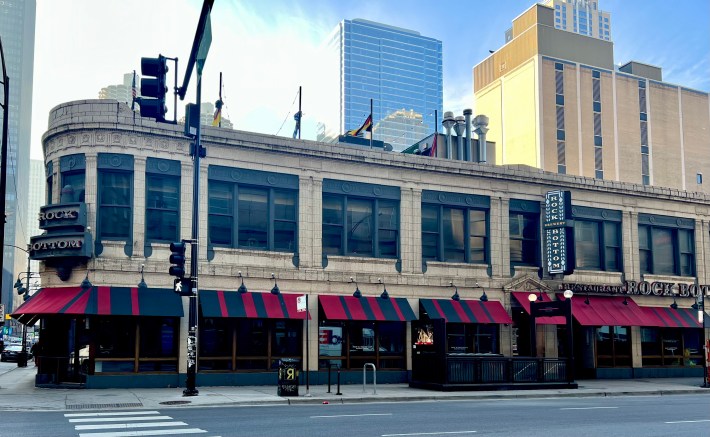 Although Rock Bottom was an early star, it seemed to have been left behind as the craft beer scene began to evolve and grow in Chicago, Noel said.
"It became less unique and less important over the years but not ever through any fault of its own. It's just the industry grew up around it," Noel said.
The Downtown closure comes after Rock Bottom closed locations in Milwaukee and Minneapolis late last year. It still has local locations in suburban Orland Park, Warrenville and Lombard.
In 2020, Craftworks Holdings, the previous parent company of Rock Bottom, filed for bankruptcy. The company previously said the move was an "effort to reduce debt" and "better position" its breweries and restaurants for "long-term growth," according to a 2020 press release.
At the time, the parent company owned 338 restaurants, including chains Logan's Roadhouse, Old Chicago and Gordon Biersch.
In 2020, SPB Hospitality bought the restaurants from Craftworks for $93 million, according The Wall Street Journal.
Other craft breweries in Chicago like Empirical Brewing, Smylie Brothers Brewing, and Urban Brew Labs have closed in recent months, as well. Some brewers have pointed to a growingly competitive and saturated market while others blame the pandemic, according to a December article from Noel.
Since 2020 the Illinois Craft Brewers Guild has recorded 20 breweries have closed, while 30 have opened, Stout said.
"There are more opening than closing, but still some are closing," Stout said.
The rising cost of beer production and decline in taproom sales has been a part of the problem, according to Stout. And as people have become more comfortable ordering goods from home, craft beer can't be shipped in the state of Illinois.
But still as the industry continues to evolve, Chicago's craft beer history will continue to be linked to Rock Bottom from the barrel-aged brews Crowley created to the continuation of the beloved festival.
"I don't remember ever being disappointed by the beers there," Noel said. "It can't be overstated how instrumental [it] was in building the city's love for craft beer."
Listen to "It's All Good: A Block Club Chicago Podcast":