CHICAGO — New details emerged last week about how Ald. Jim Gardiner (45th) allegedly went out of his way to silence opponents and obsessed over critical comments on his ward's Facebook page.
Tanya King, who worked for Gardiner from May to November 2019, was deposed in September as part of an ongoing lawsuit against the alderman. Six 45th Ward residents sued Gardiner in 2021 for allegedly blocking them or deleting critical comments on his Facebook page, saying it violated their First Amendment rights. The deposition was made public Friday.
King, who had access to the alderman's public Facebook page, testified that Gardiner was obsessive about checking the comments on his page and had a list of enemies based on anyone who spoke out against him.
"He was constantly on his phone looking at Facebook saying, 'Did you see this, did you see this, did you see this?'" King said in the deposition. "He would text me at 6 o'clock in the morning …. He would call me at 11 o'clock at night: 'Did you see this?' … It was constant."
The alderman called his critics "rats" and retaliated against people who made disparaging comments on his government page, King testified.
Gardiner would ask his "fan boys" and supporters to reply to the negative comments to shut them down and harass people, King said. He even pulled old police records of a constituent who criticized him and had critic Pete Czosnyka's garden ticketed, King said.
"At a certain point, if you are somebody who has something negative to say about Jim, you're seeing all these small, little terror campaigns, you're going to silence as a result," King said. "You're going to self-silence."
Gardiner was aware of guidance from the city's Board of Ethics over how aldermen should administer their ward's social media pages, but King said she never tried to get him to create his own written policy because he was "very difficult to work with."
In 2020, Gardiner posted a video of himself outside Czosnyka's home. In it, the alderman tells the camera he hopes the resident and his neighbors "appreciate the efforts" he put in to their street.
King said the video was an effort to silence Czosnyka.
"… As someone who knows defendant Gardiner, this was a call to arms for people to hurt Mr. Czosnyka," King said of the video in the deposition. "Because that's been defendant Gardiner's goal."
In Gardiner's deposition, also given in September, he denied the video targeted Czosnyka and said, "I don't have any bad blood with Pete Czosnyka" — though the title of the video on his own page uses the sarcastic hashtag "besties."
Gardiner's critics were blocked for "derogatory, defamatory, or intimidating or harassing" comments on his Facebook page, some with approval from the Chicago Board of Ethics, King said. Everyone was unblocked after he was served with the lawsuit, Gardiner said in the deposition.
In a May 2021 Twitter thread between plaintiff Adam Vavrick and the Chicago Board of Ethics, the board wrote aldermen cannot block constituents from their government page based on 2019 social media guidelines for city employees and elected officials.
However, aldermen may delete comments posted to their pages if they are "obscene, profane, libelous or defamatory, or are commercial and posted to sell goods or services," according to the opinion signed by board Chair William Conlon.
The Tribune's Jason Meisner was first to report on the depositions.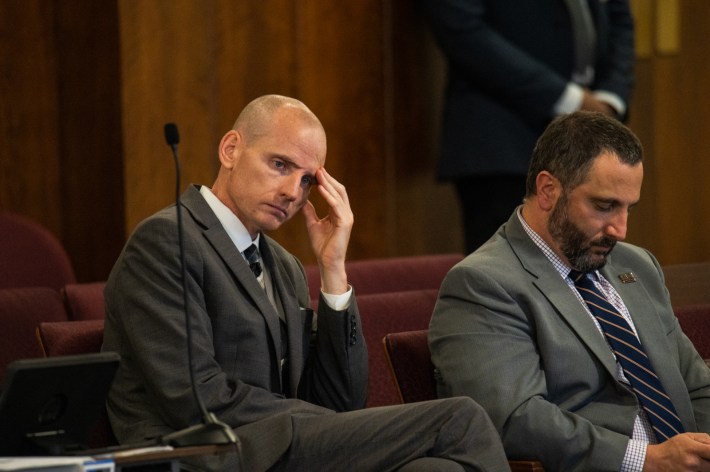 'You Get Targeted'
Czosnyka, who has been targeted online and offline about his political views, said the depositions and the ongoing lawsuit are reminders about the importance of First Amendment rights.
"That is why the First Amendment portion of this is so important, and he can't tailor [comments] that suits him …. and you get targeted [for being critical], but it was worthwhile. Because I have been a focal point," Czosnyka told Block Club Tuesday.
In summer 2021, a woman threatened Czosnyka's wife and drove over the couple's large Jefferson Park lawn because of Czosnyka's criticism of Gardiner. The couple's car has also been vandalized on multiple occasions, he said.
But despite the incidents, Czosnyka's never felt afraid or silenced by the alderman or his supporters, he said.
"If you don't demonstrate that you stand up for something for your grandkids and others, then it's not worth it," he said. "You gotta show them what is going on."
In a statement, Gardiner's campaign denied he ever called anyone a "rat," saying he is a "dedicated public servant committed to making Chicago work for all of its residents."
The statement dismisses King as a "disgruntled" former employee and says Gardiner "has been the subject of a multi-layered campaign of political harassment, misinformation and intimidation by people unwilling to accept the defeat of the previous administration four years ago."
Five residents of the Northwest Side are challenging the embattled Gardiner, who is seeking a second term.
The FBI, the Chicago Board of Ethics, the Circuit Court Clerk's Office and the Office of the Inspector General have launched investigations into Gardiner's conduct. He also faces multiple lawsuits and allegations he withheld ward services from critics, used foul language to describe women and other potential misconduct. 
Shortly after Gardiner was elected, he wanted to change the bylaws to the Six Corners Special Service Area, which would have booted out longtime commissioner and community organizer Anna Sobor, who lives in Old Irving Park.
Sobor "said something on Facebook that made him mad, so he was coming for her," King said in the deposition. "He really hated her. He really had it in for her."
Sobor, who has been a community organizer on the Northwest Side for 30 years, called the information from the deposition "unsettling."
"As a woman who has devoted my life to improving Chicago's Northwest Side neighborhoods, I am saddened to learn that Jim Gardiner hates me," Sobor said. "It is deeply unsettling that instead of working for his constituents, he has spent his almost four years in office targeting and retaliating against residents, businesses and community groups who have exercised their democratic right to speak out."
Texts between Gardiner and his former aide from 2019 also revealed he used his power and those in his network to get revenge on business owners constituents who were critical of him.
Last month, a video surfaced of the alderman confronting a challenger's campaign volunteers as they gathered signatures from Norwood Park residents.
The election is Feb. 28. If no candidate receives at least 50 percent of the vote, the top two finishers will go to a runoff April 4.
Watch our "On The Block" TV show on The U, CW26 and MeTV.
Listen to "It's All Good: A Block Club Chicago Podcast":
Watch our "On The Block" TV show on The U, CW26 and MeTV.
Listen to "It's All Good: A Block Club Chicago Podcast":