AUSTIN — West Side faith leaders and a local alderman are calling on Police Supt. David Brown to fire an officer who was suspended last year after he lied about his ties to a far-right, white supremacist group.
Ald. Chris Taliaferro (29th) joined Rev. Marshall Hatch and other faith leaders at a community meeting Tuesday morning to condemn Officer Robert Bakker's links to the Proud Boys, especially as the police department works to build trust in communities of color.
Bakker was given a 120-day suspension in October following a lengthy investigation into his involvement with the Proud Boys, a hate group focused around white nationalism that maintains affiliations with neo-Nazis and similar racist groups, according to the Southern Poverty Law Center. 
Bakker made a "contradicting statement" about his participation in a Proud Boy chat group and made a "false statement" about attending a Proud Boy barbecue, according to a report from the Office of the Inspector General.
The department's Bureau of Internal Affairs reached an agreement through mediation that Bakker would not contest their findings in exchange for a 120-day suspension, according to the report. Mayor Lori Lightfoot previously defended Brown's decision to not fire Bakker, WTTW reported.
The decision to allow Bakker to keep his job sparked intense backlash from some alderman and the city's top watchdog, who said department leaders overlooked critical evidence during its internal investigation and should have fired him.
Last week, an official with the Southern Poverty Law Center blasted Brown and Lightfoot in a letter for keeping Bakker on the force.
"Allowing Bakker to retain his role can create an environment of impunity for other officers who may associate with violent groups and contribute to the erosion of trust between the public and law enforcement authorities," analyst Jeff Tischauser wrote. "In addition, the handling of this incident demonstrates that the Chicago Police Department lacks clear policies and procedures for how to address involvement of its officers in groups advocating extremist views and conduct."
Taliaferro, who was an officer for over 20 years before being elected alderman, said previous superintendents would have fired Bakker not just for his extremist ties, but because he lied about the issue in an internal police investigation.
"Yes, it is my opinion that the Superintendent should fire this officer," Taliaferro said to resounding applause. "We have fired officers in the past with lesser transgressions."
The city should not employ any officers with ties to such groups, organizers said at the meeting.
"I think having one of our [CPD] members accused of being a part of a radical organization or hate organization deserves our utmost attention," Taliaferro said.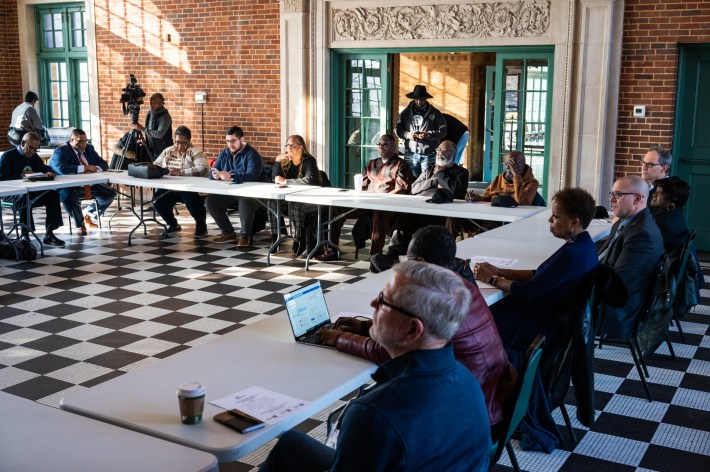 Members of the Proud Boys have been indicted in federal court for seditious conspiracy related to the Jan. 6 attack on the Capitol, with at least one of the group's leaders pleading guilty to those charges. More recently, they've been involved in attacks to demonize LGBTQ people and accuse them of child sex crimes, according to SPLC.
In a story published by Vice in May 2020, Bakker was identified as an active member of the Proud Boys group chat on Telegram. Bakker helped organize Proud Boys meetups in Lincoln Square and Andersonville and bragged about his access to "high police" in screen captures of the chats made public by Chicago Antifascist Action. 
The FBI approached Bakker about his ties to the group, which he failed to tell his superiors, according to the Inspector General's report.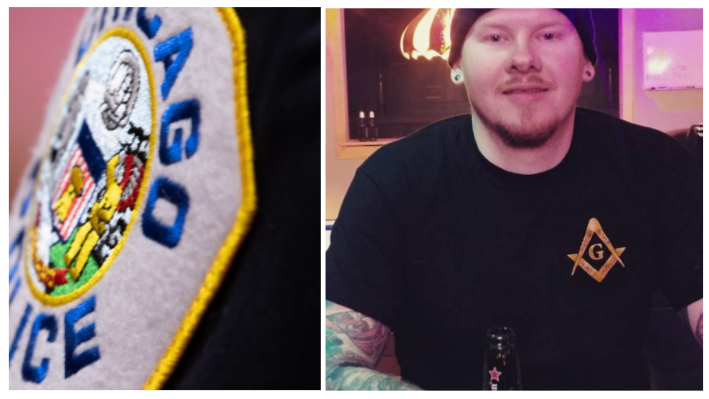 The city must do more to keep extremists out of the Police Department, faith leaders said.
"I think we can do our part by holding hearings to investigate what is the level of influence that the insurrectionists have in the Chicago Police Department," Rev. Marshall Hatch said.
Rev. Ebony D. Only, another attendee, said allowing people with such extremist views on the police force is "a clear violation of public trust."
Taliaferro wants to have a public hearing with Brown to "address the concerns about a growing number of white supremacists on our police department," he said.
"We see a need for our police here on the West Side of Chicago, but we see a need for a better police department in our Black communities," Taliaferro said. "That'll continue to be our call: not to defund them but to provide a better service and better policing to our neighborhoods."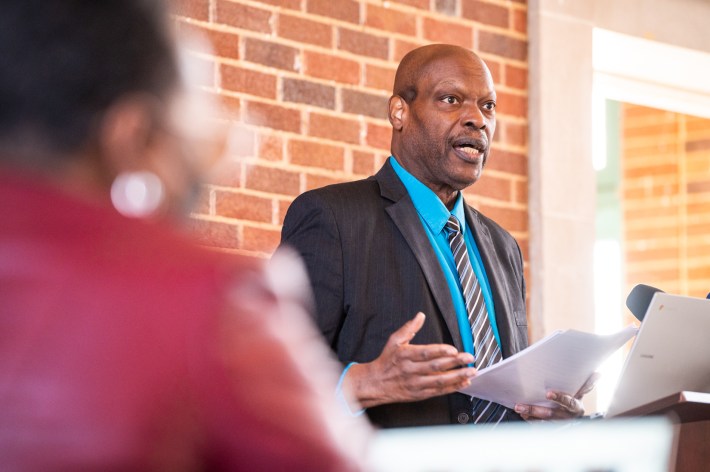 Mayoral candidate Brandon Johnson recently slammed the the decision keep Bakker on the force.
"There is no excuse for Mayor Lightfoot to keep an associate of the same violent organization that organized the Jan. 6 insurrection on our city's payroll," Johnson said in a statement. "Active involvement in domestic terrorist organizations should be grounds for immediate dismissal."
Watch our "On The Block" TV show on The U, CW26 and MeTV.
Listen to "It's All Good: A Block Club Chicago Podcast":