ROGERS PARK — A Far North Side landlord has agreed to pay $16 million to the families of three women who died of heat exposure inside their apartments last year.
Gwendolyn Osborne, 72, Janice Reed, 68, and Delores McNeely, 76 died in May 2021 in their homes in the James Sneider Apartments, 7450 N. Rogers Ave. They were found dead during unseasonably warm spring temperatures and after the landlord and property manager refused to turn off the heat, attorneys and officials said at the time.
Their deaths sparked outrage, leading to lawsuits against the landlord and proposed changes to the city's rules mandating heating and cooling inside apartment buildings.
The families of the victims agreed in December to a $16 million settlement with property manager Hispanic Housing Development Corp. and property owner Gateway Apartments, according to attorneys representing the victim's families.
The payout will be divided equally among the three victims' families, according to a press release.
"Had the defendants used common sense and turned the heat off and the air conditioning on, these ladies would not have died," attorney Larry Rogers Jr., representing Reed's family, said in a statement. "Corporate greed that puts profits over people is what led to the deaths of these three ladies."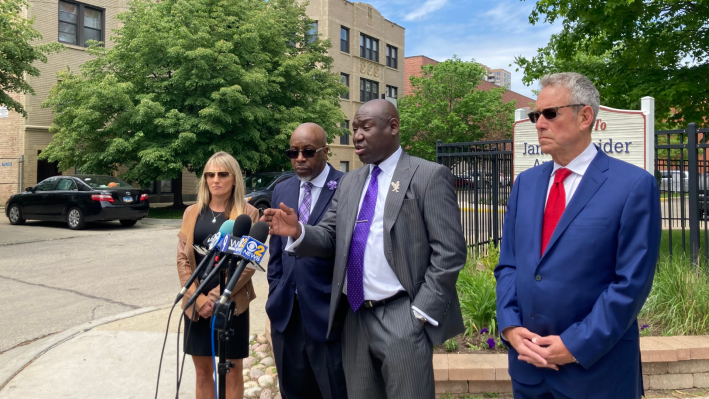 First responders found Reed, Osborne and McNeely unresponsive inside their apartments on May 14, during a record-breaking heatwave. Temperatures inside the James Sneider complex grew excessive, causing the Fire Department to cool off the building after finding the women.
McNeely's apartment reached 103 degrees when she was found, her attorneys said. The three deaths were caused by excessive heat exposure, attorneys said.
Their deaths came after residents complained for days about sweltering conditions inside the complex. Ald. Maria Hadden (49th) asked that the air conditioning be turned on to no avail, she said at the time.
Despite 90-degree temperatures, the building's landlord allegedly cited the city's heating ordinance as why they couldn't turn on the air during a brutal early May heat wave. The city requires landlords to keep their buildings at least 68 degrees between Sept. 1 and June 1. But that ordinance did not require heat to be turned on, merely that units maintain a minimum temperature, Hadden and other officials said at the time.
In response, Hadden lead a charge to change the city's heating and cooling laws, including lowering the temperature by which air conditioning systems must be activated in certain buildings. The changes were approved by the City Council in June.
The settlement will hopefully cause landlords and building managers to consider the health of their residents over other concerns, the attorneys said in a statement.
"There is no excuse for apartment owners or managers to ignore cries for help from their tenants, especially when their main clientele is the elderly," said Brian L. Salvi, an attorney representing McNeely's family.
Hispanic Housing Development Corp., a prolific local affordable housing company, did not respond to a request for comment Monday.
Listen to "It's All Good: A Block Club Chicago Podcast":