WEST LOOP — A developer is pitching plans for a 17-story office building in Fulton Market, but despite its proximity to train and bus lines, residents said they want the plan to include more parking.
Chicago-based developer Joy Jordan of Fortem Voltunas Partners aims to build a 260-foot tower that would take over the half-acre site at 415 N. Sangamon St., incorporating the existing two-story building into its plans.
Designed by Eckenhoff Saunders Architects, the renewable energy building would include 267,000 square feet of office space, 9,800 square feet of retail space on the ground floor and 20 parking spots, according to city documents.
Some residents asked the developer to consider adding more parking at a meeting Wednesday night, even though the project is near several public transit options like the Blue Line at Grand Avenue, the Green Line and Pink Line at Morgan Street and three bus stops within 1,000 feet.
Representatives for the project said they felt "very confident" offering 20 parking spaces given the "transit-rich location."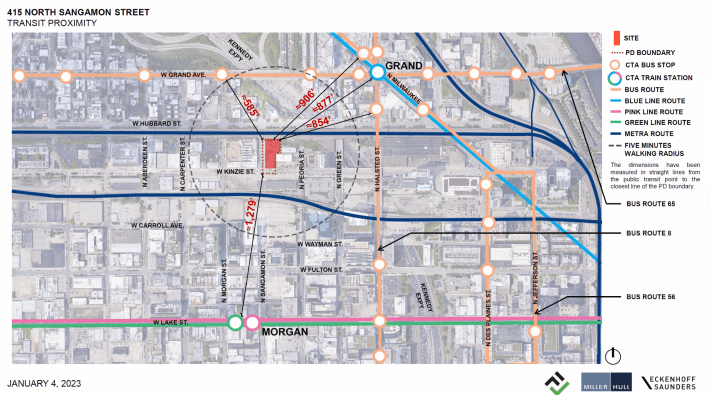 The adoption of a new Transit-Oriented Development ordinance in 2022 loosened parking requirements for developments near public transit, Ald. Walter Burnett Jr. (27th) said Wednesday. Developments like the Sangamon plan can offer less parking because it's near public transportation, he said.
Still, Burnett said he would ask the developer to try to add more parking to the site.
If the plan gets City Council approval, Fortem Voltunas will be required to pay about $2.4 million in zoning bonuses, something developers often do to increase density.
Eighty percent of the payment will go towards the Neighborhood Opportunity Fund, 10 percent to the citywide Adopt-a-Landmark Fund and 10 percent to the Local Impact Fund, according to city documents.
The existing building is being preserved since city officials identified it as a "building with character." Its facade will be replaced while the unique shape of the building will be retained, officials said at a community meeting Wednesday night.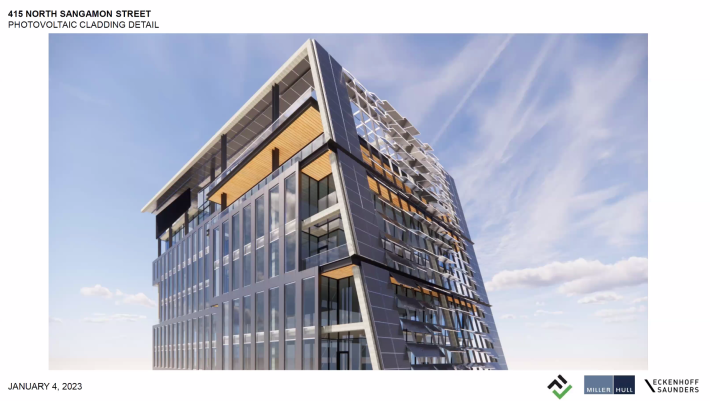 The development also aims to include tenant storage, a bike room and solar panels on the south side of the building and roof, according to city documents.
Ground-floor retail will be divided into two stores separated by a main lobby.
No construction timeline has been revealed, but Jordan said construction could be completed in as soon as a year. The proposal needs approval from the city's Plan Commission and City Council before breaking ground.
If successful, the Sangamon building would be Jordan's first project since launching her own firm in 2021, according to Crain's.
Renderings of the development: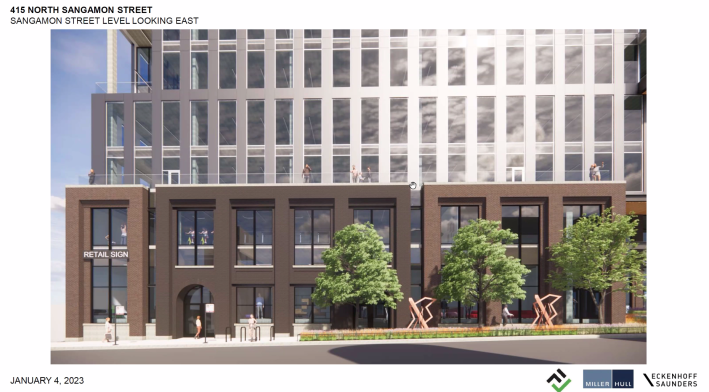 Listen to "It's All Good: A Block Club Chicago Podcast":