CHICAGO — Howard Brown Health workers ended their three-day strike Thursday evening but vowed to keep fighting for the 61 union employees who were laid off Tuesday.
Dozens of Howard Brown Health workers picketed Thursday in front of the LGBTQ health center's administrative offices at 1025 W. Sunnyside Ave. in Uptown. They chanted "queer liberation, not exploitation" and "chop from the top, not from the bottom" as they protested the layoffs and management's bargaining practices.
It was the end of a three-day strike among 440 non-nursing employees from the organization's recently formed union, Howard Brown Health Workers United.
"Unfair labor practice strikes happen when management breaks the law, which [Howard Brown Health has] done over and over and over again, specifically to illegally lay off 61 workers immediately after they unionized," said Margo Gislain, lead organizer for the union.
The union is represented by the Illinois Nurses Association, which has represented Howard Brown's nurses since 2019. The nurses are part of a separate union and not part of Tuesday's strike, although many joined the picket lines outside of their work hours.
The group alleges Howard Brown Health leaders violated 19 provisions of federal labor law, including ousting workers who participated in union activity and failing to bargain in good faith.
Howard Brown Health leaders denied the organization violated any labor laws, with a spokesperson saying the organization has never been contacted by any of the assigned agents from the National Labor Regulations Board regarding charges filed by the union.
Howard Brown Health CEO David Ernesto Munar has said the layoffs, which include 61 union employees and four non-union workers, are necessary to close a $12 million revenue shortfall created by recent losses in federal funding.
The revenue shortfall stems from changes in the pharmaceutical industry that allow companies to keep a greater share of federally negotiated savings through the 340B program, Munar said.
Additionally, federal COVID-19 relief funding that allowed Howard Brown Health to ramp up its testing and vaccination efforts has run dry, Munar said.
In addition to the layoffs, 15 employees accepted buyout packages, and 38 vacant positions were closed, officials said. Howard Brown Health is also eliminating or reducing spending, implementing 6 percent leadership pay cuts and reorganizing its clinics to boost efficiency, Munar said.
But workers at the picket line Thursday said Howard Brown Health's leaders should take greater pay cuts instead of resorting to layoffs.
"I want my job back because I want to service my patients," said Cynthia McDonald, a former case manager in the center's Ryan White Part D program who was among those laid off. "They deserve better, so cut from the top and not the bottom."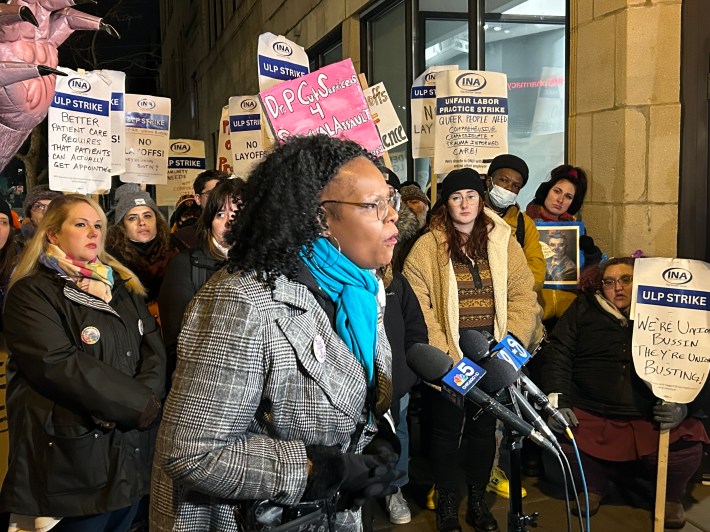 McDonald worked at Howard Brown's South Side clinics at 1525 E. 55th St. and 641 W. 63rd St., which was "decimated" by the recent layoffs, she said. Workers laid off at the 63rd Street clinic included mental health professionals, case managers and other services.
McDonald said the health care organization neglected its South Side operations while the North Side clinics continue to grow. She said there are only four employees left in the Ryan White Part D program, which offers services to help low-income women, infants, children and youth with HIV, and they're mostly based on the North Side.
"I don't understand how you can actually say that behavioral health, case management and all these services that are absolutely needed in a historically misrepresented area like the South Side of Chicago that services Black, Latinx and queer people could be cut like this," McDonald said.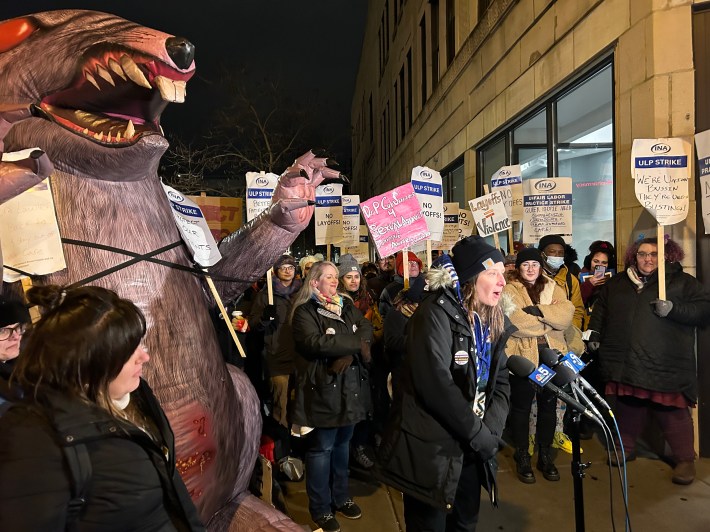 Lindsey Martin, a former therapist who worked for Howard Brown Health for eight years, said the mental health team was reduced to nine therapists.
"At the beginning of 2022, my team had 14 people, but as people quit or left because of the exact reasons that we are striking and unionized, they didn't replace these people," Martin said. "My team was dwindled down to seven people. And last Friday, they laid three of us off. There are now four behavioral health providers for 11 clinics and 30,000 patients."
In a previous interview with Block Club, Munar said the layoffs will not affect patient care because the workforce reduction mostly happened in non-patient-facing roles.
"We started by reducing our administrative team, and there are COVID roles that we no longer need and can afford," Munar said. "And then we really had to restructure how we deliver social services and behavioral health, but our core medical teams at our 11 locations were not touched at all."
Munar said employees will not see increased workloads because the organization is restructuring to increase efficiencies.
"We have a lot of small, very focused teams of three to five people covering the 11-clinic network for a particular identity or disease state, and that was a difficult model," Munar said. "We're reshaping that to embed behavioral health and social services at every clinic and we've also combined several of those small sections."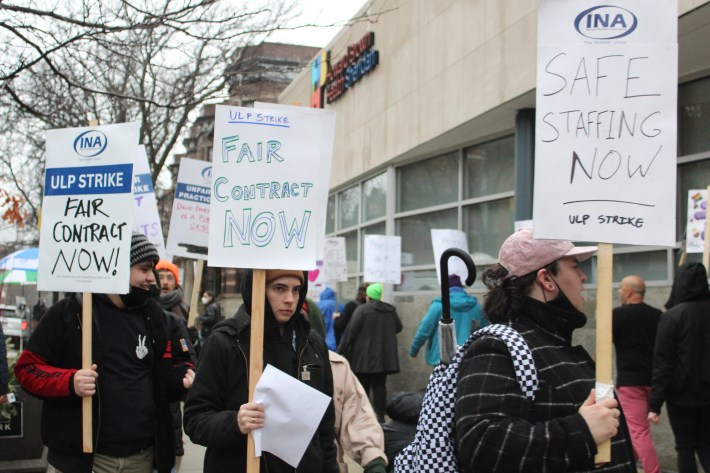 The workers said they'll continue fighting for the laid off employees to get their jobs back and for a fair contract.
"We are not going away," Martin said. "The entire city is watching you, Howard Brown and executive leadership, and they stand with us."
Listen to "It's All Good: A Block Club Chicago Podcast":