HUMBOLDT PARK — Ald. Roberto Maldonado (26th) has dropped out of the February election and will not seek another term in City Council.
The alderman submitted paperwork Friday to withdraw from the race, said Max Bever, spokesman for the Chicago Board of Election Commissioners. Maldonado could not immediately be reached for comment.
Maldonado has held the seat since 2009, when he was appointed by then-Mayor Richard M. Daley and was reelected three times.
His withdrawal leaves as many as five candidates vying for the seat representing parts of Humboldt Park, Logan Square, West Town and Hermosa.
The candidates remaining in the field include Jessie Fuentes, director of policy and youth advocacy for the Humboldt Park-based Puerto Rican Cultural Center, 26th Ward Democratic Committeeperson Angee Gonzalez Rodriguez, Chicago DJ and producer Julian "Jumpin" Perez, Kirk J. Ortiz and Anthony N. Rivera.
Fuentes, Ortiz and Rivera are facing pending challenges to their candidacies.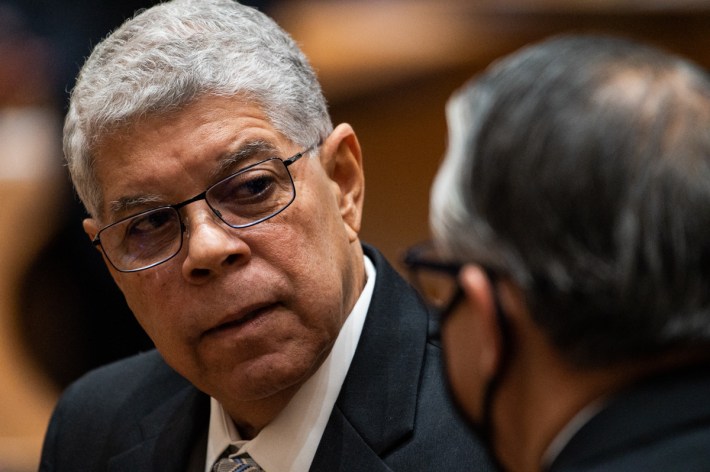 Maldonado served as Cook County Commissioner of the 8th District for 15 years before he joined City Council.
Prior to working in government, he ran a mortgage banking firm and worked as a Chicago Public Schools psychologist.
He narrowly avoided runoffs in the 2019 and 2015 races, garnering just over the necessary 50 percent of the vote each time.
Rumors have swirled for months that Maldonado planned to leave City Council. That speculation intensified in early 2022 when he put his home near the The 606's Bloomingdale Trail on the market for $2.4 million.
He denied he was not going to seek reelection, saying he was selling his house to downsize and help fund his children's education.
The veteran alderman has long championed policies to slow gentrification along The 606's Bloomingdale Trail. Maldonado was among a group of Northwest Side alderman who pushed an anti-gentrification ordinance that imposes fees on developers who demolish naturally occurring affordable housing along the trail.
But he's also been criticized for profiting off the popular walking and biking trail. The alderman flipped four properties along the trail in 2015, pocketing $300,000.
Maldonado announced his reelection campaign in September with a Facebook post and video, saying gentrification — not crime — was the most pressing issue in Humboldt Park.
Maldonado said violent crime has dropped in the 26th Ward since he took office. A 2021 Block Club analysis of police data show shootings and murders in Humboldt Park have remained largely steady over the past decade.
He also touted his work bringing more than 400 affordable housing units to the ward and his commitment to build hundreds more to help the area's working families.
Maldonado joins several City Council colleagues who will not continue on in 2023.
Alds. Leslie Hairston (5th), Susan Sadlowski Garza (10th), George Cardenas (12th), Ed. Burke (14th), Howard Brookins Jr. (21st), Ariel Reboyras (30th), Carrie Austin (34th), Michele Smith (43rd), Tom Tunney (44th), James Cappleman (46th) and Harry Osterman (48th) all plan to step down or already have done so.
Ald. Anabel Abarca was appointed last month to take over Cardenas' 12th Ward seat and Ald. Timmy Knudsen was appointed in September to replace Smith.
Two more seats flipped in 2021. Ald. Nicole Lee (11th) was appointed to replace Patrick Daley Thompson when he stepped down because of his conviction for income tax fraud. Ald. Monique Scott (24th) was appointed to take over the West Side council seat vacated by her brother, Michael Scott Jr.
Two other aldermen, Sophia King (4th) and Roderick Sawyer (6th), are running for mayor.
Listen to "It's All Good: A Block Club Chicago Podcast":