LOGAN SQUARE — As bitter cold temperatures hit Chicago around the holidays, tenants of an M. Fishman building in Logan Square were struggling to stay warm indoors.
Tenants of a large apartment complex at 2330-38 N. Spaulding Ave. said they went without consistent heat last month and landlord Mark Fishman, the most well-known property investor in Logan Square, didn't fix the problem for more than two weeks despite repeated requests for help.
Problems with the building's heat started Dec. 10, the renters said Thursday morning at a rally outside of the Logan Square building. The group organized Dec. 18 to collectively notify Fishman about the frigid conditions, they said.
Issues persisted through Dec. 27, impacting the majority of the building's 45 tenants. Some tenants said temperatures got as cold as 50 degrees in their apartments and they had to sleep in coats, buy heated blankets and stay with family.
Under the Chicago Heat Ordinance, landlords must supply adequate heat to tenants — at least 68 degrees during the day and at least 66 degrees at night during the heating season — or face up to $500 per day in fines.
Fishman didn't respond to requests for comment Thursday.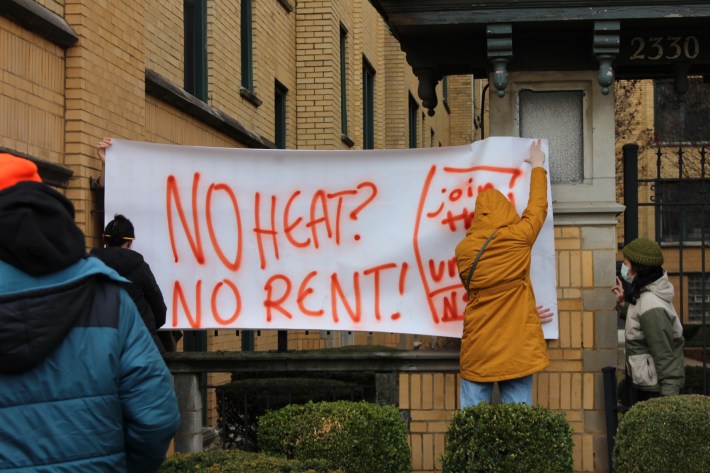 Balam Trybajohnes, a tenant since August, said he submitted seven maintenance requests to their property manager — an M. Fishman employee — to fix his heat. Most requests were marked "resolved" immediately without work being done, Trybajohnes said. Other tenants said they had the same issue.
"Our apartment got below 50 in the kitchen, below 60 in every other room, so on our windows we were growing ice, and underneath the door ice was forming. Generally, it was very, very cold," Trybajohnes said.
Becca Smith, who lives in the building with her boyfriend and her chihuahua, Boo, said their heat was eventually restored on Christmas Eve — "a day workers should be with their families, a day we should be with our families" — after a series of ignored maintenance requests.
Building management provided space heaters but not until Christmas Eve, the same day workers came out to do the repairs on the building, one tenant said.
"It was so cold that we had run to Target, buy heated blankets in the freezing cold, pump up our space heater, which of course is driving up our electricity bills, and just snuggle up under blankets," Smith said. "I have a little chihuahua who was freezing cold the entire time."
Smith and Trybajohnes are among about 20 tenants of the Spaulding Avenue building who are withholding rent over the loss of adequate heat and subsequent expenses incurred such as heated blankets.
They said they've only paid half of last month's rent and they're demanding the rest be refunded because their apartments were unlivable for several days.
At Thursday's rally, tenants and their supporters held up signs that read "No heat, no rent" and "Rent too high, temps too low."
"It's really the only thing we have to push for a change, when it comes to being a tenant and a renter," tenant Miles Bennett Hogerty said. "All we are to this property management company is a guaranteed check, so the goal of this rent strike is to get our money back … all we're asking for is not to be paying for an apartment that was uninhabitable."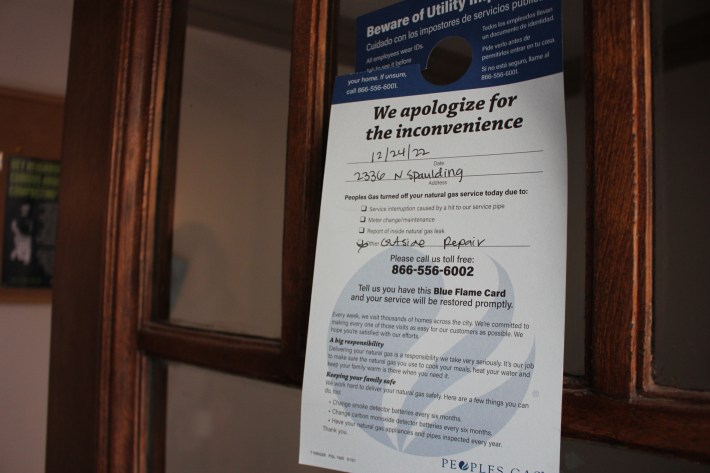 Fishman owns hundreds of apartments in Logan Square and has been painted as the mascot of Logan Square gentrification by community leaders and activists for hiking up the rent on tenants and business owners. In a rare statement to the press in 2019, the landlord said the label is unwarranted.
Apartments in the Spaulding Avenue building rent for an average of $1,400 per month, according to tenants and online real estate listings. The median price of apartments for rent in Chicago is $1,775, according to Rent Hop.
Tenants said the building also has roaches and rodent droppings, and the washers and dryers are frequently broken.
The renters are protesting as members of the North Spaulding Renters Association, a union formed in 2020 by tenants of Fishman-owned buildings in Logan Square and Humboldt Park.
"The reason that we're organized in this way instead of sending an individual repair request or just dealing with it is partly because we want our conditions to improve, but it's also because we want to change the landscape of the relationship between landlords and tenants," tenant Kathleen Roberts said.
"We want to have a say in our housing."
Watch our "On The Block" TV show on The U, CW26 and MeTV.
Listen to "It's All Good: A Block Club Chicago Podcast":