WICKER PARK — Police shut down a bar and restaurant near the heart of Wicker Park after a shooting in the area over New Year's weekend.
DSTRKT Bar & Grill, 1540 N. Milwaukee Ave., was shut down Saturday hours after three men were shot in a nearby alley. Police Supt. David Brown issued a summary closure order, which police use to close a business if they determine it poses a public safety threat.
The shooting occurred about 2 a.m. Saturday in the 1400 block of North Honore Street, police said. Three men were walking in an alley when a man with a gun began shouting at them and fired shots, police said. The gunman ran away.
A 26-year-old man was shot twice in his chest and taken to Stroger Hospital in fair condition. A 38-year-old man was shot multiple times in his chest and hospitalized in critical condition. A 28-year-old man was shot in his groin and abdomen and taken to Mt. Sinai Hospital in critical condition, police said.
Ald. Daniel La Spata (1st), whose ward includes the area, said a fight inside DSTRKT preceded the shooting.
"The shooting involved individuals who were involved in that altercation, but the exact series of events is something that I think is still being worked out," La Spata said.
Police had no updates on the case Tuesday and said the investigation is ongoing.
The shooting occurred near the 1500 block of North Milwaukee Avenue, which is home to restaurants and bars that stay open past midnight on weekends.
DSTRKT owners can now seek a hearing with the city to appeal the summary closure. Otherwise, the bar could be closed for up to six months, according to a notice posted on its front door.
Reached briefly by phone Tuesday, DSTRKT owner Frank Maza said the shooting did not happen inside the bar or directly behind the business. He declined to comment further, citing the investigation.
La Spata said he's been in touch with Maza, who has cooperated with police. The alderperson also commended police officers for providing "lifesaving attention" to the shooting victims.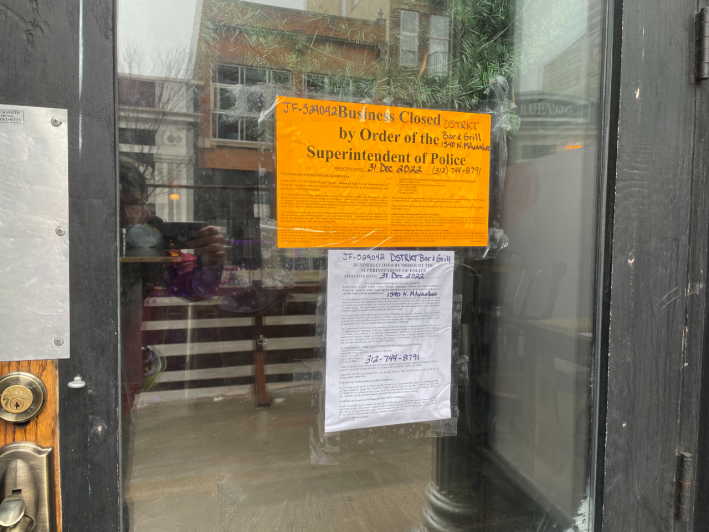 That shooting near DSTRKT was among multiple violent incidents in the Wicker Park and West Town area over the holiday weekend. A father of six working as a bouncer was shot and killed outside a Ukrainian Village hookah bar.
About 1:30 a.m. Sunday, a man tried to enter Lyon's Den Hookah Lounge, 2123 W. Division St., with a gun, police said. He shot the victim, who was identified as Austin McAllister, 38, in Cook County Medical Examiner's Office records.
McAllister was shot several times and taken to Stroger Hospital, where he died, police said. A second person was shot in his or her leg and taken to Stroger in good condition. The shooter fled, the area and detectives are investigating, police said.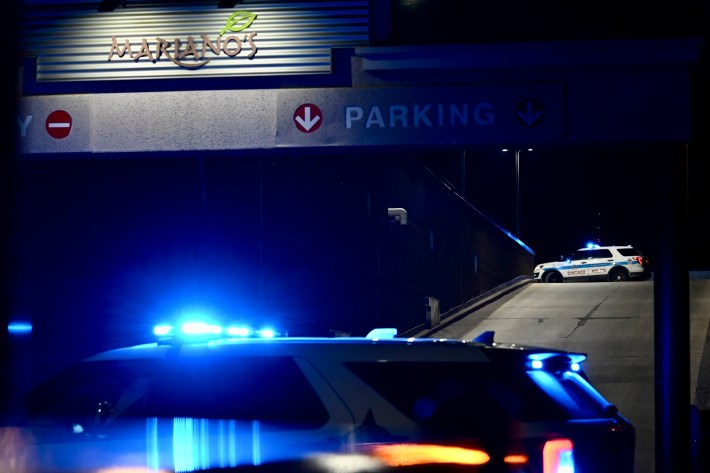 Later Sunday, someone fired shots near the Mariano's grocery store at 2021 W. Chicago Ave. in Ukrainian Village, police said.
A man was loading items into his car about 5:40 p.m. when someone drove up and starting shooting at him, police said. The man was unharmed, but his car was damaged, police said.
That gunfire came less than two weeks after Darian Neal was shot and killed on the grocery store's parking deck Dec. 19. Neal's killing is still under investigation, police said.
After the violent weekend, La Spata said he has faith recent initiatives — like an expanded Wicker Park entertainment corridor police patrol and an overnight parking ban on Division Street — will help police responding to shootings and other incidents. But local businesses also need to be accountable for public safety, he said.
"I have a really great confidence in the 12th District, the 14th District and our businesses to really take this seriously, and take all the steps that we can together to tamp down on this," he said.
Listen to "It's All Good: A Block Club Chicago Podcast":