DOWNTOWN — A hot dog joint known for its unique wieners is opening this month inside a Downtown food hall.
The Hot Dog Box is opening Monday at Urbanspace, a 12,000-square-foot food hall at 15 W. Washington St. The food hall also features Keadkao Express, Plant Junkie and the Budlong Hot Chicken.
The gourmet sausage shop run by a father-daughter team took the culinary scene by storm in 2021.
Bobby and Brooklyn Morelli opened The Hot Dog Box at Bronzeville's Boxville marketplace despite having no previous restaurant experience. Locals flocked to the shipping container for unusual creations like the Bronzeville Bourbon Filet Mignon Dog and a pizza hot dog made by Brooklyn.
The Morellis opened their first brick-and-mortar location at Six Corners in 2022, but they closed in in December, citing low sales, negative social media comments and racial discrimination.
The Downtown location had been in the works for a while, Morelli said. It was going to be a new second location for the business, but Morelli decided to move forward with the Downtown spot as the Hot Dog Box's only location.
"I would definitely say that we have more density in the Downtown location with foot traffic. We can push the envelope a lot more with variety of people that are coming to Downtown," Morelli said.
Morelli thinks $12 for the gourmet dogs is fair in an area where The Hot Dog Box will be competing with high-profile restaurants, he said. Previously, the business faced backlash online for its prices, but Morelli has said the quality ingredients are worth it.
The shop's signature Bronzeville Bourbon Hot Dog was named one of the best hot dogs in the United States this year by a national food website. Other unique twists from previous menus include the Mac Maple Steak and the Waffle Dog.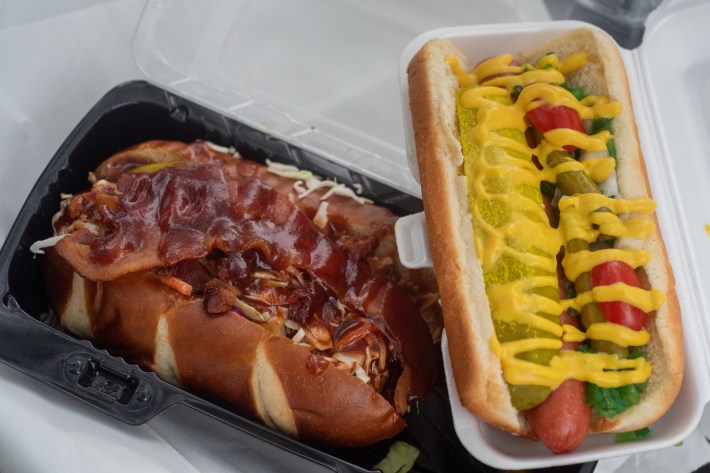 At Urbanspace, Morelli plans to keep the Bronzeville Bourbon Hot Dog and bring back fan favorites, like the Pickle Minion and the Buffalo Dog.
Morelli also recently did a poll on the businesses' social media channels to see what kind of sides customers wanted. Based on that, The Hot Dog Box will be incorporating fries along with other side salad options to the menu, he said.
And Morelli plans to rotate the menu seasonally for more selection, he said.
"We have a lot of exciting things on the horizon," Morelli said. "I am an artist and artists push the envelope. … I feel like even though these may be hot dogs for some people, these are like little canvases to me."
The Hot Box will be open 7 a.m.-8 p.m. Monday-Friday, 7 a.m.-7 p.m. Saturdays and 12-6 p.m. Sundays.
Listen to "It's All Good: A Block Club Chicago Podcast":