DUNNING — Barbara "Basia" Niedorezo was a gentle teacher, but she knew how to make her young art students feel empowered, they said.
Niedorezo, of Dunning, co-founded children's art school Artorium, Inc. in Gladstone Park at 5719 N. Milwaukee Ave. The artist and teacher died last month after the ground shifted beneath her as she posed for a photo in the Azores Islands off the Portuguese coast, causing her to fall into the water, her family and friends said.
Artorium, Inc. offered art classes in Polish and English taught by Niedorezo and her late husband for more than 12 years.
The school will stay open through the summer, but its future is uncertain without Niedorezo there to guide it and due to increased costs in recent years, her son said.
Services were held Dec. 20 for Niedorezo, who was born in Poland. She was buried at Maryhill Catholic Cemetery at 8600 N. Milwaukee Ave. next to her husband, Stefan Niedorezo, also a Polish sculptor, teacher and visual artist. He died in 2019, according to his obituary.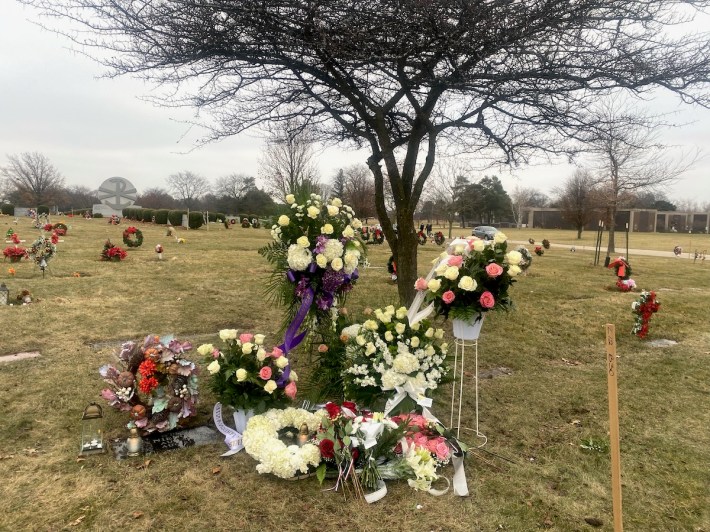 Helena Soltys, a friend who knew Niedorezo for about 20 years, started a GoFundMe to help her family pay for expenses related to her death. It has raised more than $6,900 of its $50,000 goal. All of the proceeds will be given to Niedorezo's sons, Soltys said.
Soltys, a teacher who is also from Poland, met the Niedorezos when she enrolled her three daughters at Artorium when they were young. She is grateful for the Niedorezos' dedication to teaching art "from their heart," she said.
Soltys felt heartbroken when she heard of Niedorezo's death, she said.
"Now if they are in heaven, they will see how empty we are without them," said Soltys, who lives in suburban Niles. "I saw it three years ago when Stefan passed away, and now it's a big hole. They were a beautiful couple: pure, humble, selfless and gentle with tons of empathy and love for others. … It's hard to believe they are not with us anymore."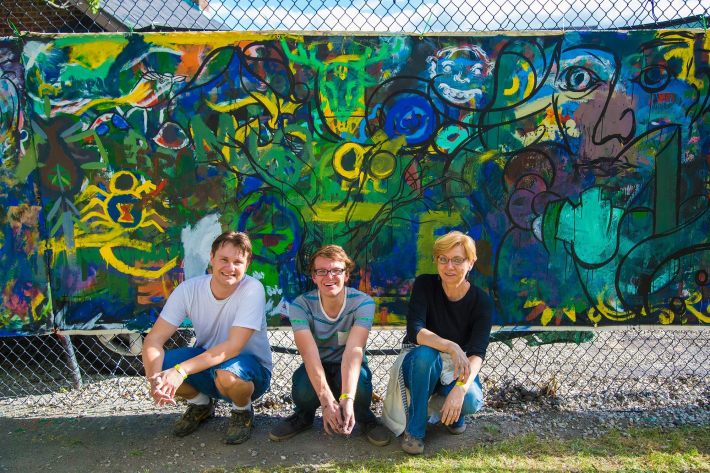 Maciek Niedorezo, one of Barbara Niedorezo's sons and co-owner of Artorium, said in a statement the money raised from the GoFundMe will cover funeral expenses and perhaps expenses associated with the school, like increased cost of supplies and property taxes.
Beata Soltys, one of Soltys' daughters and a former student of the Niedorezos', said the skills they taught her influenced her identity.
"They were my first art teachers; they helped shape and mold my artistic abilities," said Beata Soltys, who took classes from the couple for about 10 years. "I am grateful and indebted for their hard work."
Barbara Niedorezo taught Beata Soltys how to paint using oils, acrylics and watercolors, and boosted Soltys' confidence with her detailed, calm and thoughtful teaching style, she said. The 26 year old also took sculpting classes from Stefan Niedorezo, working with wood and clay.
"When I went to Artorium, I felt like I was home," she said. "When I need to cheer up, I turn to art because it's the feeling I felt when I was there."
The couple also left their mark on Polish churches in the area. Stefan Niedorezo carved the face of The Virgin Mary on the Monstrance of Our Lady of the Sign inside St. Stanislaus Kostka Catholic Church, 1351 W. Evergreen Ave.
"They were such amazing people in this way because they have done a lot for the Polish community and [the] churches in the area," Helena Soltys said. "They worked not only for the Polish community but for the benefit of our culture."
The Virgin Mary's face was based on Barbara Niedorezo's face, said Daniel Pogorzelski, a Dunning resident and local historian who grew up next to the Niedorezo family.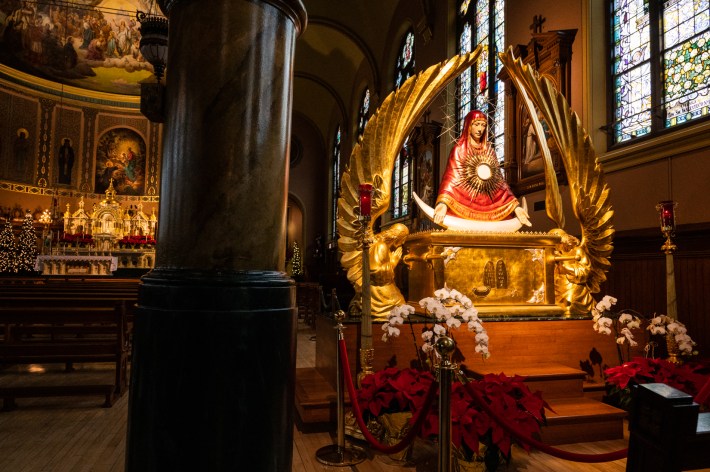 Barbara Niedorezo was always behind her husband to help plan, polish and organize artwork, friends said. She also displayed her work around the city in art shows, including one at Portage Park's Perkoltor coffee shop in 2015.
Pogorzelski wants the Niedorezos' legacy remembered on the Northwest Side, he said.
"They were well-known in the Polish community on the Northwest Side … and had their work in many places," Pogorzelski said.
They have been honored in various ways.
After Stefan Niedorezo died in 2019, a street sign in his honor was set to be installed in front of the couple's Dunning home, but that was canceled because of the pandemic, Pogorzelski said.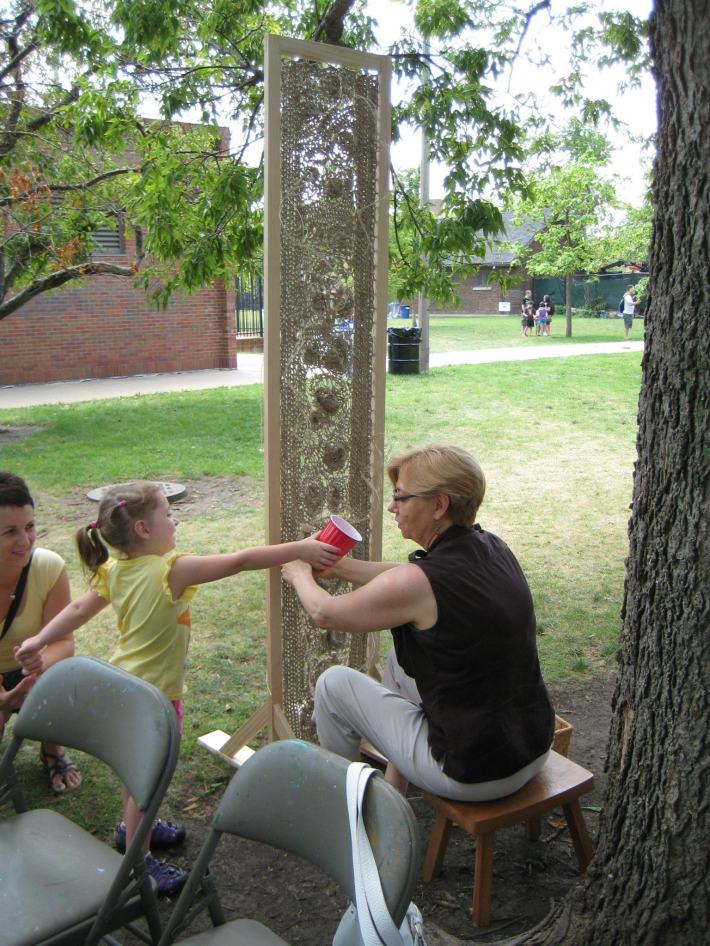 And Barbara Niedorezo received a posthumous medal from the Polish Ministry of National Education for her commitment to teaching art to the next generation, Pogorzelski said.
Artorium plans to resume classes this month. they will be taught by Barbara Niedorezo's assistant, said Maciek Niedorezo. He and two alumni of the classes might also help.
Instructors will host workshop-style sessions at Artorium into the summer, as well, Maciek Niedorezo said.
However, with rising costs of supplies, financial strains from the pandemic and property-related expenses, the school's future may be uncertain after summer classes, Maciek Niedorezo said.
"We have hopes that we can afford to continue classes all the way into the summer," he said. "The COVID-19 pandemic has taken an irreversible toll on many creative businesses, jeopardizing their long-term viability, well before Barbara's passing."
Listen to "It's All Good: A Block Club Chicago Podcast":