WOODLAWN — The city has promised survivors of police torture for years it would build them a public memorial — but they've yet to break ground.
Now, survivors are urging candidates in February's elections to publicly support their efforts to bring the memorial to fruition.
Passed in May 2015, the city's $5.5 million reparations package was the first of its kind in United States history and included a resolution supporting police torture survivors. Though it was non-binding, the resolution was still a landmark victory for more than 100 Black people who were tortured at the hands of former Commander Jon Burge and his "Midnight Crew" between the '70s and '90s.
Burge's team tortured Chicagoans into false confessions by suffocating them, electrocuting them and otherwise abusing them. Anthony Holmes said he was one of the survivors who confessed to a crime he didn't commit.
Holmes testified at Burge's 2010 trial and has spent the past several years meeting with city officials to push for the memorial's completion. 
"With the memorial, people can see what happened to us, they can understand what we went through and understand what we're still going through," Holmes said. "At the same time, [it'll] help the people like us, so we have a place to come to, and we can be with each other in this trauma because I still have nightmares about what happened to me."
Along with a public memorial, the 2015 resolution promised a public apology from the mayor and City Council for Burge's torture, the creation of a history curriculum on the Burge torture cases for Chicago Public Schools, financial compensation for living torture survivors and the creation of a center honoring the survivors and commemorating the incident.
All aspects of the resolution except the memorial have been fulfilled. Two survivors have died in the seven years since the memorial was promised, said Jen Ash, a Chicago Torture Justice Memorials member.
The city initially granted the group $250,000 to plan the project. Though the group has raised an additional $500,000, it is looking toward the city to continue funding the $2.4 million project, Ash said.
"It shouldn't be this difficult to get it done," she said. "We are raising so much money for this, but that's not reparations. That's not what was promised. The city owes this to folks, and we're here to make sure that that happens."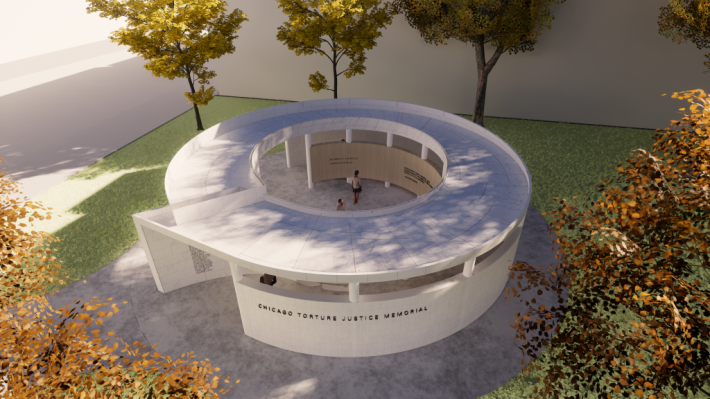 Ash said the transition from former Mayor Rahm Emanuel's to Mayor Lori Lightfoot's administration — followed by the pandemic — created a lull in the memorial's progress. Still, Lightfoot did not implement her transition committee's recommendation to allocate memorial funding during her first 100 days in office, Ash said.
Advocates have finalized a design for the memorial and are working on finalizing a site, Ash said. They hope to find a Woodlawn site near the center's location and break ground by this spring.
In the meantime, the group has been holding public rallies and urging residents to contact their alderpeople to garner support for the memorial. Nine alderpeople have joined the dozens of community leaders in signing a public letter for the memorial.
After years of advocacy, Ash said the group finds that "99 percent" of residents who visit their public events already know about and support the memorial — and acknowledgement from city officials is the next step.
"As election season approaches, we're looking to see who's going to support reparations publicly," Ash said "Who's going to say, 'This is well past due for this memorial to be done.'"
Watch our "On The Block" TV show on The U, CW26 and MeTV.
Listen to "It's All Good: A Block Club Chicago Podcast":