IRVING PARK — A new cafe is mixing board games, Puerto Rican cuisine and rum-based cocktails in Irving Park.
Owners Jose and Yesenia Maldonado hosted game nights at their home for decades before deciding to open Stay and Play Game Cafe, 3932 West Irving Park Road, in December. The cafe's shelves are filled with more than 500 board games.
"This is like hosting game night at your own space. That the exact vibe we're going for," Jose Maldonado said. "But we can take the burden of setting up and cleaning up. You can just focus on the fun part, and we take care of the heavy lifting." 
The Maldonados met in college in 1991 and quickly discovered they shared an affinity for card games, board games and dominos, Jose Maldonado said.
They've continued that love over the past three decades, inviting family and friends to their home to play.
"It's funny because in both of our families, the range of board game knowledge varies," Jose Maldonado said. "From 'Hey, I only know Monopoly' to 'I'm a 50 level paladin in Dungeons and Dragons.' Everyone loves it."
They settled on combining their love of games with their new restaurant and found their location on Irving Park Road. The bar was Independence Tap before former owner Geroge Lacon retired, putting the building on the market in 2021.
Jose and Yesenia Maldonado closed on the property in November and renovated it with Perpetuum Designs' Cristiana Crin. 
They removed things that were blocking the front windows to let more natural light in, and they used bright colors to better reflect their Puerto Rican heritage and love of board games, Jose Maldonado said.
"This is a restaurant first with great cocktails, local craft beers, bottle service and fun board games," he said. "We really wanted to be a beacon of light for the area."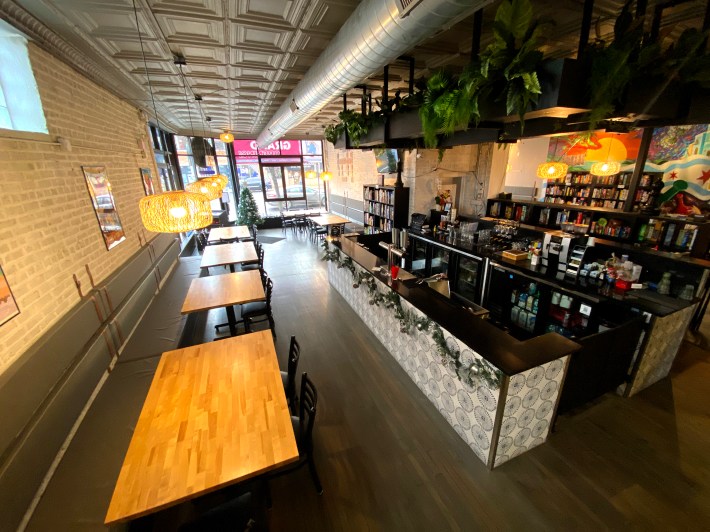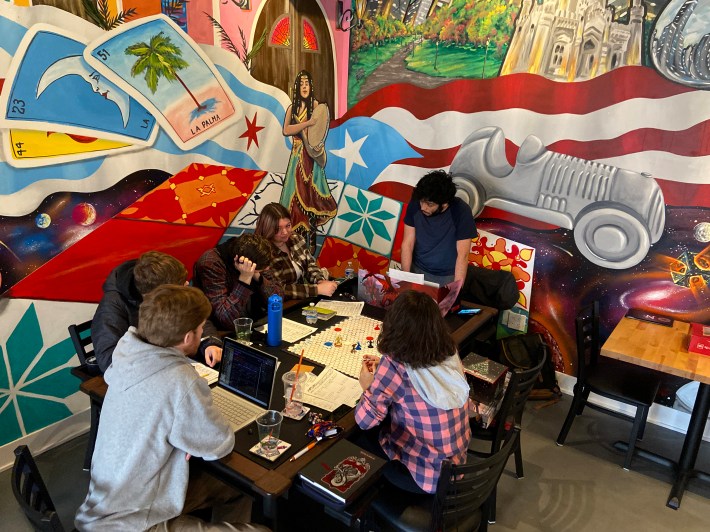 The menu includes tostones, Cubanos and jibaritos. Cocktails include mojitos, hurricanes and El Zombi, a black and white rum blend with triple sec, orange juice, lime and grenadine.
The duo put up shelves of board games and created a selfie wall with the cafe's logo. They have other playful touches, like large chess pieces and a mural from local artist John Vergara.
"He sketched something up in 15-20 minutes that felt directionally and spiritually on point, and we went from there," Maldonado said. "You can see Chicago and Puerto Rico and board games all intertwined in it." 
Stay and Play has hosted a few "Dungeons and Dragons" sessions for a local group, and the Maldonados plan to host game nights where people interested in more niche games can drop by and learn the ropes, he said. 
"The other day we had one table playing one of those heavier games, 'Champions of Midgard,' while we had another table playing a mid-level game, the wait game of 'Splendor,' and another table with a party game called 'Raise Your Goblets,'" Jose Maldonado said. "We support the gamut of games."
Stay and Play is open 4-10 p.m. Wednesday-Thursday, 4 p.m.-midnight Friday-Saturday and 11 a.m.-7 p.m. Sundays. 
Listen to "It's All Good: A Block Club Chicago Podcast":