RAVENSWOOD — A family-run restaurant has opened at the former location of Chez Simo Bistro in Ravenswood. 
Falcon's Handcrafted Sandwiches, 1968 W. Lawrence Ave., had a soft opening in early December. It specializes in American comfort food, such as burgers and wings, alongside pastas. It is open 11 a.m.-9 p.m. Monday-Friday, 8 a.m.-10 p.m. Saturdays and 8 a.m.-8 p.m. Sundays.
Husband-and-wife owners Oscar and Veronica Hernandez work alongside their kids, Saul, 16, and Berenice, 12.
"After working for other restaurants, mostly Italian, over the years, I finally had the idea that I wanted to have my own restaurant specializing in sandwiches," Oscar Hernandez said in Spanish. "Handcrafted sandwiches prepared to make you feel like you're at home, made by me, my wife and kids."
Oscar Hernandez has lived in Ravenswood since he moved to Chicago 20 years ago. He thought the Chez's location would be the perfect place to open his first restaurant, he said. 
"I like the area and I know it really well, how the neighborhood's traffic flows and when people are going out to eat and what they like to eat," he said.
Oscar Hernandez has worked at various restaurants, including at Eataly and Trophy Room, he said. His lifelong love of cooking began in his hometown of Oaxaca, Mexico, where he and his siblings used to help his mom make tamales that she would sell around the city.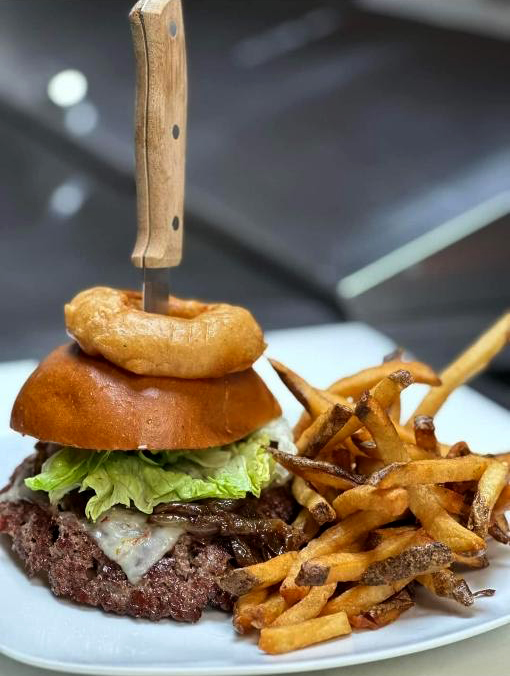 "We helped with what we could as kids growing up," he said. "Another reason we helped her was because the sooner she was done making them, the sooner we could start eating a few, too."
Oscar Hernandez's father was a butcher, and he learned how to carve up the best cuts of meat from chicken, beef, pork and lamb for milanesa, chorizo and cecina, he said. 
"It's different when you get to be hands-on like my parents allowed us to be. You don't just watch how to do something; we helped them, and that's where I learned so much," he said. 
Oscar Hernandez wants his kids to have the same experience with learning about food and cooking, which is another reason he wanted to start the restaurant and asked them to work with him.
"I can help teach them how to run a kitchen and a proper business while we support each other," he said. 
Oscar Hernandez decided to focus Falcon's menu on pasta dishes and American fare he'd seen as popular during this tenure at other restaurants around the city. 
"When I first came to this country, I paid attention to what people liked to order, what was popular, and saw sandwiches like what I have now tend to be very popular," he said. 
Hernandez has added Italian, Mediterranean and American recipes to his repertoire. While Falcon's doesn't have currently have Mexican dishes, he hasn't ruled out adding a mole or two to the menu down the line as the business becomes more established, he said. 
"I've only been open since Dec. 2 and wanted a solid menu to start. So far I've had repeat orders on everything on our menu since we opened," he said. "The current menu is working very well, and nothing has been unpopular." 
Listen to "It's All Good: A Block Club Chicago Podcast":