KENWOOD — Two buildings at the Algonquin apartment complex in Kenwood have been closed since Christmas Eve after the landlord's unauthorized use of electric heaters caused a massive outage that blew residents' power and left them without heat, city and ComEd officials said this week.
A transformer serving two buildings at 1607 and 1617 E. 50th Place failed around 11 a.m. Dec. 23, city officials said. Chicago was in the midst of a winter storm that day that brought frigid temperatures and wind chills as low as 40 degrees below zero.
"Both buildings froze" due to the power outage because they were heated by electric window units, said Peter Cassel, Mac Properties' director of community development.
City officials deemed the two unpowered, unheated buildings unsafe to live in and ordered the buildings closed Dec. 24 when power was not restored by that evening.
About 200 people in 137 apartments have been displaced through the holidays and the start of the new year. Some were forced to sleep overnight in their cars after the buildings were closed, according to ABC 7.
All six buildings at the Algonquin complex have been heated by the electric units since Mac Properties turned off the complex's boiler-based heating system in summer 2022, Cassel said.
The company "replaced two basement boilers with roughly 70 individual electric water heaters in each building, but failed to contact ComEd to upgrade their service to ensure the ComEd equipment could accommodate the increased load demand," ComEd spokesperson Shannon Breymaier said.
The heaters drew more power during the winter storm than the single transformer serving the two buildings could handle, Breymaier said.
Installing so many window units also "would require an electrical permit" which Mac Properties never sought, buildings department spokesperson Michael Puccinelli said.
The number of "units and outlets installed without a permit cannot be adequately supported by the existing electrical system," Puccinelli said.
City inspectors determined "the increased electrical demand was the primary cause of the power outage," Puccinelli said.
The city issued permits Dec. 27 for Mac Properties to disconnect power for the window units at the closed buildings, according to buildings department data.
Cassel denied the window units are to blame for the outage. They will be disconnected but not removed entirely because they are "the long-term heating and cooling system for all six buildings" at the Algonquin, he said.
"This is a transformer issue, not a window heating unit issue," Cassel said. "… We agreed to disconnect the window heating units to reduce demand on the ComEd equipment while ComEd works to provide the appropriate power to the buildings."
The four other Algonquin buildings "are all currently warm and running on window heating units," he said Tuesday.
The buildings at 1605 E. 50th St. and 1606 E. Hyde Park Boulevard also lost power during a Dec. 29 outage that affected the wider Hyde Park-Kenwood area, Cassel said.
ComEd is "evaluating all services for the Algonquin buildings" to determine whether the electric heaters' continued operation risks overloading the other buildings' transformers, Breymaier said.
Power was restored to the buildings' lighting and mechanical systems Dec. 24, but the buildings will remain closed indefinitely because they still don't have an "adequate source of heat," Puccinelli said.
The company must also repair the buildings' boiler system and address "any leaks that would impact the delivery of heat to the entire building," Puccinelli said.
"The improperly installed electrical work was performed without upgrading the system to handle the increased power demands, thus the window units cannot be turned on without causing another power outage," Puccinelli said.
The buildings will remain closed until Mac Properties "safely restores heat to the units and the work is verified by [buildings department] inspectors," Puccinelli said.
Inspectors also found "numerous violations after inspecting the properties," which will be referred to the city's law department for possible enforcement, Puccinelli said. 
The building at 1607 E. 50th Place passed an annual city inspection Dec. 16, one week prior to the power outage, according to buildings department data.
The 1617 E. 50th Place building failed its Dec. 16 inspection but was not cited for electrical or heating issues, according to city data. Violations noted in the inspection report relate to a defective fire pump valve and wall hydrant.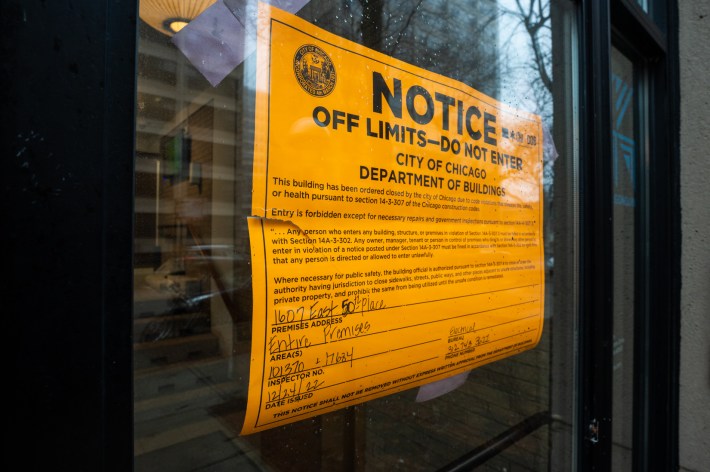 Residents can end their lease without penalty "until the buildings are reopened," Cassel said. Around 40 affected households have either canceled their leases or moved to another Mac building, Cassel said.
City code allows tenants to end their leases or withhold rent if their landlord fails to supply "essential services" like heat and electricity. These options are not available to tenants in cases where a utility provider "[fails] to provide service."
"I've never been in this type of situation before in my life," resident Carolyn Blackshire told the Hyde Park Herald as she moved out Sunday. "Being swung from pillar to post is very inconvenient for all of us. There are people here who are senior citizens, young, middle aged and animals, and this came at a horrible time."
Mac offered residents a hotel stay Dec. 24, according to an email obtained by Block Club. The company has since provided shelter at hotels or other apartments by request, Cassel said.
Mac is "working out details" with the company's lenders regarding rent adjustments, and gave a $100 prepaid debit card to each household Dec. 31, Cassel said.
Watch our "On The Block" TV show on The U, CW26 and MeTV.
Listen to "It's All Good: A Block Club Chicago Podcast":