MIDWAY AIRPORT — Cheers erupted Wednesday near baggage carousel eight at Midway Airport as weary Southwest Airlines traveler Patrick Keane was finally able to reunite with his luggage.
Keane was one of thousands of travelers across the country experiencing flight difficulties and luggage troubles after the winter storm and other issues led to Southwest canceling numerous flights. Midway has been in disarray for days, with luggage piled up and long lines of customers, as Southwest is its largest carrier.
"I'm gonna go to Portillo's" to celebrate, Keane said.
Keane had two flights to Chicago from Denver canceled, and he only was able to arrive to Chicago after booking with another airline. He spent countless hours waiting for his luggage at Midway this week, he said.
"It was chaos in Denver, and it was chaos when I arrived here to get my bag," he said.
Keane's luggage had been at Midway since early Tuesday morning, according to a luggage tracking alert from Southwest's customer service line. But he was told otherwise by baggage service staff at the airport, he said.
The devoted Southwest flyer was frustrated with the airline: With his luggage missing for days, he had to borrow clothes all week, he said.
But Keane was still able to celebrate his nephew's first Christmas in person, he said.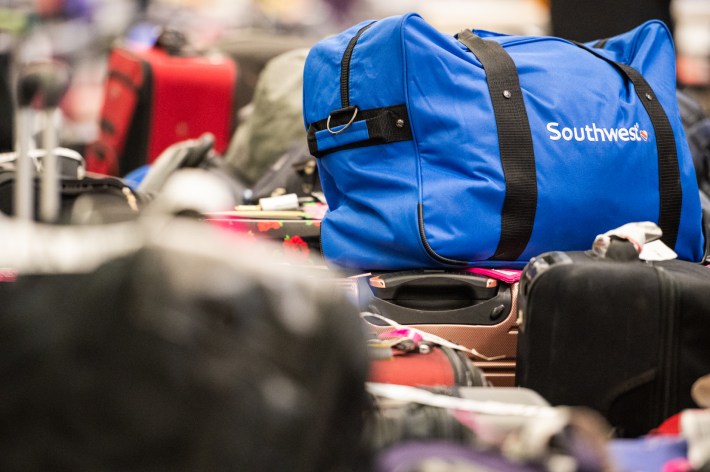 The scene at Midway was less chaotic by Wednesday, but dozens of customers still waited at the airport for their bags — and a way home.
Since Dec. 22, Southwest has canceled more than 15,700 flights, according to ABC7. It could take days before Southwest is fully operational again, according to The New York Times.
Chicago's Midway Airport — a Southwest hub — has been especially impacted by the chaos. As of Wednesday afternoon, at least 234 flights there had been canceled in the past 24 hours, according to the Department of Aviation.
The airline will not be able to reschedule flights until after Dec. 31, it announced.
The U.S. Department of Transportation is investigating Southwest's "unacceptable rate of cancellations and delays."
And Chicago's aviation department said in a news release the public is "rightly concerned and anxious" about travel given Southwest's issues this week.
Southwest expected to be back at 100 percent of its operations by this weekend, and the airline has said all baggage that was being stored in Midway's baggage claim would be put into a secure facility by the end of the day Wednesday, according to the Department of Aviation.
Southwest is also promising to reimburse travelers for "reasonable" incidental expenses related to flight cancellations, including the costs of hotels, rental cars, tickets on another airline and meals, according to the Department of Aviation. The airline will also refund would-be travelers for flights canceled since Saturday.
"The [aviation department] will continue to urge Southwest to better communicate with the public and further extend its policies on reimbursements and cancellations," according to the department.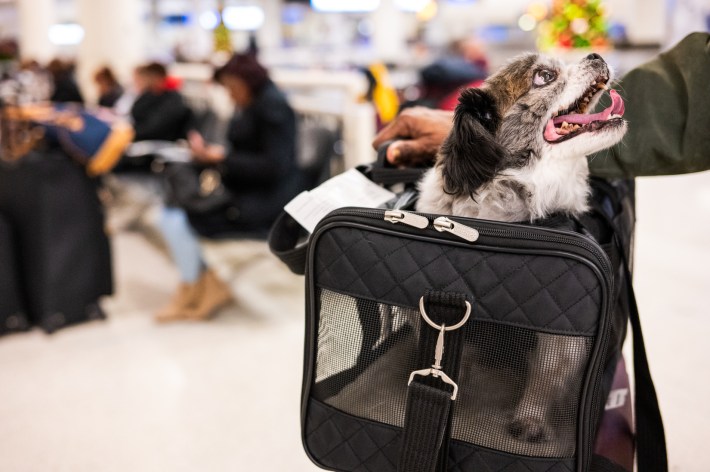 Gina Collier planned to spend the holidays with her grandchildren in Tampa, but her flight was canceled last week after hours of delays. She watched her granddaughter open her Christmas gifts online instead of in person as planned.
But Collier's luggage made it to Tampa.
After days on the phone and repeated trips to Midway to get the bags back, Collier decided to channel her frustration into positivity. She went to Walmart and bought bundles of blankets, water and snacks for her weary travel comrades.
"I wanted to channel [travel frustrations] into something healthier," she said.
Cold and flustered Southwest customers appreciated the blankets as they waited in long lines Wednesday. But Collier was still waiting on her luggage.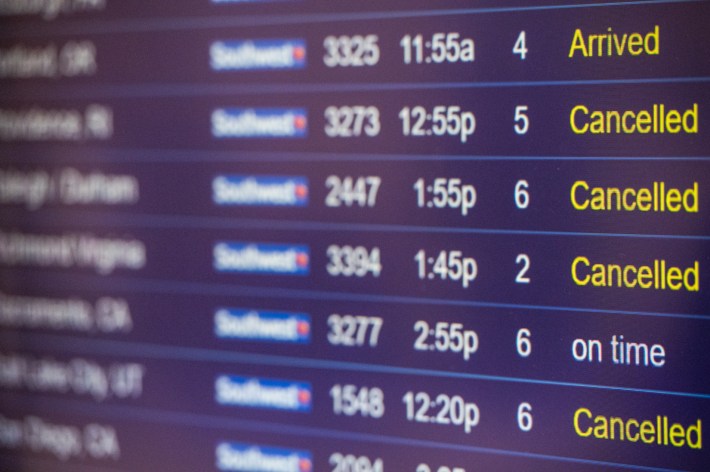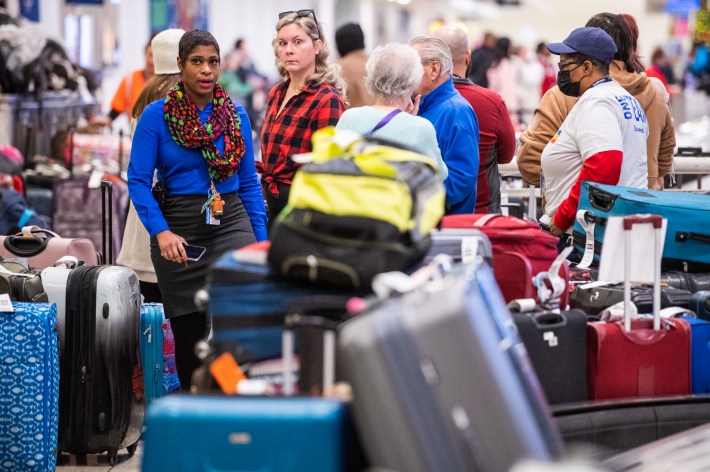 Tony Moore, of Beverly, and his family hoped to return to Chicago on a Southwest flight, but it was stranded on a Las Vegas tarmac for hours before it was canceled.
Moore's second flight landed at Midway, but it was without their luggage.
Moore made the most of the travel predicament, though. He was provided with vouchers for meals, and they were used well in Vegas, he said.
"Hopefully they get it together, because they've got a lot of upset people and a lot of luggage sitting all over the place," he said.
Moore said he wished Southwest had communicated better during all the snafus.
"From now on, I'm carrying two book bags. I'm not carrying no more checked bags," Moore said. "It'll be on my back and one in my hand."
Sharnette Brown's story was a rare one amid the turmoil: She was able to land safely with Bentley, her Maltese shih tzu, Wednesday afternoon, and get her luggage immediately after.
Brown flew Southwest to Atlanta to visit her family for Christmas, but her son's flight was canceled.
"I had a great experience, no complaints," she said. Brown described the airport in Atlanta as "eerily quiet."
"I'm just sorry about the other travelers that missed the holidays with their families," she said.
Listen to "It's All Good: A Block Club Chicago Podcast":