DOWNTOWN — You can learn a lot about Chicago from its mail. 
Lifelong Chicagoan Leonard Piszkiewicz knew this all too well — he spent his life painstakingly collecting hundreds of letters that documented his hometown's transformation from an isolated settlement of a few hundred people to the interconnected metropolis seen today. 
Piszkiewicz's extensive collection of Chicago mail, which spans from the 1830s to 1950s, will be displayed and auctioned off 1-3 p.m. Feb. 9 at Collectors Club of Chicago, 1029 N. Dearborn St. Pieces are valued from $3,500 to $45,000. 
"Even if you're not a stamp collector, it's worth looking into this man's quest to document the history of the city," said Charles Epting, CEO and President of H.R. Harmer, the company that acquired the collection. "Chicago's got great architecture, it's got great sports history, and the mail is just another angle through which we can tell those big picture stories." 
Since mail was the "primary means of communication" for a long time, it was "at the forefront of technological advances and societal changes," Epting said. 
Letters can teach historians a lot about a city's development, not only through their content but also because the ways envelopes are postmarked show how they were transported from one place to another. 
"Viewing this collection is a way of recontextualizing the city, whether you're a stamp collector or not," Epting said. "The same way a museum curator would arrange pieces in a certain way to construct a narrative, that's what Len did through letters rather than pieces of art or historical artifacts. It's a fascinating way to take a different look at Chicago's history." 
The "unprecedented" collection begins with a letter from 1833, one of the earliest pieces of mail to originate in Chicago that was delivered by foot, Epting said.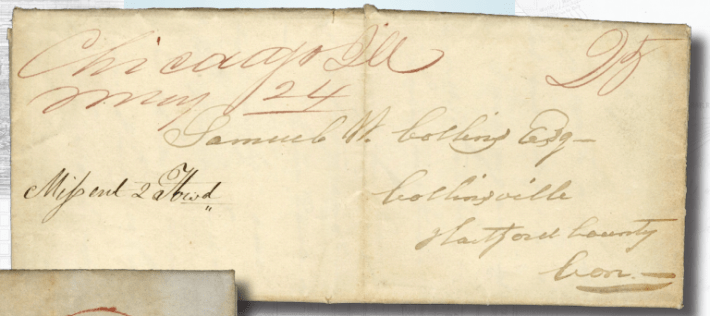 At the time, the city was "so small and insignificant" that the postmaster "literally wrote the word Chicago on each piece of mail" to postmark it, Epting said. 
"As the collection continues, you watch as steamboats arrive with mail on Lake Michigan and as the railroads arrive," Epting said. "Through looking at these pieces of mail, you can trace how Chicago became connected with the rest of the country" 
Airplanes started carrying mail in 1918, and mail from Piszkiewicz's collection shows O'Hare Airport was one of the earliest stops along the route, Epting said. Back then, it was just a field where mail planes would land and take off. 
"Through the postage in the collection, you get to see a lot of connections between the past and the present, even though a lot of that history is no longer there," Epting said. "It's been destroyed, either by the Chicago fire or just the passing of time. You can see a lot of seeds planted for things that are still around today." 
Mail also immortalizes technology that's disappeared over time — the collection includes evidence of an intricate underground tunnel system used to deliver mail from one side of the city to the other in the early 1900s. 
"They would load these tubes with letters and use air pressure to launch them 90 miles per hour underground," Epting said. "It's sort of a fun dead end. It helps you remember that for every technological advancement that positively impacted society, there are also ones that never really went anywhere." 
In addition to big-picture developments, the letters in the collection show what it was like to live through this time period since their writers used the mail to conduct business, announce weddings and send all kinds of other news to their families. 
Epting hopes Piszkiewicz's collection inspires more people to think about stamp collecting as another way of storytelling, even if it might not seem like "the most exciting hobby." 
"Stamp collecting isn't always about trying to collect one of each. It's about viewing each envelope in its larger context and seeing them all as pieces of a jigsaw puzzle that tells the story of the development of a major city, like Chicago," Epting said. 
"He took the collection as far as he could take it, and we're excited to find the next generation of owners, people who are willing to carry on the quest Len started in their own way." 
Listen to "It's All Good: A Block Club Chicago Podcast":