BUCKTOWN — A bridge over the Chicago River connecting Bucktown and Lincoln Park has reopened after delays pushed back the renovation project by months.
The Webster Avenue bridge had been closed to traffic since an extensive rehabilitation project broke ground last year.
During that time, workers replaced the bridge deck, upgraded trusses and bracings and restored historical elements, like the bridge house structures of the more than 100-year old bridge.
The city also added new traffic and bike markings, although the bridge does not have a dedicated bike lane. The $28 million project was funded through the city's Chicago Works infrastructure initiative.
Prior to last year's groundbreaking, the bridge was sporadically closed for maintenance throughout 2019 and 2020.
On Wednesday morning, drivers, cyclists and pedestrians returned to the Webster bridge after officials held a ribbon-cutting ceremony to mark the end of construction.
"It really is a vital link between Lincoln Park and Bucktown and Logan Square," Ald. Scott Waguespack (32nd) said. "We knew that it being a 100-year-old-plus bridge we were going to have to get it fixed at some point. … I think this will still serve as a great access route for another 100 years."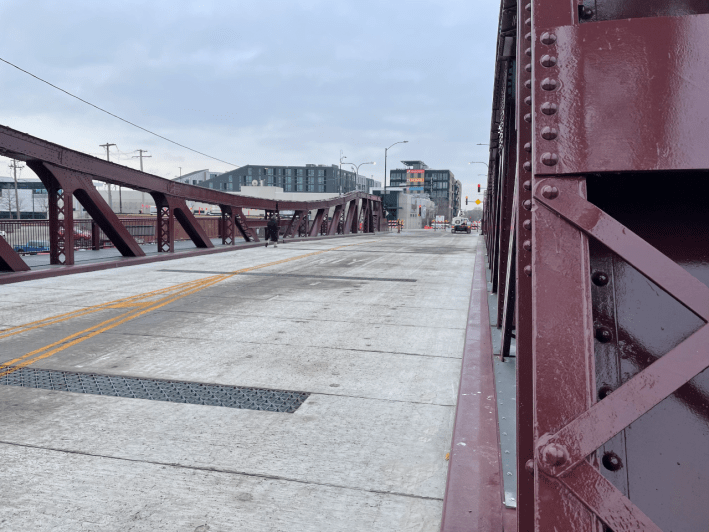 Transportation officials originally planned for the renovation to take about nine months. But supply chain delays impacted that timeline, with the reopening date being pushed back several times, transportation Commissioner Gia Biagi said.
At Wednesday's ribbon-cutting, Ald. Brian Hopkins (2nd) called supply chain disruptions a "new reality" that every major infrastructure project has to deal with. But he said he was working on a "detailed explanation" of delays to provide to frustrated neighbors.
"The neighborhood has been patient and tolerant for the most part, but this has caused considerable amount of inconvenience for the immediate community," Hopkins said.
"It backed up Fullerton, it backed up North Avenue, it backed up Cortland and it backed up Clybourn, especially at the signalized intersections which are not timed to deal with that type of traffic flow. So you had this domino effect."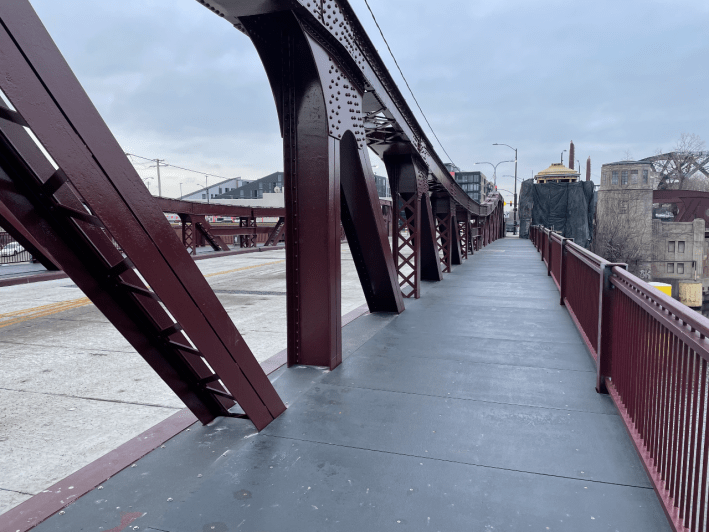 Built in 1916, the Webster bridge is "a classic example of Chicago-style double-leaf trunnion bridges with pony trusses that were built by the city in the first two decades of the 20th century," according to the city.
It has not been opened for the passage of boats since the '60s, and it was last rehabilitated in 1967.
The historical bridge house structures are still being renovated but should be completed in January, Biagi said.
"This project did not only repair aging infrastructure and replace many structural elements. It preserved the bridges historic character and that is so important. These are bridges that really define Chicago," she said.
The Webster project will be followed by similar renovations to the Cortland Street bridge a few blocks south. Work and closures are expected to begin this spring.
According to the Chicago Department of Transportation, the bridge upgrades include:
Replacement of structural beams, trusses and bracings. 
Replacement of the bridge deck, which involved partially filling in the metal grates with concrete, creating an improved riding surface for people on bikes.
Signal timing improvements at Ashland Avenue. 
Lighting improvements. 
Rehabilitation of historical elements, including the bridge house structures. 
Improvements to crosswalks, curb ramps and sidewalks for ADA compliance. 
Improved pavement markings for shared traffic and bike lane.
Listen to "It's All Good: A Block Club Chicago Podcast":