HYDE PARK — A pizza chain that started in Pilsen, uses Old Style beer in its dough and is known for its pickle pizza is expanding into Hyde Park.
Bob's Pizza will open its fourth location at 1518 E. Harper Court in late January, replacing a Native Foods. Pickle pizza is Bob's signature, and the chain offers other staples such as pepperoni, Margherita and sausage.
The Hyde Park menu will feature exclusive items, including the "Bob Kim" pizza with bacon, ssam sauce, shredded cabbage, fried garlic and scallions. It's a collaboration with Won Kim, the executive chef at Korean-Polish restaurant Kimski, who also completed murals inside the Harper Court location.
Other Hyde Park exclusives include two new pizzas — a chicken sausage pie and a meatball pie — and two appetizers, crispy Brussels sprouts and baked goat cheese.
"Pizzas often deal with a lot of pork products … so the two new pizzas I added are different proteins, which helps with people that may not even eat pork," executive chef Matthew Wilde said.
Menu prices will be "generally the same" as other locations, though pricing isn't finalized yet, Wilde said. A cheese pizza at Bob's flagship location, 1659 W. 21st St. in Pilsen, starts at $19. Specialty pizzas cost $23-$27.50.
The Hyde Park Bob's will seat 66 people inside, and a 60-person patio is set to open in the spring. The location will also feature a full bar. It will be open 11 a.m.-10 p.m. Sunday-Thursday and 11 a.m.-11 p.m. Friday-Saturday.
Wilde opened Bob's Pizza in Pilsen in 2019. Upon opening, the chain jokingly billed itself as a "Pilsen-style" pizza joint, with a foldable crust somewhere in between New York-style and Sicilian-style that uses Old Style beer in place of water. The term has "kind of stuck," Wilde said.
Bob's has since opened locations at 1512 N. LaSalle Drive in Old Town and at 616 Davis St. in Evanston, and in October it ended a six-month residency at the West Loop bar Recess.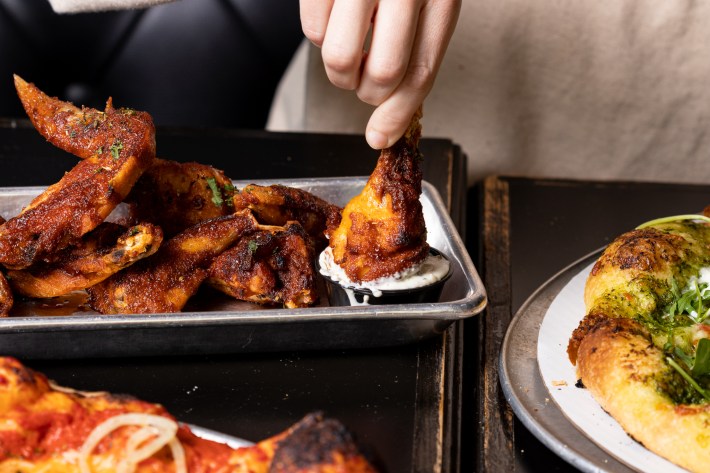 Bob's will "probably" open another South Side location eventually, Wilde said. But with an eye on expansion in the community and across Chicago, the independent chain wants to remain true to its roots, he said.
"We're trying to be the Whole Foods of pizzerias where we expand, but with a very high-integrity outlook on our future," Wilde said. "It's difficult in the restaurant industry to do that, but we're trying to do it."
Wilde is friends with the crew behind Ja' Grill, Bob's new neighbor in Harper Court, he said. Beyond that, the pizzeria will "definitely get involved in the community in Hyde Park" through events and networking, he said.
"We're super excited to be in Hyde Park — it's an exciting neighborhood," Wilde said. "Our pizza's awesome, so I can't wait to put it on the table, so to speak, for the people down there. The product will speak for itself."
Bob's will "try our hardest to hire from within the Hyde Park area or the South Side in general" as it fills roughly 25 positions at the location, Wilde said. To inquire about hiring, email info@famousbobspizza.com.
Listen to "It's All Good: A Block Club Chicago Podcast":