LOGAN SQUARE — Mayor Lori Lightfoot is urging Chicagoans to get vaccinated to combat a "mini-surge" of COVID-19 cases in Chicago as the city and country face a triple threat from the virus, flu and respiratory virus.
Chicago is seeing an uptick in COVID-19 cases, along with high case rates of the flu and respiratory virus, known as RSV, though RSV cases among children appear to be trending downward, Lightfoot said.
A masked Lightfoot, who tested positive for COVID-19 last week for the second time in less than a year, spoke to a Block Club reporter Wednesday on her back deck about the city's public health challenges amid the rise in COVID-19 cases and the "triple-demic," as some experts are calling it.
Lightfoot, health Commissioner Dr. Allison Arwady and other local leaders will give an update about COVID-19 during a 9:30 a.m. news conference.
The city is reporting an average of 643 lab-confirmed cases per day, up 4 percent from the week prior. Since Thanksgiving on Nov. 24, the city's reported 15,671 lab-confirmed cases.
But lab-confirmed cases lag behind actual case numbers as many people now test from home.
Chicago is currently in the "medium" risk category for COVID-19, a grading system determined by the number of new COVID-19 cases and hospitalizations and the rate of hospital beds occupied by COVID-19 patients, according to the Department of Public Health website.
Lightfoot is imploring Chicagoans of all ages to get the flu vaccine and the COVID-19 bivalent booster, which targets the original strain of COVID-19 and the more common Omicron subvariants BA.4 and BA.5.
Uptake for the bivalent booster and other COVID-19 vaccines has been particularly low for children ages 5-12 in recent weeks, Lightfoot said.
Only 43.5 percent of Chicagoans 5 and older have received at least one booster, according to health data.
"All things come back to vaccine, vaccine, vaccine," Lightfoot said. "The flu vaccine, the COVID vaccine — all of these things help with the respiratory illnesses that we're seeing a bit of a surge of during this time."
Lightfoot got the bivalent booster and said she's had "no real symptoms" after contracting COVID-19 last week.
When Lightfoot contracted the virus in January, before the bivalent vaccine was available, she experienced "cold-like symptoms" but felt "fine," she said. She returned to work a week later.
"I feel like part of the reason why I'm feeling up and ready to go — and ready to finish my Christmas shopping — is because I got the second booster," Lightfoot said.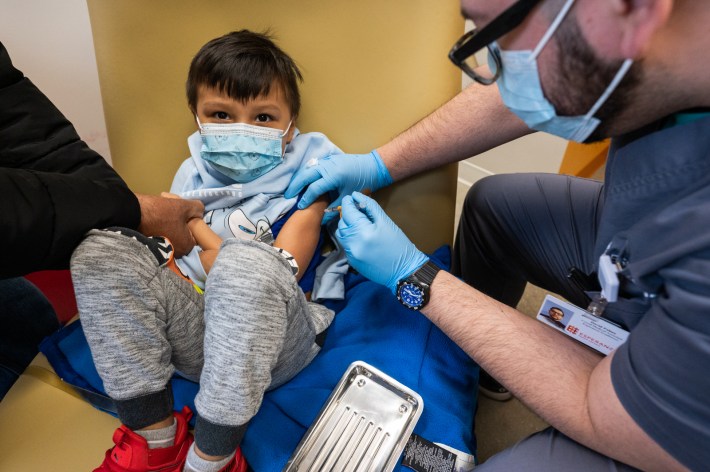 Heading into the winter surge, Lightfoot said she's been in "regular communication" with Chicago's health care leaders, who are worried about nationwide nursing and staffing shortage impacting city hospitals.
The federal government needs to help cities like Chicago and come up with a nursing retention strategy as cases tick up, Lightfoot said.
"I don't see any way around it. We've got to have a nationwide strategy on this. It can't just be one city, one state at a time. This is something that has to be a priority," she said.
In the meantime, Lightfoot said the city is working on getting as many Chicagoans vaccinated as possible and continuing to educate residents about the effects of the three viruses to slow the spread.
"People have COVID fatigue, but COVID's not done with us, it's still here," Lightfoot said. "We're going to see, as we are right now, a mini-surge. Thankfully, so far, not like the Omicron surge a year ago, but we still have work to do in spreading the word and getting people vaccinated."