PORTAGE PARK — First responders crowded into a Portage park firehouse Wednesday to pay tribute to fallen firefighter MaShawn Plummer on the first anniversary of his death.
Plummer, 30, died last Dec. 21 from injuries he suffered battling a Belmont Cragin fire. He had just marked his one-year anniversary with the Fire Department.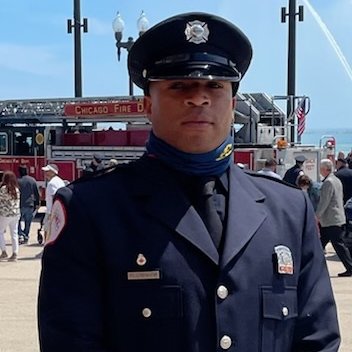 His coworkers at Engine 94, 5758 W. Grace St., honored his legacy with a community-funded bronze memorial that was unveiled last month and displayed Wednesday outside the firehouse at a bell-ringing event to commemorate Plummer on the anniversary of his death.
Over $15,000 was raised from citywide firehouses, individual donations and a t-shirt sale that paid for the statue, said Engine 94 firefighter Robert "Bob" Brady, who spearheaded the memorial efforts.
His goal was to have the statue erected before the first anniversary, he said.
"We did it," Brady said.
Plummer's firehouse mates wanted to make him proud — just like he made his family, friends and the department proud, Brady previously said.
The crew also donated to three firefighter charities with leftover donations in Plummer's name, Brady said.
Plummer's family, local politicians, firefighters and neighbors came to the bell-ringing event and were proud to see the memorial, a bronze statue of firefighter gear with a hat that reads "Engine 94" and a plaque with Plummer's name on it. It sits next to a bench where he'd regularly spend time.
"He loved being here," said his mother, Felicia Townsend-Plummer. "He would tell me how he stood out on the bench and said hello to the kids and had treats for the dogs. Just to see that his mark will be here is beautiful. We are so grateful to the community for honoring him." 
The memorial, along with the immense show of support from the firefighter community, eases Townsend-Plummer's pain in losing her son, she said.
"It won't bring him back but it can subside the pain for a little bit," she said. "We miss him so much but he was amazing and got to live out his dream, short, but he got to make a difference. … That's what helps us get through."
Wearing a knee-length yellow coat and yellow snakeskin boots, Townsend-Plummer was fashionably dressed for the occasion — another splash of brightness that helps her feel better, she said.
Plummer grew up in Englewood and loved comic books, nature and music. He was a big fan of the White Sox and the Bears and played football at Quincy University. He always wanted a career of service, which led him to the Fire Department, his family wrote in his obituary.
In addition to the outdoor memorial, the Engine 94 firefighters have kept his memory alive at the cozy firehouse with portraits, illustrations, plaques and cards that line the walls of station's living room.
Plummer was the second youngest firefighter at the house, his coworkers said.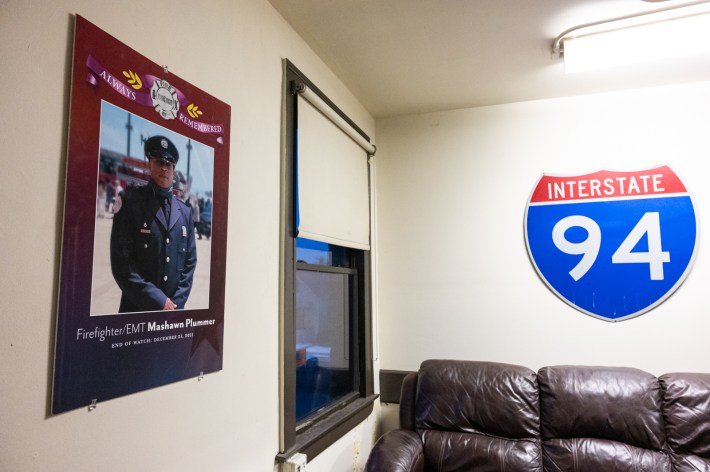 Fire Commissioner Annette Nance-Holt remembers being in the hospital with Plummer, hoping he'd recover from his injuries.
While his death was "heartbreaking," the memorial demonstrates his legacy will not be forgotten, she said.
"This firehouse will know the sacrifice of Mashawn Plummer and his dedication to the city and the Chicago Fire Department," Nance-Holt said as she gazed at the memorial's plaque. "It means a lot to have something here we can always look at for the community and even young kids can walk by and know him as a hero."