CHICAGO — Officials are urging people to stay inside and rethink their travel plans ahead of this week's winter storm — but many still plan to head out and see people for the holidays.
People should consider changing their plans so they travel earlier in the week or at least earlier in the day Thursday, when the storm is expected to begin, meteorologists have said.
And people should limit all time outdoors due to the expected extreme cold, which could make it feel as chilly as 30 degrees below zero at points.
The storm will start midday Thursday, with bitterly cold temperatures continuing into Saturday.
RELATED: What You Need To Know About The Winter Storm That's About To Hit Chicago
It could be nearly impossible to drive at times Thursday night and Friday as the strong winds — with gusts up to 50 mph possible — whip around snow, meteorologists said. And temperatures will plummet during the day Thursday.
The sudden cold could create a "flash freeze" that further endangers travelers, said meteorologist Kevin Doom. The roads will already be wet with the morning's snow — and once the temperatures drop "very suddenly," the water on the roads could freeze and turn to ice, he said.
"We're very concerned about that," Doom said.
City officials held a news conference Wednesday morning where they urged Chicagoans to stay inside and keep warm — but said they will have snow plows, salt spreaders and crews out working to keep the roads as clear as possible.
Here's what to know if you need to travel: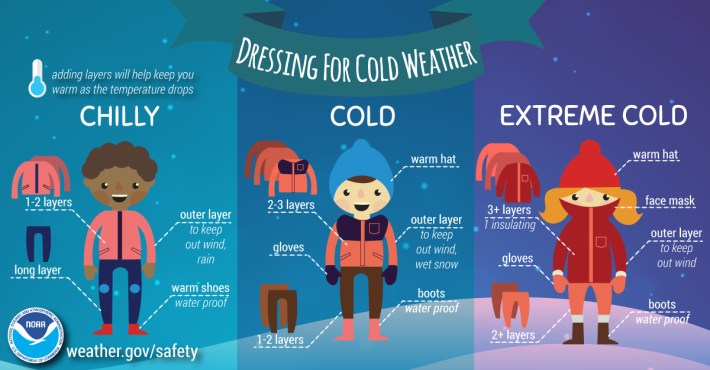 Dressing
Dress in layers.
Don't leave your skin exposed to the cold.
Remove wet clothing.
AccuWeather meteorologist Tom Kines said Monday people should take steps to protect themselves from frostbite, hypothermia and other cold-related medical issues if they have to venture outside during the storm.
"If you happen to, for whatever reason, be outside Friday, you definitely have to protect yourself from getting frostbite, hypothermia, anything related to the cold like that," Kines said. "No. 1, stay indoors.
"If you have to be out, dress in layers. Wear a hat, a scarf, keep your body covered up. Don't try going out there without gloves or mittens on or keeping your face unprotected, that kind of stuff. That leaves you susceptible to frostbite, and we don't want that happening."
Richard Guidice, managing deputy director of the city, also said people should wear loose, layered, warm clothes. They should keep their head, hands and feet covered.
Driving
Check the weather forecast.
Tell people your driving plans, including where you're going.
Winterize your car and have an emergency kit.
Drive slowly and cautiously.
Mike Bardou, National Weather Service meteorologist, said the agency is "very concerned with travel outside of the city." It's looking particularly dangerous for people who need to travel to Indiana and Michigan, he said.
Drivers could get stranded — and if they do, it'll be in extreme winds and cold, so they should be prepared, Bardou said.
The "period of treacherous travel" will begin in the early afternoon Thursday, and conditions will further deteriorate by the end of the workday Thursday, Bardou said. Temperatures will continue to fall overnight Thursday, and bitter cold and windchills will last into Saturday.
There will still be wind gusts up to 50 mph Friday morning, and there will be "very low visibility" as the wind whips around the snow, Bardou said.
"We're expecting sharp reductions in visibility for extended periods of time, which is why we're concerned about travel," Doom said. "We don't want people to be fooled by the lower snow totals; this is still going to make travel very treacherous, especially on Friday … ."
The blowing snow will make it difficult to see on the roads and to see markings, Doom said.
Guidice said people who have to drive should tell friends or family about their travel plans, including where they're heading.
Drivers should also winterize their cars, ensure they have a full tank of gas and ready an emergency kit with water, blankets, a flashlight and other items they might need if stranded, Guidice said.
The National Weather Service lists things to have a survival kit here.
"Taking preventive action is the best way to stay safe from the risks associated with this storm," Guidice said.
Drivers should leave extra room between cars and yield to snow plows and emergency vehicles, Guidice said.
CDOT Commissioner Gia Biagi said drivers should go slow and look for bicyclists and pedestrians.
Flying
Check your flight status before you go to the airport.
Arrive to the airport early.
People who need to fly should arrive two hours early for domestic flights and three hours early for international flights, said Andrew Velasquez, first deputy aviation commissioner.
People should be aware of changing conditions, and they should check their flight's status before they go to the airport, Velasquez said.
If you have to pick up someone from O'Hare or Midway, consider waiting for a call from your loved one at a cellphone lot: 560 N. Bessie Coleman Drive at O'Hare and 61st Street and Cicero Avenue at Midway.
More than 700 department employees will work in shifts around the clock to keep runways and taxiways clear, Velasquez said.
Biking
Watch out for snow-filled bike lanes.
Limit time outdoors.
Dress appropriately for extreme cold.
CDOT will clear Chicago bike lanes — as well as Downtown bridges and bridges along the Calumet River — using specialty equipment, and it's expanding the fleet it has to do so, Biagi said.
Listen to "It's All Good: A Block Club Chicago Podcast":