EDGEBROOK — More than 100 families gathered around Edgebrook Elementary School Tuesday to take a stand against hate.
The school's annual luminary walk also became a peace walk this year, after antisemitic incidents and hate speech rattled students, parents and teachers at the school.
Students, teachers and community members joined the walk Tuesday night at 6525 N. Hiawatha Ave., carrying candles and handmade posters that read "Hate has no home in Edgebrook," and "Be kind and spread light."
It was organized by parents and school staff as a response to swastikas drawn in the boys' bathroom last month and earlier this month. The walk's aim was to unite the school, spread acceptance and remind the community that hate is not tolerated at Edgebrook Elementary, said Principal Camille Unger.
The luminary walk turnout, which always brings a sizable crowd to the school, was even stronger this year because of the walk against hate, she said.
"We've denounced the incidence and all forms of hate speech, actions and racist actions," Unger told Block Club. "We're continuing to communicate our core values of mind, heart and effort and reaffirming those in our community."
As children ran around outside the school and laughed with their friends, parents were impressed by the turnout and the message it sends.
"As parents of a child who is biracial, to me, this is a big deal — we are promoting this community is one voice and one light," said Margot King, a mother of a third grader at the school. "We are standing up against hate. That is not something we want as a community."
She and her husband, Roy King, said it was important to show up for the walk to teach their son that any kind of discrimination is not OK.
"We came out here to show him we are part of this," both parents said.
Another mother, who asked to remain anonymous for safety reasons, was amazed by the crowd and the swift actions the school took to organize the walk, she said.
"I was optimistic that we'd get a big turnout and it's great that so many people and families are advocating for teaching how to be against hatred, antisemitism and to spread inclusion with kids," the mother said, who is Jewish. "I love there are so many little kids here."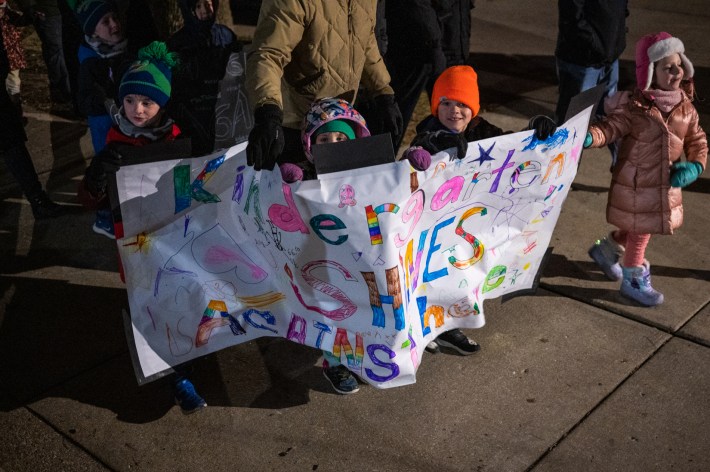 Some parents who previously spoke to Block Club about the incidents were upset school officials weren't doing enough to stand up to the hate, but others at Tuesday's walk were happy to see the response.
Unger, who has led the school since 2018, was first made aware of the antisemitic incidents in early November but did not alert the greater school community because she spoke to the student involved and thought it was resolved, she said.
She didn't see it as a trend until it happened again in December. That's when she alerted the school community in a newsletter sent out earlier this month, partly so "our families could engage in conversations with their kids" about the issues, she said.
Edgebrook's Local School Council is planning a special meeting to discuss the recent incidents at 6 p.m. Wednesday in Room 209. A virtual attendance option will also be posted online shortly before the meeting.
Chicago Public Schools is investigating and does not tolerate "discrimination in any form," a district spokesperson previously said.
The school is currently exploring corrective and restorative consequences for the student or students responsible, which could look like suspension, educational conversations and other steps that are in line with CPS policies, Unger said.
On a broader level, Edgebrook Elementary is taking action to move forward and heal, she said.
The school has also discussed about the impact, history and meaning of the swastika with students, the principal said.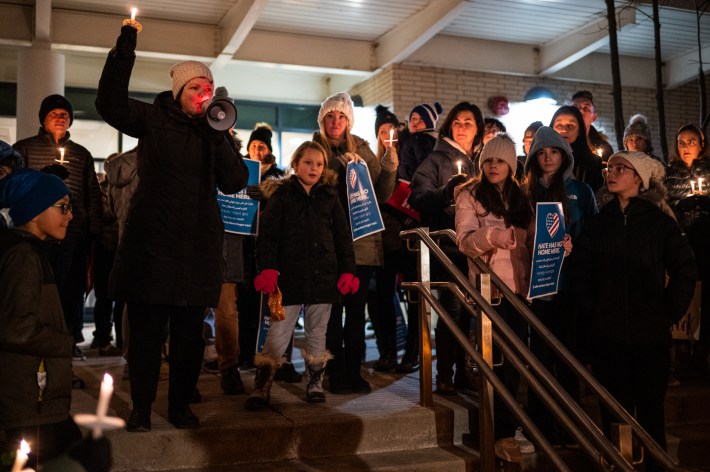 "We're incorporating more opportunities for lessons around 'Windows and Mirrors,' that's where kids see other cultures through the books that they're reading and embedding that into our content and curriculum," Unger said.
The school's third through eighth graders also have a field trip planned to the Holocaust Museum early next year, she said.
"The Holocaust Museum has wrapped its arms around us and actually is providing it free of charge … so all of our kids will be engaging in that," she said.
Professional development trainings from the Anti-Defamation League are also being scheduled for the school's staff in February.
Antisemitic hate speech and incidents are on the rise, according to a 2022 report from the Anti-Defamation League. That trend makes the education opportunities even more important for her school members, Unger said.
"I love Edgebrook and I love my community. We will stand united and we will get better and stronger," Unger said. "And remember, these are young people and they have a lot of opportunity to learn and grow."
Listen to "It's All Good: A Block Club Chicago Podcast":