UKRAINIAN VILLAGE — Teachers, parents and students at a Ukrainian Village elementary school are raising funds to help send eighth-graders on a field trip to Washington, D.C., this spring.
Chopin Elementary, 2450 W. Rice St., annually organizes an eighth-grade tour of the nation's capital, featuring stops at monuments, museums and historic sites. The trip in May will be the first since the COVID-19 pandemic began, teacher Georgia Londos said.
The school fundraises every year to pay for some of the trip's costs, but organizers haven't collected as much this year because of rising tour fees and lingering challenges from the pandemic, Londos said.
Students and teachers have held bake sales, a Halloween dance and other events to help. Now, Chopin parents and teachers have launched a GoFundMe campaign to continue raising money. They've collected about $1,000 of a $5,000 goal.
Their overall goal is to raise enough to cover about half of the costs for at least 20 students, Londos said. The trip runs about $1,000 per student.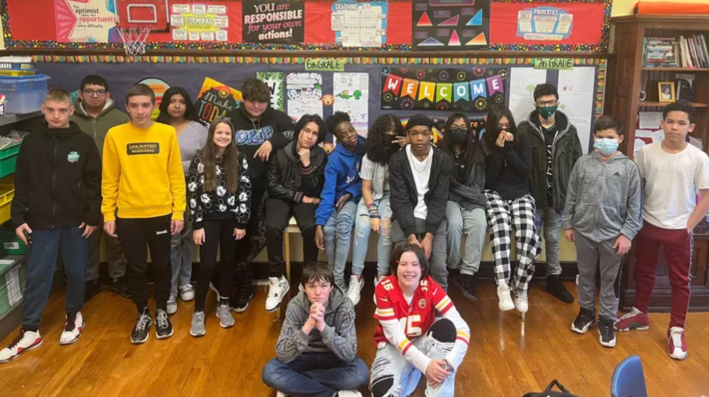 Megan Bogener, Chopin local school council chair, said the funds are sorely needed for students, some of whom recently moved to Chicago after fleeing the war in Ukraine.
About "95 percent of our students are low-income, and then we've also taken on over a dozen Ukrainian refugees this year. And we have several refugees in the eighth-grade class. So there's a lot of need," she said.
The D.C. trip is the first time many eighth-graders at Chopin will leave the Chicago area, Londos said. The experience is about more than just learning history and civics — it's also an important step in each student's personal development.
"In the past, the students that have gone, they've come back as different people. It matures you, you grow up on this trip, and you also build bonds. When we travel together, they're not the kids that we see at school anymore. They like become mini-adults," Londos said.
Londos said the impact of the trip can stay with students for years. They'll often come back to Chopin to visit and bring up memories from the tour or talk about the friendships they made.
This year, she just hopes her current eighth-graders will get the same opportunity.
"Those are my kids and my family, and I sincerely adore and love them," Londos said. "They're a great group of kids, and I really hope that they're able to experience this amazing trip. It'll be so good for them."
Another neighborhood school also is fundraising to send eighth-graders on their annual D.C. trip. Burr Elementary third-graders and parents have partnered with local chefs to host a massive cookie sale, with all proceeds going to the trip fund.
Listen to "It's All Good: A Block Club Chicago Podcast":