OLD IRVING PARK — Schurz High School students looking forward to college just got a financial boost.
The high school, 3601 N. Milwaukee Ave., received a $100,000 donation from The Clarendale, the new Six Corners senior living development that's slated to open this spring.
The money was donated to the Friends of Schurz neighborhood group, a nonprofit that supports the school's students, staff and alumni. The donation will fund scholarships for seniors who want to go to college, said Tara Tidwell-Cullen, Friends of Schurz Board president.
"We're grateful to the partners of The Clarendale," Tidwell-Cullen told Block Club. "It's an investment in the youth of Schurz students. It means a lot when neighborhood businesses demonstrate that commitment."
Details about the scholarships program are still being ironed out with school officials, but the goal is to announce criteria at the beginning of next year and have applications in by the spring, she said.
A selection committee will meet to review applications and award funding, beginning with 2023 high school graduates.
"Our goal is to use this great opportunity to provide scholarships that have a meaningful impact on students and start making them available soon," she said.
The big check is the largest donation to the Friends of Schurz ever, Tidwell-Cullen said. The group has been around for almost six years.
Ald. Jim Gardiner (45th) announced the donation during the zoning process for the development in 2020, according to Clarendale officials.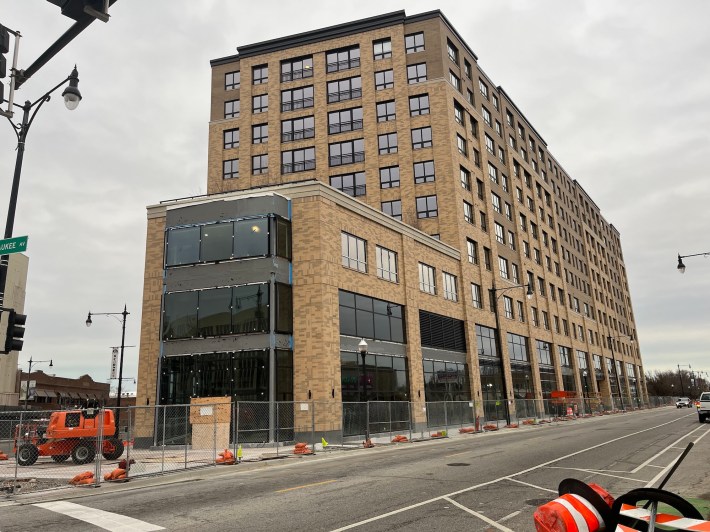 This donation, announced to students at the school's annual winter concert last week, is in collaboration with Ryan Companies, the developer behind The Clarendale.
"As experts in senior care, Clarendale Six Corners is committed to taking care of loved ones, keeping families together and strengthening the local community," Amelia Howard, executive director of Clarendale Six Corners, said in a press release.
The 10-story, $130 million senior living complex at 4747 W. Irving Park Road will have 258 residential units for people 62 and older.
The Clarendale will have 114 independent living units, 98 assisted living units and 46 memory care studio suites, leasing officials announced at the information office's ribbon-cutting in June.
It was originally scheduled to be completed by the end of the year but it's been postponed to early next year due to supply and demand delays, officials said.
Susan Scatchell, community outreach coordinator for the development, previously said the complex is taking $1,000 deposits for apartments on a first-come, first-served basis.
The development is still accepting applications, Howard said.
"We look forward to welcoming residents in the New Year," she said.
Listen to "It's All Good: A Block Club Chicago Podcast":