PILSEN — Students at a Southwest Side high school walked out of class in a Monday afternoon demonstration as their community reels from a shooting that killed two boys and wounded two other teens outside the building last week.
A gunman opened fire about 2:45 p.m. Friday outside Benito Juarez Community Academy, 2150 S. Laflin St., just students were leaving for the day, police said.
Brandon Perez, a 15-year-old Benito Juarez student, and Nathan Billegas, a 14-year-old Chicago Bulls College Prep student, were killed in the shooting, according to family and the Cook County Medical Examiner's Office.
The families of both boys are raising money via GoFundMe to cover their funeral expenses. You can donate to Brandon's family here and Nathan's family here.
Two other teens were wounded: a 15-year-old boy hit in his thigh and shoulder and a 15-year-old girl who was grazed in her thigh, police said. Both were hospitalized in good condition, police said.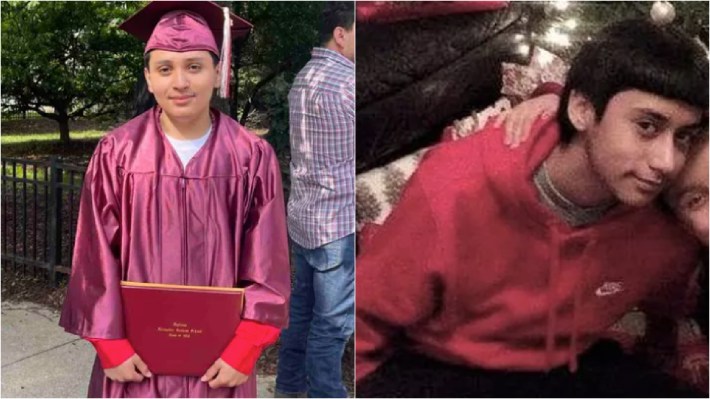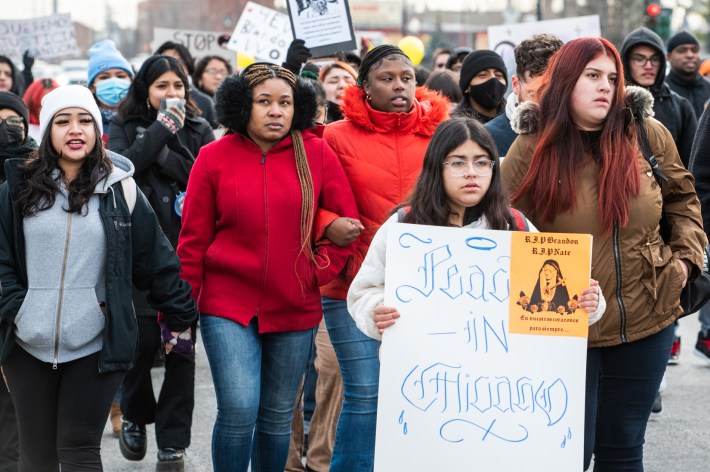 Students released balloons to honor the boys' lives and marched around the school block calling for justice and peace in the community. Well wishers added candles, flowers, balloons and posters dedicated to Brandon and Nathan to a memorial near where the shooting occurred.
Camila, a Juarez student and a close friend of Brandon's, said she was shocked when she heard the news about Brandon's death and hopes the shooter will be brought to justice.
"He was too pure, he's too sweet for this world," she said of Brandon. "I hope they find [the gunman], I really do. And I know somebody knows who it is … just speak up."
Another student pleaded with the community for a ceasefire and to put school and student safety above all.
"Put the guns down," she told the crowd. "Start protecting our children who come to school to learn, to become something in life. Violence isn't the answer."
Neighbors continued adding candles and flowers at a small vigil after the march.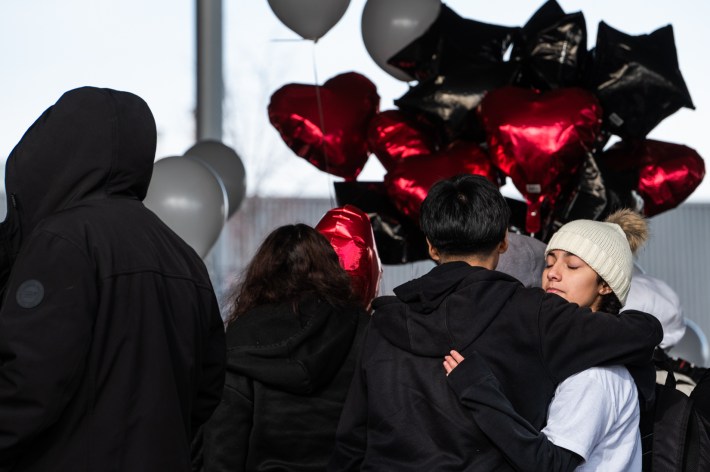 Nathan's older sister, who organized their family's fundraiser, wrote on the GoFundMe page that Nathan and Brandon were friends. Well wishers have given over $9,000 to support the family as of Monday night.
"If you knew Nathan, you knew he would go out of his way for anybody if they needed it. He had the biggest heart," she wrote.
Brandon's family described him as a "typical teenager" and "quiet young man" who already knew he wanted to be a tradesman and business owner working in construction and electricity. He'd already started working toward that goal by working a part-time summer job at a construction company to start learning the skills for his future career, his family said.
"With this goal in mind, he dreamed of removing his mother and sister from their rough neighborhood and creating more stability in their lives," his family wrote on the page.
Brandon was close with his younger sister and loved playing video games and soccer, watching movies, listening to music and spending time with relatives, his family wrote.
Supporters have donated nearly $11,000 to his family as of Monday.
"No person of Brandon's age should ever be taken away from their mother, father, family, and friends," his family wrote. "We ask that you keep Brandon's family in your prayers to bring comfort during this difficult time. While others are preparing for the holiday season, his family is preparing for his funeral."
Police released images of the suspected gunman. Anyone with information can contact detectives at 312-744-8261 or report a tip anonymously at cpdtip.com.
This is at least the third shooting to take occur during dismissal at a Chicago public high school this school year.
Four students were shot outside Schurz High School in Old Irving Park during the first week of classes in August. Earlier this month, a 15-year-old student was killed outside Michele Clark Magnet High School on the Near West Side.
Activist The Kid From Pilsen hosted a community meeting Monday night with about 30 neighbors to discuss potential solutions to neighborhood violence in response to the shooting. He said he plans to arrange more gatherings and young organizers most affected by the violence need to be given space to "lead the way" about how people in the community should work together to support its youth.
"Our roles as community members is to support them," he said.
Block Club freelance reporter Kayleigh Padar contributed.
Listen to "It's All Good: A Block Club Chicago Podcast":