NORWOOD PARK — Juanita Ico thought she was going to see "The Nutcracker" with her daughter Friday, so she dressed up for the occasion.
But instead of going Downtown, Ico was chaperoned to her daughter's school, Taft High School at 6530 W. Bryn Mawr Ave., for a surprise: a quinceañera for her daughter Jojho, who has epilepsy and is nonverbal.
As Jojho entered the classroom surrounded by her teachers and peers in a sparkly pink quinceañera ball gown and matching sweater, Ico cried with joy and gratitude. The celebration — complete with music, pink balloons, food, flowers and guest gift bags — for her daughter's 15th birthday was a dream she always wanted to make come true but wasn't able to this year after migrating to the United States from Belize.
"Her 15th birthday, I was waiting for that for many years," Ico said. "I'm so very grateful to her teacher for giving me this amazing surprise."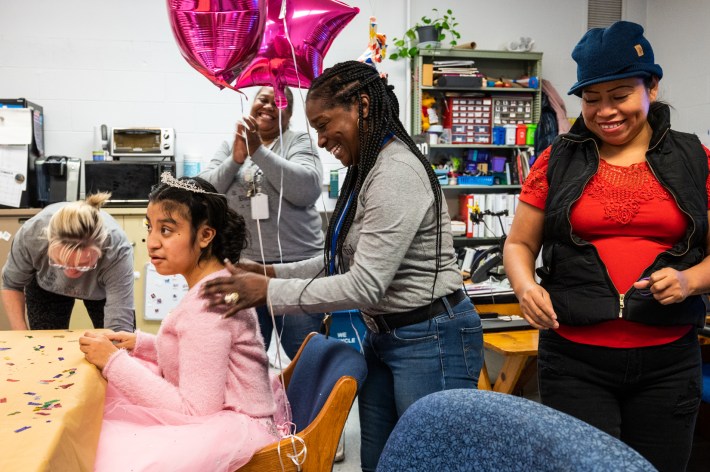 Jojho is part of Taft's cluster program, which offers a modified curriculum for special needs students. The special education teachers of Room 142 worked together to get Jojho a pink dress, tiara, shoes and sweater, and they organized the party with help from other parents.
Africa Murphy, one of the teachers who helped Jojho get ready for her celebration, got emotional seeing Ico's reaction.
"As a mother, I know what it is like to not be able to do for your [kids], and I know the pain and some of the struggles that they're having," Murphy said. "When I saw [the celebration], it's like, 'It's gonna be all right.' And the mom didn't know; she didn't have a clue."
Johjo, who loves high-fiving people and playing with rubber bands, gave hugs and hand waves to her teachers and reporters at her birthday party, as one of her favorite songs — "Banderas de Amor" by Guatemalan singer Katty Mazariegos — played in the background. She enjoyed the moment, her mother said.
"Seeing her walking with this dress is amazing," Ico said. "I was not expecting this, but I am very grateful for everything."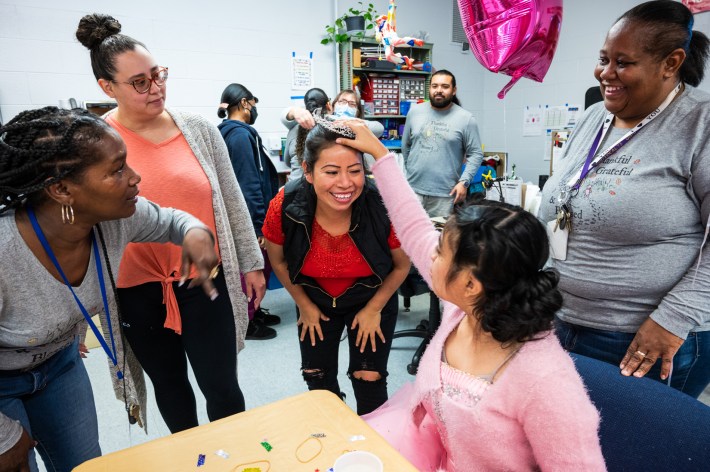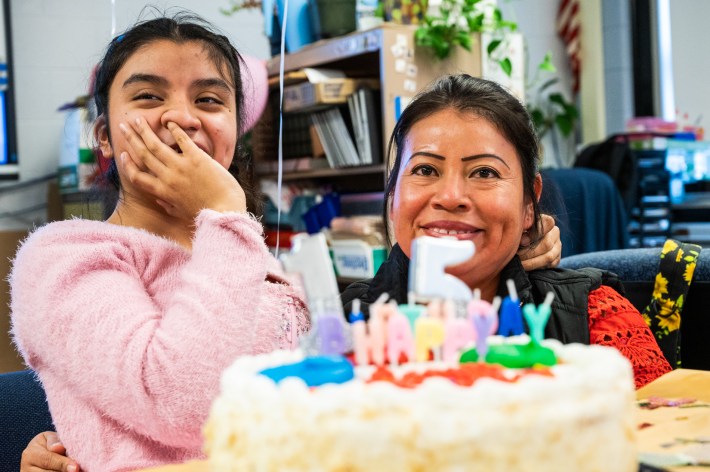 Ico and her daughter, who are from Belize, are two of thousands of migrants who arrived in Chicago on buses from Texas. In the three months since settling on the Far Northwest Side, the family has found a community within Taft High School's special education program — a blessing for Ico, who came to the United States in search of better medical attention for her daughter, she said.
"The journey has been really, really tough," Ico said. "I wasn't expecting much, [but] I'm getting a lot of help here. I didn't know that special children were a priority in this country, especially with Medicare.
"We have an organization helping us with medical assistance, and I'm very grateful for that because Jojho suffers from seizures and epilepsy, [so she needs] a lot of medical help. It's been really helpful for me … ."
Ico used to be a traffic operator in Belize and hopes to get a similar job once her work permit is approved, she said.
Grazyna Zmyslowski, the head teacher of Room 142, organized the surprise party after talking with Ico about being unable to host a quinceañera party for Johjo.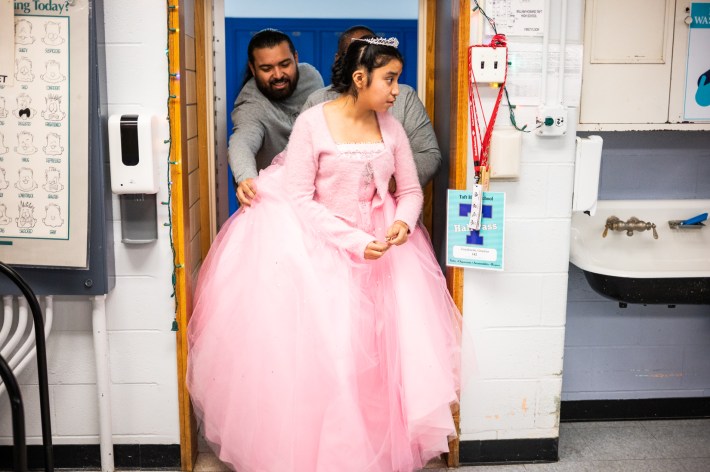 "This was not supposed to be huge, and it turned out to be big," Zmyslowski said. "Don't just talk; do [something good] — and do it quietly, not for yourself but for others."
Aside from enjoying a fun celebration, Zmyslowski wanted the party to show her students they are valued and have an impact — and the power of a good deed can influence others, she said.
"Why is this important for the kids? Because no one can do everything. But everyone can do something," she said, pointing to a sign behind her that reads the same phrase. "And my quest is to find that something."
Listen to "It's All Good: A Block Club Chicago Podcast":